Belkin Dyle Mobile TV Receiver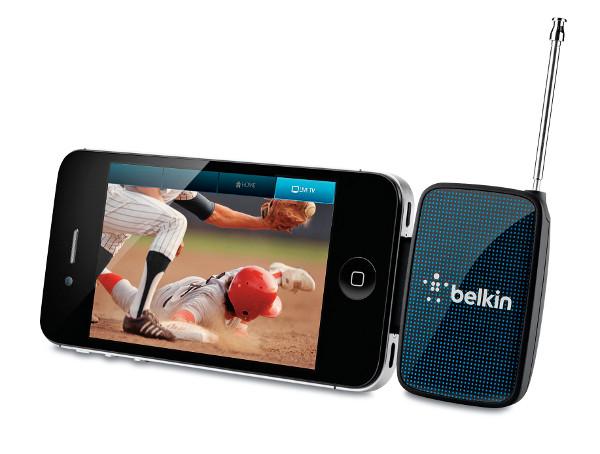 Live TV on Your iPhone or iPad
Price
$100
At A Glance
Plus: Watch broadcast TV while commuting • Steady reception in motion • Works without Wi-Fi or a mobile data plan
Minus: Limited channels • Reception spotty in buildings and locking in stations can be frustrating
The Verdict
Lets you watch TV while on the on the go but programming options are limited and reception can be spotty.
Though the picture quality of over-the-air TV can surpass cable, you're likely to get no reception at all in a moving vehicle. That's because broadcast DTV was conceived for stationary screens—not today's legion of mobile devices.
Now some stations are inserting a redundant broadcast signal, referred to as ATSC-M/H (Advanced Television Systems Committee—Mobile/Handheld) that consumes a portion of the station's 19.4-Mbps bandwidth. Invisible to existing DTV receivers, reception of these M/H signals requires a special tuner. Today's options include the Dyle Mobile TV Receiver from Belkin reviewed here, a device the size of a bar of hotel soap that comes in a Neoprene carrying case and plugs directly into the 30-pin connector on older iPhones and iPads. (You'll need a Lightning-to-30-pin adapter to use it with the newest iOS devices.) You download the free Dyle Mobile TV app from the iTunes App Store. The app requires iOS 5.0 or later.
Using my iPad, I was prompted to select a location. There were 37 cities to choose from. I selected New York, as I live in the New York City metro area. A guide with four channels, showing the program titles on the NBC, Fox, Qubo, and Telemundo stations, was displayed along with a green icon indicating that a station was receivable. These are presently the only stations broadcasting the tandem mobile signal.
I tried the mobile receiver in various locales. I was able to receive a live hockey game broadcast by NBC from my apartment in suburban Queens and while driving along New York's Grand Central Parkway. Reception was steady even at speeds of 55 mph and while traveling under overpasses. I watched The Today Show and Good Day New York on the Long Island Railroad until the train entered an East River tunnel. Coming home, I watched the local news. I also managed to watch TV on a city bus.
Though I could watch TV with the iPad perched near a window in my Manhattan office, reception was spotty inside my apartment However, I did walk around outside carrying my iPad and watched Meet the Press. On the whole, using the Belkin device outside, even while moving, was more dependable than inside a building.
Locking in a station can be frustrating. I generally had to wait between 10 and 30 seconds before I could watch a channel once selecting it. Touching the antenna helped get reception, but counter intuitively, keeping the antenna at a 2-inch length typically achieved better reception than fully extending it. The app has no ability to buffer or record a program.
I found the lack of onscreen volume controls annoying. Belkin tells you to use the hard buttons on your iOS device. At least the company recognizes the need for a passthrough micro USB port for charging without disconnecting the receiver. You'll have to bring your own USB type A male to micro type B male cable.
I was dissatisfied that I couldn't receive all the DTV channels in the air, even those not being broadcast with the ATSC-MH signals. Clearly, a hybrid tuner is needed. In terms of image resolution, ATSC-M/H is not meant to deliver high def. What it is designed to do is deliver a small-screen experience on a device in motion. The Belkin receiver does that, at best providing a clear, uninterrupted picture with stereo sound; at worst, offering a program guide with no picture and sound.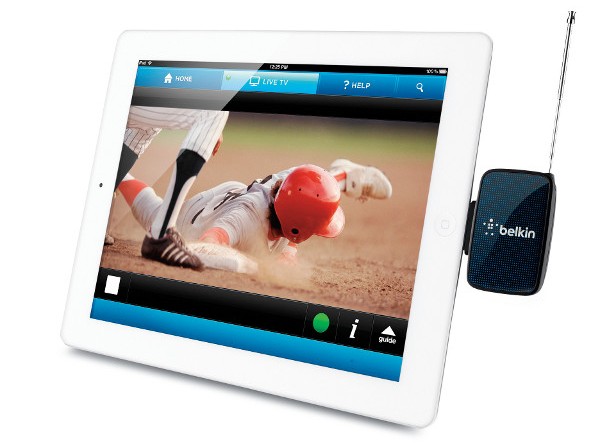 Before investing in the Belkin receiver, you should identify the participating stations in your area by entering your city or zip code in the search field here. A spokeswoman for WCBS TV says the New York station will be available on the mobile service in 2013, but she couldn't provide a specific date. Though no fault of the Belkin receiver, the present lack of available programming diminishes the unit's value for now. Again, addition of a hybrid tuner for viewing high def when the unit is stationary could help counter that.
Nonetheless, for live viewing, particularly of sports events and news programs, the Belkin receiver can be an entertaining way to get more out of the iOS device you're already carrying. Someone who doesn't want to pay another subscription fee or dip into a cellular data plan and can't rely on Wi-Fi may find the Belkin receiver a useful gadget, especially while commuting.