Microsoft Xbox One Game Console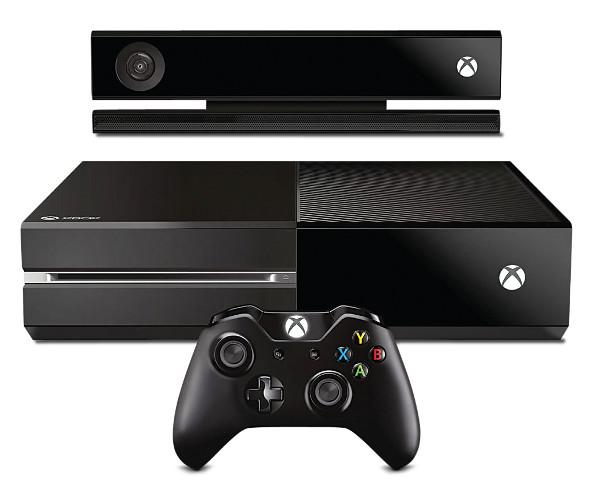 PRICE
$499
AT A GLANCE
Plus
Involving gameplay and graphics
Powerful Smart TV features
Wide range of remote control options
Minus
Features may be overkill for some
No DVR control
THE VERDICT
Microsoft's next-gen console is a home entertainment powerhouse. Games, movies, music—it's got it all.
Microsoft wants to take over the living room. OK, maybe that premise isn't exactly new. About 10 years ago, tech pundits used the same words when discussing the Windows Media Center PC, an all-in-one solution that combined computing and home entertainment in a big, ungainly box. You don't hear much about Microsoft's Media Center PC ambitions anymore. What you do hear about is the Xbox One, the latest version of the company's successful game console. And yes, Microsoft still wants to take over the living room, except now they plan to do so through the Xbox One.
What does the new console have going on besides gaming? Quite a lot. Unlike its predecessor, the Xbox 360, it can play Blu-rays along with DVDs and CDs. And its streaming apps selection includes Xbox Video and Xbox Music, two services packed with enough content to easily rival other online portals such as iTunes, Amazon Instant, and Spotify.
The Xbox One's most transparent play for your living room, however, is its cable box integration. Many of the old Media Center PCs had a slot to insert a CableCARD to get programming from your cable provider. But the new Xbox keeps things simple by providing an HDMI input to pass through the HDMI output of a cable/satellite box or DVR. When connected, the console can download your program provider's data to fill its OneGuide EPG, letting you browse and select channels using a range of different remote control options (more on those in a bit). And with an 8-core processor powering that and other functions, guide-browsing on the Xbox One is lightning-fast: It clocked in at twice the speed of my TiVo DVR.
I bought an Xbox 360 with Kinect a few years back so my, ahem, kids could play games. Compared with the 360, the One is bigger, boxier, and horizontally oriented—more like a Media Center PC than a game console. As with the 360, the One has a large external power supply. Its case is spiffier-looking, though, with ridged surfaces and a front panel that's completely featureless except for a slot-loading disc drive and a capacitive-touch power button. All considered, the One's appearance is understated enough that it wouldn't look out of place in an AV rack (as the 360 does).
The console has a single USB 3.0 port located on the left side and two more around back. Note that these don't support USB drives for storage or media playback; they're meant for plugging in a gaming accessory like a Mad Catz Arcade FightStick—rowrr! (Support for USB storage/playback was a feature of the 360.) Other connections on the back panel include an HDMI 1.4a input and output, an optical digital audio output, an IR output, and a proprietary jack to plug in the included Kinect Sensor for motion tracking and voice control. Gamers have complained that Kinect should be an optional accessory for the One as opposed to a feature—perhaps in hope that Microsoft will lower the system's $499 price to match Sony's $399 PlayStation 4. But the company has stated that Kinect is integral to the Xbox One experience, and after playing around with the new console for some time, I agree.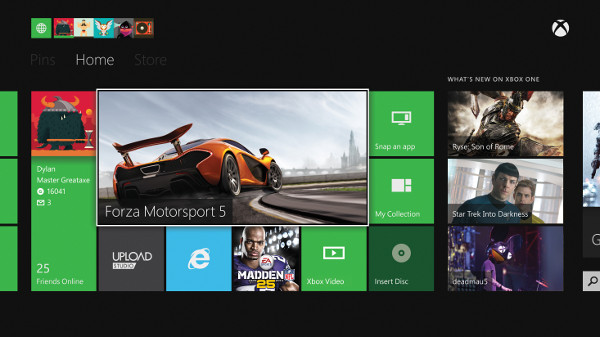 Xtra Smart Hub
How do I begin to describe the multifaceted media hub that confronts you when you power up the Xbox One? Let's start with a general description of its Windows 8-influenced UI. This consists of a horizontally scrolling interface with three main clusters: Home, Pins, and Store. Home has a large window that displays the currently active source (game, cable TV channel, Netflix stream, etc.) surrounded by panels with your Gamertag/avatar and related info, recently opened apps and games, and links to the Snap window—a sort of picture-in-picture feature that lets you display two sources like a TV show and a Website onscreen simultaneously.
Pins is a board where you can keep items such as frequently used games or apps, or a link to a favorite artist page on Xbox Music for quick access. Store, as you might expect, is an online portal to download Xbox games, movies/TV, and music, along with third-party apps. The console's app selection is limited compared with what you can access on some Smart TVs, but key ones like Netflix, Amazon Instant, and Hulu Plus are available. There's also Skype, which taps the abilities of Kinect's 1080p-res camera and high-quality microphone. (Microsoft now owns Skype, so integration of that app here was obviously a big priority.)
Total Control
There are many points of entry for operating the Xbox One, starting with the included wireless controller. (Microsoft gives you only one; extras cost $60.) It's battery-powered (an optional USB-rechargeable lithium-ion battery kit is available for $25), and the controller fits snugly in both hands, works great for gaming, and has vibration feedback, though it isn't so hot for things like handling disc playback.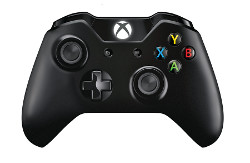 Microsoft makes much of the console's Kinect-enabled voice control, and for good reason: It works better than any other voice-activated control system I've tried. To do things like browse and select listings in the OneGuide TV EPG (whose three browse modes are TV Listings, Favorites, and App Channels), you speak commands like "Xbox page down" and "Xbox watch ESPN." Of course, making this happen involves having the console operate external gear in your system, and once you go through a setup process where you enter brand names and model numbers for your components, it effectively does this by tapping Kinect to beam IR commands to your cable box, TV, and A/V receiver. I must say, I got a kick out of being able to walk into the room, say "Xbox on," and have my entire system automatically power up. Then, when I was finished, all I had to do was say "Xbox turn off," and everything powered down.
Did the universal control features all work perfectly? No. There's no DVR control via OneConnect, so I had to keep my TiVo's remote handy. Also, it became tiresome having to repeatedly say "Xbox volume up" to boost system volume in half-decibel increments. (Samsung's Smart TVs give you the option to jump to a specific volume level—say, +14—using voice control.) You have to memorize a ton of commands; it's kind of like learning to speak in code (although saying "Xbox Select" at any point calls up an onscreen list of voice commands for a specific activity). Otherwise, voice control worked well enough that I found myself regularly using it for most actions.
Given that motion control is the main reason for Kinect, you'd think gestures would figure more prominently in the Xbox One. You can do a few things like select items with your hand and use a grip motion to scroll horizontally or zoom in/out on certain areas of the screen. But I found that a voice command, or simply reaching for a physical controller to accomplish the same task, always seemed the better option.