Microsoft Xbox One Game Console Page 2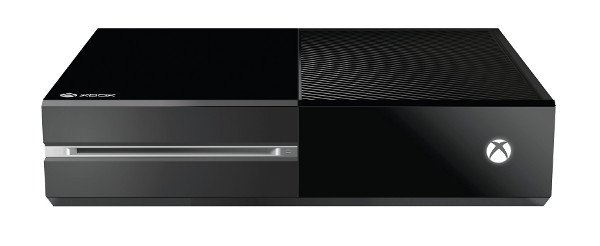 Which brings us to SmartGlass, Microsoft's Windows 8/Windows Phone/iOS/Android app for controlling the Xbox One as well as experiencing second-screen content on your tablet or phone. SmartGlass can do things like show you an interactive map of the kingdoms of Westeros while you're watching Game of Thrones. But it also makes for a fantastic remote—one that lets you quickly and easily navigate the console's menus and settings as well as play games, browse content, and manipulate apps. Most important, it has a virtual keyboard that lets you input text for searches, though that feature unfortunately isn't supported by apps that would benefit from it (such as Netflix and Amazon Instant). For most of my Xbox One control, I ended up happily using a combination of voice control and SmartGlass.
Sharing
Whereas the Xbox 360 provided flexible DLNA capabilities for streaming media from a PC, NAS, or portable device, the One limits file sharing to Windows Media Player's Play To feature. Using this, I was able to right-click a music or movie file on my computer to add it to a playlist of stuff I wanted to stream to the One. It kinda does suck that there's no way to access a media server from within the One's UI, although Microsoft has suggested that this feature could be added in the future.
Browsing
Web browsing with the Xbox One is incredibly easy to do using voice commands. After launching Internet Explorer, you call out a keyword to search or a Website by name (such as "New York Times" or "The Onion"), and the browser will navigate to it. You can use voice commands to easily scroll up or down on a page, bookmark it to Favorites, or select a link by speaking a word that it contains—"Syria," for example. As with other functions, Web browsing is most efficient via a combination of voice control and SmartGlass; the latter adds the benefit of being able to type in URLs using its onscreen keyboard and "throw" that info to the Internet Explorer app. I usually find using Web-related features on TVs to be a total drag; I'd rather just walk over to my computer. But I didn't mind browsing with the One at all because it made the process seamless enough—especially when I used its multitasking-friendly Snap feature so I didn't have to stop watching TV or playing a game.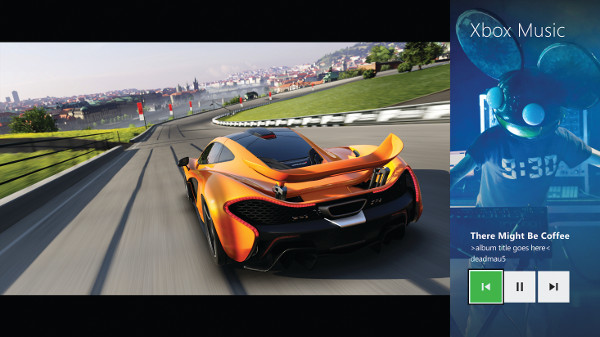 Game Time
Having already lived with an Xbox 360, I found games designed for the new console to have a notably more sophisticated look and feel. Characters, objects, and environments were rendered with lots more detail, and there was more activity going on in backgrounds. When I launched Kinect Sports Rivals( the 360 version was one of my favorite titles for that platform), the play of light on the water as my jet ski careened across an aquatic track looked incredibly realistic. Same thing with Forza Motorsport 5 and Tomb Raider: Definitive Edition—the level of detail in both games provided a strong sense of being in a "real" environment. I also got a chance to play a beta version of Titanfall, a Microsoft exclusive that, specifically, is intended to show off what the Xbox One can do. After a training session where I learned to do stuff like parkour and pilot giant robots, I was thrown into a battlefield scenario with mechanized adversaries attacking me from all angles. It was so intense that I had to stop playing the game or risk a cardiac incident.
Movie/Music Time
One reason I wanted to test the Xbox One was to check out how it would perform as a Blu-ray player. Turns out Microsoft did a great job on that front as well (see Test Bench). Reference Blu-rays and DVDs that I watched with the One all looked great. And video passthrough via the console's HDMI input also showed no reduction in luminance or color detail.
When I played discs and streamed WAV files via WMP's Play To feature, the sound quality was perfectly fine. And compared with the Xbox 360, which has such a loud fan that I couldn't imagine ever using that console to play music, the One is extremely quiet. During CD playback, it retrieves cover art to make the experience both an audio and a visual one. Things get even better when you use Xbox Music: You browse the service's extensive catalog of tracks using any of the remote control methods described above, building a collection and playlists by adding albums and tracks. It also has music videos, though the selection is limited, and there's a radio feature that functions much in the same manner as similar features on Pandora, Spotify, Slacker, Rdio, and iTunes. When playing songs, Xbox Music serves up cover art and full-screen artist photos that it slowly zooms in on, an approach I found more visually engaging than the static graphics that Spotify uses in its otherwise excellent TV-based app.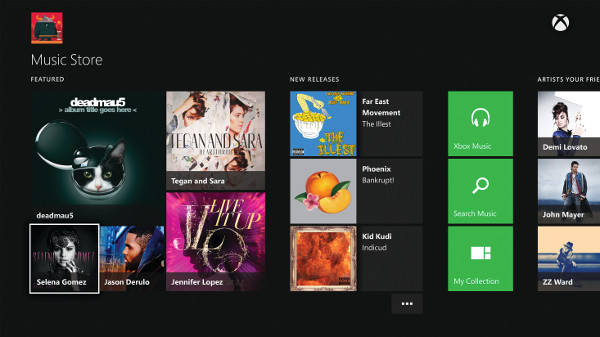 Xbox Won?
Is the Xbox One worth getting? My gut reaction: "Hell, yeah!" Still, there are some points to consider. The main concern is that, at $499, the One is expensive compared with the PlayStation 4, a first-rate next-gen game console. And if your idea is to simply play games and watch movies, all the extra stuff that Microsoft piles into the One could very well be overkill. (The PS4's features are limited to games and BD/DVD playback.)
I personally like playing Kinect games, but more serious gamers may not have any use for that apparatus—or for the voice and gesture control features that it enables. Also, given all the cool things that the One can do, it's all the more frustrating when you butt your head up against something it can't do—schedule a DVR recording, for example. Or recognize a voice command to tune to the Turner Classic Movies channel. (No matter how many times I tried, I could not get it to do this!)
Those grumbles aside, I'm very impressed by the Xbox One. If Microsoft really does want to take over the living room, this is a strong step forward. The One's Smart features generally smoke what's found in most Smart TVs, with voice control and SmartGlass integration in particular standing out. What's more, the console's Blu-ray performance is solid, games designed for it look hyperrealistic, and the Xbox Music service turns out to be surprisingly good. I don't imagine that the Xbox One is the right solution for every living room, but it's more than welcome in mine.
Editor's Note: For another take on the Xbox One, see Barb Gonzalez's content focused review.