Zvox Audio Z-Base 580 Soundbar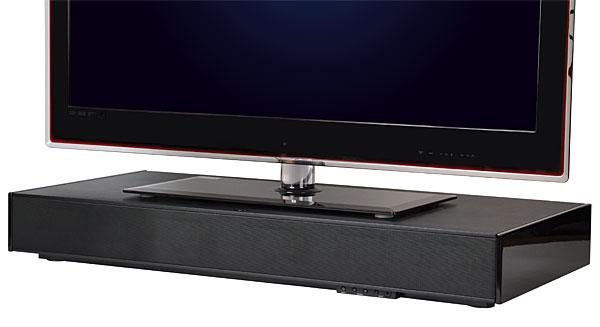 Price:
$400
At A Glance:
Designed for use with stand-mounted TVs • Clean, powerful, well-balanced sound • Improved dialog intelligibility compared to TV speakers • Transparent operation via your TV or set-top box remote
One of the great things about the audio business is that it's still possible for new companies to appear seemingly out of nowhere and—thanks to a rare combination of creativity, skill, and luck—manage to carve out a comfortable niche for themselves. The rise of Zvox Audio is a case in point.
Launched in 2004, Zvox concentrates its efforts on innovative, single-box audio solutions for home-theater and portable-audio applications. Although generically lumped together here and industrywide under the "soundbar" heading, only one model in the company's current six-product lineup can properly be called a "bar"—that is, an audio system packed into a slim, shallow-depth cabinet intended to be wall mounted under a flat-panel TV.
Recognizing that not everyone is going to be willing or able to wall-mount their TV, Zvox's success has been built on a different cabinet configuration it calls a "Sound Base." Designed to be placed on a TV stand directly beneath the set's own base or to fit on a shelf below a TV in an A/V cabinet, Zvox's five Sound Base models package speakers, amplifiers, and virtual surround circuitry into single, low-profile, relatively deep enclosures capable of supporting the full weight of a flat-panel TV.
Features
The Z-Base 580 is the largest model in the company's lineup, with a cabinet measuring 36 inches wide by 16.5 deep by 5 high. I reviewed it with a 50-inch plasma, but it is suitable for use with TV sizes ranging from 37 to 72 inches and weights of up to 160 pounds.
Given the amount of weight it must support, the cabinet construction is understandably quite robust. It is also well thought out from an acoustical perspective, being built from MDF (medium density fiberboard), the same dense and acoustically inert material used in nearly all high-end speakers. The front panel is spanned by a perforated-metal grille. Everything is finished in matte black, except for the glossy black-lacquered side panels, which provide an elegant touch.
The speaker array consists of five forward-firing, 3.25-inch, long-throw drivers and a pair of downward-firing 6.5-inch woofers with a what Zvox calls a "high-mass long-throw" design. A square port located on the back panel channels the pressure created by the woofers' back wave, while a nice system of feet and ridges on the bottom elevates the unit enough to allow the bass to radiate into the room. Zvox says that the cabinet's interior volume is equal to a 14x14x14-inch subwoofer box, resulting in what the company claims is accurate bass down to 34Hz. (As always, see our measurements to gauge actual performance.)
A total of 120 watts of class-D, high-efficiency amplification powers the speakers, and Zvox uses equalization and/or other signal processing to contour the frequency response. It seems that everything has to be green these days, and Zvox likes to point out that even when playing at quite loud volumes, the 580's amp usually consumes less than 10 watts of total power. The company also claims a very low standby power usage of around 0.1 watts.
Although clearly proud of its proprietary virtual surround processing circuitry, Zvox comes right out and says in its literature what most of us already know: "All virtual surround systems—including the PhaseCue II system—are limited in their effects when compared to a good 5.1 system." I'll have more to say about PhaseCue II later, but according to the company, it "manipulates the phase of the separate channels to 'fool the ear' into believing that sound is coming from a variety of sources throughout the room."
Rounding out the audio processing functions are what's called a Dialog Enhancer and a control for Output Level. There is also a Dolby Digital decoder, which allows the system's digital inputs to accept either a Dolby Digital bitstream from a TV or disc player or a straight PCM digital audio signal; the decoder is also said to improve virtual surround performance.

The audio-input suite is basic but sufficient. In addition to the front-panel 1/8-inch analog input, the back panel provides two analog stereo inputs, one optical digital input, and one coaxial digital input. There are no HDMI inputs or outputs, but with no video switching on this unit, that's hardly a requirement. A subwoofer output is provided and might come in handy for the last word in deep-bass effects for movies, but given that the 580 has dual built-in woofers, I can't see that many would feel the need to use it.
I really came to appreciate the unit's automatic power-switching features. The Zvox powers up immediately upon receiving virtually any IR signal—such as the TV's power-on command—and automatically enters Standby mode after three minutes with no signal present. Used in conjunction with the Zvox's ability to learn your TV remote's volume and mute commands, this makes system operation as transparent as possible; the unit turns itself on and off along with the TV, and volume and mute are controlled with your existing TV or set-top-box remote. Auto Standby can also be defeated if desired, or the entire unit can be powered off using the power switch on the back panel.
LATEST VIDEO