Zappiti 4K HDR Media System Review Page 2
The biggest factor in making the Zappiti system work smoothly (especially for a whole-home solution) is the reliability and robustness of your home network. All players provide Ethernet and Wi-Fi connectivity, but you're going to want to use a wired network for streaming 4K/HDR media throughout the house. Since not everyone has a wired home network (myself included), this could be the biggest obstacle for those seeking a multi-room system. I ended up creating a makeshift solution in my theater room using a switch to emulate a wired home network for testing. Even with this setup, the one quirk I encountered was that the NAS sometimes wouldn't be available, and I would have to cycle power to access it again. I'm not sure why this occurred, but fortunately, instances of it happening were rare.
The Zappiti player software initially gives you three options to choose from: Video, Music and Explorer (you can tailor this to open directly to a preferred option after initial setup).
With all players attached to your home network, you can also move media around from players to NAS and vice versa using a computer located on the network, which will see each device as a network drive.
Performance
After I got everything up and running and the players set up properly, the experience of using the system turned out to be pretty fantastic. The player software does most of the heavy lifting to fill in all the title data needed for your library, including poster art, movie info, even soundtrack music, which cues up when you hover over a specific movie when browsing the interface. The presentation of all these options can also be customized within the menus. Along with that, Zappiti offers some cool collections. For example, if you own a movie that is part of a trilogy or saga, Zappiti will group it with the rest of those titles automatically. You can browse your collection as a list or by cover art, and sort videos by genre, title, resolution, and date added. Zappiti also provides skins to change the overall look of the interface. The default uses a red background that I wasn't a fan of, but the silver backdrop provided a more regal, high-tech look that I preferred. Once again, all of this is configurable in the menus, with clear instructions provided in the player's manual.
Image quality was largely the same with both players, despite the more rugged build of the 4K Pro. The latter did offer more connection choices, and I appreciated the option for a direct output of the source resolution when using the player with my external Lumagen video processor. For my test, Zappiti pre-loaded content to the drives, so I was able to navigate between movies, TV shows, and music right out of the gate. Transferring files from the NAS to a player was a piece of cake, and watching files located on either of the standalone players proved seamless. I also attached some portable hard drives loaded with video, and accessing that media was simple using the Zappiti Explorer, though file-browsing in that manner lacked the slick Zappiti Video interface that's the main selling point of this system.
Zappiti offers iOS/Android apps to control the players. I also used the included hardware remotes to navigate the system without much hassle. Music added to the NAS can be ripped in lossless FLAC and ALAC formats for perfect replication, and you can access music files stored on a portable device connected wirelessly to the same network for playback.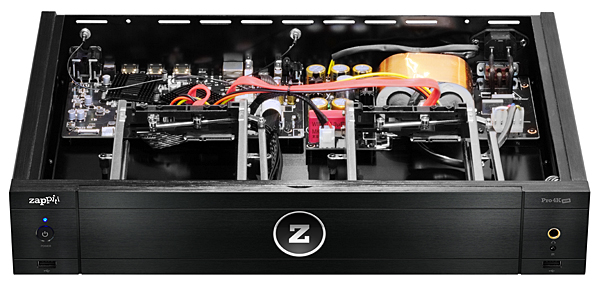 During my time with the system I pretty much concentrated on watching movies and TV. When you select a movie, the Zappiti software asks you if you'd rather view the disc's menus or start the movie directly—a nice touch.
I didn't note any quality loss during movie playback compared with playing a disc directly using my Oppo UDP-203 Ultra HD Blu-ray player, regardless of image resolution or frame rate. For the most part, I left the system output in source direct, which means the video was not being processed by the Zappiti software. When I set the player's output to a fixed resolution, I didn't see any glaring issues with the software scaling/de-interlacing. Overall video performance was generally excellent and in line with my Oppo UDP-203. The only "change" I did notice with the Zappiti system was when playing HDR content. HDR10 uses metadata that provides details about the content itself and the mastering display used to create it. Most TVs and projectors ignore this data, but some rely on it for tone mapping. The Zappiti system does not retain HDR metadata, which could cause issues with some displays. When I asked Zappiti about this, I was told it was a limitation of Android and they were not sure if it could be addressed with an update to existing hardware.

Ergonomics
Using Zappiti's onscreen interface was reminiscent of experiences I've had with both Kaleidescape systems and my Apple TV box. Once a movie is selected, you see an info screen that tells you when the film was released and the file format (including relevant technical info like video resolution and audio soundtrack details). You can easily browse your library by title and genre, though the system lacks sophisticated features similar to Kaleidescape's intelligent grouping functions.
Because the Zappiti software automatically imports all relevant data for the discs you import, it's very easy to use. This is a system that would be simple for anyone in the household to operate, kids included. Same as with Netflix, Zappiti lets you specifically designate titles for kids so they can browse a limited library that you have personally vetted. Again, all of this is customizable, so if there are attributes you don't like (cover art presentation, layout, skin), they can be easily changed from within the interface using the remote control.
Conclusion
The Zappiti 4K HDR media system provides a scalable multiroom solution with very little compromise when it comes to browsing and playing back movies and music. Other solutions on the market offer similar features, but most of these require that you use a PC for playback and do most of the work to fill in the data for your collection. Also, Zappiti doesn't have the boutique prices of similar hardware solutions with a more locked-in infrastructure like Kaleidescape. I was really impressed with not only the video quality of the Zappiti players, but the system's overall ease of use, from ripping titles in my disc library to the NAS, to navigating and selecting a movie. If a multi-room digital media solution is on your shopping list and you don't want to have to rebuy your movie collection in digital-only format, Zappiti's solution is definitely worth a close look.