Young Mr. Lincoln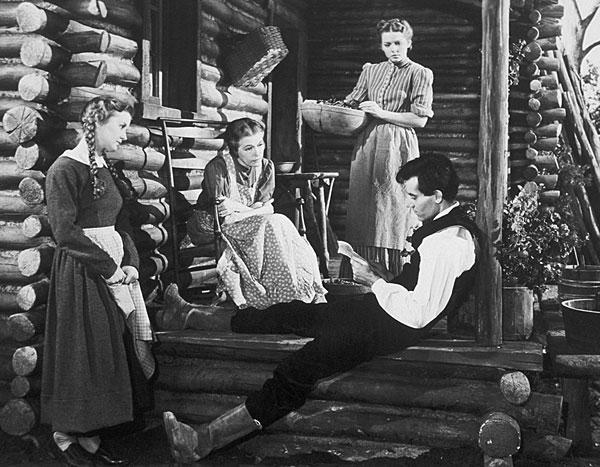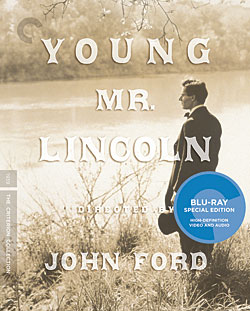 This new digital restoration was done from a 4K scan of an original 35mm nitrate print and, in damaged sections, a fine grain safety print. The resulting high-def black-and-white transfer is free of all scratches, fading, and other wear and tear of time. Contrast is perfect, with deepest blacks to Lincoln's frock coat, boots, and top hat, bright whites in shirts and snow, and a beautiful sea of grays. Detail is plentiful throughout, even in shadows, with grass, grain in the ever-present fences, and texture in surfaces of rivers all tactile, along with patterns in corduroys, tweeds, and fine lace all visible.
The uncompressed monaural soundtrack taken from 35mm magnetic tracks has had all clicks, hiss, and assorted audio issues repaired and rebalanced. Music and dialogue are exceedingly full, vibrant, and clear so that during courtroom scenes silences resound as much as the marvelous, homespun-wisdom speeches.
A new commentary by scholar Joseph McBride analyses the film with knowledge and insight. An episode of the British TV show, Omnibus, has Lindsay Anderson examining fellow director John Ford's pre–World War II work, career, and personality with informative intelligence illustrated with plentiful clips. There's also a talk show appearance by Henry Fonda, audio interviews with him and Ford, and a radio dramatization of the film. All are entertaining, adding to a wonderful experiencing of a masterpiece of cinema.
Blu-Ray
Studio: The Criterion Collection, 1939
Aspect Ratio: 1.37:1
Audio: Linear PCM mono
Length: 100 mins.
MPAA Rating: R
Director: John Ford
Starring: Henry Fonda, Kenneth Macgowan, Alice Brady
Young Mr. Lincoln is a biography that avoids dramatizing any major achievements or historical events that make up a person's destiny. Instead, they are alluded to by visual metaphor, audio clues, or pieces of Civil War music. At a local fair, we see Lincoln judging a pie contest, having to choose between a Georgia peach and an American apple pie, winning a logsplitting competition by dividing the body in two, and helping a tugof-war team succeed by hitching their end of the rope to a wagon; all subtly stand in for Lincoln's moral struggles with slavery, justice and rule of law, and the coming Civil War. The central story involves him, as a young lawyer, first saving from a lynch mob two brothers accused of murder and then defending them in court, trying to avoid sacrificing one to prevent the death of both. Even personal experiences, such as loss of family that helps create the melancholy that pervades, aren't shown but only talked of or, in the case of his first love, Ann Rutledge, presented through a poetic scene at her graveside. Yet the film gets across the whole life, personality, and times of the future great president.