Yamaha YSP-5600 Soundbar Review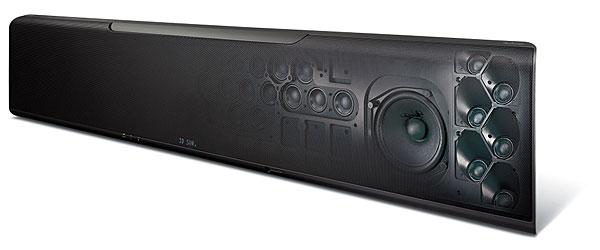 PRICE
$1,700
AT A GLANCE
Plus
Dolby Atmos and (via future upgrade) DTS: X
MusicCast, AirPlay, Bluetooth (both in and out), and Wi-Fi for music streaming
Minus
Larger than most soundbars
Remote control isn't backlit
THE VERDICT
It's pricey, but outstanding sonic performance and an impressive list of useful features makes the Yamaha YSP-5600 one of the best overall soundbar values on the market.
It had to happen: Somebody took Dolby Atmos and superglued it to a soundbar. It looks like Dolby Atmos in a Bar (DAIB) is the new Home Theater in a Box (HTIB). Oh, joy of joys.
I jest, of course. I've reviewed some really great soundbars—and Yamaha, the company behind this groundbreaking Atmos-enabled model, is no slouch when it comes to all-in-one theater systems. At $1,700, the new YSP-5600 is the most expensive, and most extensively featured, soundbar in Yamaha's lineup. Measuring in at 43.25 inches wide x 8.38 high x 3.63 deep (without its stand), it looks to be the largest, too. From the size, heft (almost 26 pounds), and quality of construction (including a metal—not cloth—grille), it should be obvious to even the most unshakable soundbar skeptic that this aspires to be a serious speaker system, with or without the Atmos-enabling bits.
Feature This
The YSP-5600 is chock-a-block (chock-a-bar?) with features—useful and desirable ones, not the rarely used crap that gets thrown in solely to add extra bullet points on a sales brochure. In fact, from a hardware/features/function standpoint, the YSP-5600 is about as close to the ideal soundbar as it gets. That's a bold statement, but consider the following: four HDMI inputs, 4K/60p passthrough, HDCP 2.2, multiroom wireless music streaming via Yamaha's proprietary MusicCast infrastructure, AirPlay, DLNA certification (not mere compatibility), built-in Wi-Fi and Ethernet, Bluetooth (receiver and transmitter), optional wireless subwoofer adapter kit, and of course, support for 7.1.2-channel Dolby Atmos. My sample didn't include DTS:X support, but Yamaha says it'll be available via a firmware update in the near future. The YSP-5600 also includes a microphone for the system's two modes of IntelliBeam automatic sound optimization.
The Bluetooth implementation is unique for a soundbar—or nearly any A/V system component, for that matter—in that it both receives and transmits (though not simultaneously), which means you can stream audio to the bar from a smartphone or stream audio from the bar to, say, a pair of Bluetooth headphones. Bluetooth's inherent (and highly annoying) latency causes the soundtrack to be out of sync with onscreen video, but Yamaha can't be blamed for that. Fortunately, latency isn't an issue when listening to the supported streaming audio services, which currently include Pandora, Spotify (courtesy of Spotify Connect), Rhapsody, and SiriusXM.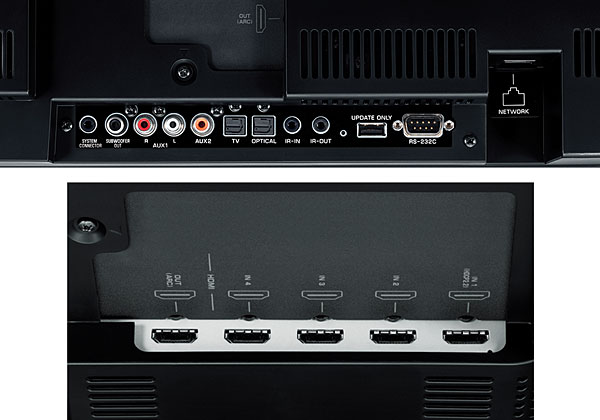 Lesser-used features—but ones highly appreciated by integrators—include an IR input, an IR passthrough output, and support for network-based IP control and RS-232 communication. There's even a certified driver for Control4 home automation systems. Yamaha includes special menus for "hotel room use," but automatic Turn-On Volume level, Max Volume level, and Input Lock are great features for homes with children or elderly users, too.
For the life of me, though, I can't fathom why Yamaha's remote control isn't backlit. It's the YSP-5600's one glaring, egregious, onerous, mystifying, damnable, absolutely asinine hardware flaw. Yamaha should include a letter of apology in every owner's manual. (Can you tell I'm not pleased?) Sure, there are two free smartphone/tablet apps—one for direct control of the soundbar and another for MusicCast operation—but I dislike using apps for watching TV and movies, because it's just easier and faster to use a dedicated remote. Unless it's not backlit…and you're in a darkened room…(insert the sound of a remote control being thrown against the wall).
Let's Get Acoustical
So how does a fully loaded $1,700 soundbar with an Atmos-enabled speaker section sound? Well, before I cover how it sounds, I need to explain how it makes sound. The Digital Sound Projector tech- nology that Yamaha employs in the YSP-5600 isn't just different, it's really different. Yamaha has been using this technology in some soundbars since 2005, and a lot has been written about it, so I won't get too deep here. But if you're not familiar, the simplest explanation is that the YSP-5600 is the acoustic equivalent of a champion trick-shot pool player.
That's because the 32 (yes, 32!) 1.5-inch drivers on the front baffle of the YSP-5600 are used in combination to simultaneously create the seven (non-Atmos) L/C/R/SL/SR/BL/BR channels. As improbable as it seems, by carefully adjusting the timing and amplitude of the signal sent to each drive unit independently, the soundbar can shoot ("steer") these "sound beams" in different directions to specific listening positions and spots on the walls around the room. Just as a pool shooter can bank a ball off one or more side cushions to sink it in a particular pocket, the YSP-5600 banks sound beams off one or more walls—so that, say, in the case of the left front, that beam bounces off the left wall at just the correct angle to make the reflected beam arrive at the intended listening position. Critically, the bounced beam comes from the general direction where our brains normally would find the audible cues to establish the location of an actual left speaker, so it sounds like a real speaker is sitting there. It's as if our trick-shot pool pro racks up seven balls, breaks, and sinks all seven in the same pocket at the same time with that one shot.
Interestingly, banking sound off walls—or, specifically, the ceiling—is how Atmos-enabled speakers and add-on modules work. So it makes perfect sense for Yamaha to adapt the Digital Sound Projector tech- nology for the task. To create the front height channels, the YSP-5600 uses 12 upwardly angled 1.125-inch drivers, with six mounted on each side of the main 32-driver array. Unlike any other Atmos-enabled speaker or module I know of, however, the height-channel sound beams can be steered using the same method as the other channels. Consequently, you can actually move the spot where the reflected height-channel sound comes from. By contrast, if you change the position of an Atmos-enabled speaker, you'll muck up your soundstage. It's a little easier to reposition an Atmos-enabled module, but there's a good chance it'll end up looking oddly crooked on top of your speaker, or it may even require its own stand.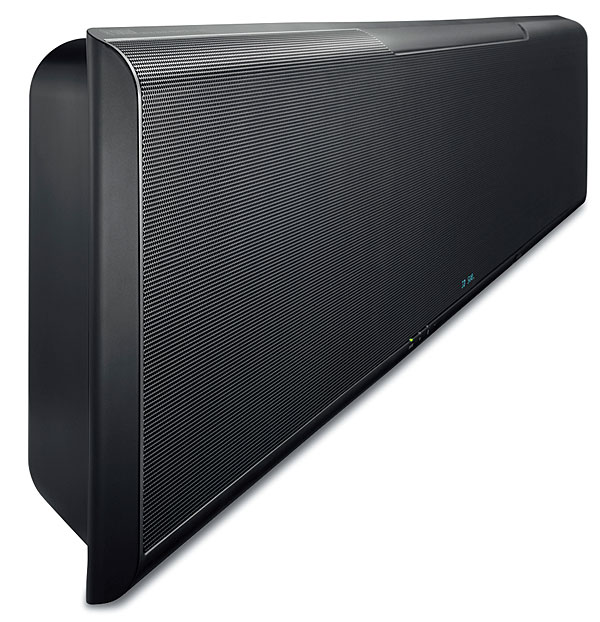 Your Room or Mine?
Relying on wall reflectivity means that the acoustics of the room (including wall and window treatments, furniture, and especially the room's dimensions and seating location) are vital to whether or not the YSP-5600 will perform as promised. A rectangular room with a uniformly boring interior would be awesome. Most rooms aren't like that, however. To compensate for real-world dwellings, there are multiple parameters that can be adjusted to tweak the system's performance, such as horizontal and vertical beam angles, beam travel lengths, beam focal lengths, and (finally!) output levels. Fortunately, this would only need to be done manually in rare circumstances, as the YSP-5600 includes a microphone and built-in IntelliBeam automatic setup routine. It even comes with a pre-cut cardboard stand to use with the mic to make sure it's placed at ear height for the auto calibration test tones. There are three memory settings, allowing you to run multiple calibrations based on what you're going to listen to (movies or music) or the condition of the room (curtains open or closed, for example).
My theater room is rectangular (12 x 24 feet), but one side is drywall over a layer of Auralex Acoustics SheetBlok sound-barrier material, and the other side is predominantly windows with cellular shades and thick blackout curtains. The furniture isn't arranged symmetrically, and there are several exposed beams and pillars. In short, it's not the most Digital Sound Projector–friendly room in the world. That said, the auto calibration performed amazingly well—much better, in fact, than I expected. There were only two issues I needed to correct: 1) the front soundstage was shifted slightly to the right, and 2) the left surround "speaker" seemed to be slightly in front of me rather than behind me. (The right surround was perfect.) Manually adjusting the system is a surreal experience, because you can make the channels move in a ghostly circle around the room. Shifting the front soundstage to the center was simple, but the best I could do with the left surround was to place it about even with my shoulder. I didn't have to futz with the height channels at all. Of course, along with tweaking the system, I also connected a $1,000 GoldenEar Technology ForceField 5 subwoofer to the Yamaha's sub output. Although you may not need to spend that much, don't wimp out on the sub, because the YSP-5600 delivers little bass on its own. [Ed. Note: Yup—pretty much cuts off below 100 Hz. See Test Bench.]
3D or Not 3D?
The obvious demo material for a Dolby Atmos system is an over-the-top (ahem) movie from the genre known as "ridiculously unbelievable action/adventure/sci-fi." So I started with Brooklyn, a heavily accented, dialogue-heavy movie that's nearly—but not completely—bereft of any exciting surround effects. (You didn't see that coming, did you?) The YSP-5600 has two basic surround modes: Surround and 3D Surround. The first is for standard 5.1- or 7.1-channel playback. The second is for Atmos soundtracks or for upmixing soundtracks without the Atmos treatment. To see how well the YSP-5600 could handle the foundations of a movie soundtrack before I got dazzled (or distracted) by sounds from above, I gave Brooklyn a go in the Surround mode. (As a quick aside, Yamaha also offers an extensive list of proprietary environmental soundfield reproduction settings called Cinema DSP. I didn't do any evaluation using Cinema DSP or Cinema DSP 3D because I wanted to avoid conflat- ing the effects of the soundfield processing with what the Atmos-enabling was providing.)