Yamaha YSP-4300 Soundbar System

PRICE
$1,900
AT A GLANCE
Plus
Clean, dynamic sound with enveloping surround
A wealth of inputs and listening options
Key functions can be operated with TV remote
Minus
Voices can sound a little thin
Much more complicated and expensive than most soundbars
THE VERDICT
If you don't mind a little complexity, the YSP-4300 is one of the best soundbars you can buy for movie and TV viewing.
Soundbars are supposed to be simple, right? The home theater sound system for people who can't figure out an A/V receiver, right? Well, the Yamaha YSP-4300 isn't simple. Its 24 speaker drivers, numerous inputs, 10 surround modes, 55-button remote, and 80-page manual make it almost as complex as one of Yamaha's receivers. The only thing that's simple about it is that there's a lot less to hook up than with a full surround sound system.
The YSP-4300 has to be complex, though. It uses Yamaha's Sound Projector technology, which in this case employs an array of 22 matching drivers. By meticulously adjusting the delay and level of the signal going to each of the YSP-4300's array drivers individually, it creates directed beams of sound that shoot at you from different angles or bounce off the walls, simulating the effect of a full 5.1 or 7.1 system. The technology's been proven through several generations of product, going back to the YSP-1 in 2005.

The $1,900 YSP-4300 and its smaller brother, the $1,600 YSP-3300, are basically higher-end versions of the $1,000 YSP-2200. The YSP-4300 stands only 3.4 inches high, well suited for placement in front of a TV on a stand or on a shelf under a wall-mounted TV. An IR repeater assures that the soundbar won't physically impede operation of your TV's remote. Both models offer four HDMI inputs, and both accept all common surround sound formats, including DTS-HD Master Audio and Dolby TrueHD.
Each array driver measures 1.1 inches and is powered by its own 2-watt amplifier. (The YSP-3300 has 16 array drivers instead of 22.) At each end of the soundbar sits a 2.5-inch full-range driver powered by a 75-watt amp. Bass comes from a wireless sub with a 6.5-inch driver powered by an amp rated at 130 watts peak (not RMS) power. In addition to the HDMIs, the back panel has various digital and analog audio inputs. A front USB jack allows easy connection of an iPhone, iPad, or iPod touch (which can be controlled through the YSP-4300's remote and onscreen menu), and there's a built-in FM radio. Neither of the latter two features is on the YSP-3300.
You can also stream audio wirelessly from iOS devices by snapping on an optional dongle, but this seems like an egregious inconvenience in a year when even sub-$100 soundbars commonly offer Bluetooth connectivity.
I've loved every YSP soundbar I've tried to date, but does the concept still hold up in a day when other manufacturers have put so much effort into their new soundbars? Let's see.
The Setup
I placed the YSP-4300 on my TV stand in front of my Samsung 47-inch TV. I connected the HDMI from my Blu-ray player to the soundbar, then connected the soundbar's output to the TV's HDMI/ARC input. After I changed the HDMI config in the YSP-4300's onscreen menu, the HDMI/ARC connection allowed the remote from my TV to control power off, volume up/down, and mute on the soundbar. (Not power on, though.) It also allowed the TV's sound to come through the soundbar.
With most soundbars, there's no calibration required except setting the subwoofer level. With YSP soundbars, you connect an included calibration microphone and activate a series of test tones so the unit can gauge your room's acoustics and adjust itself to compensate. More complex, yes, but if you can't handle this, you shouldn't have a driver's license.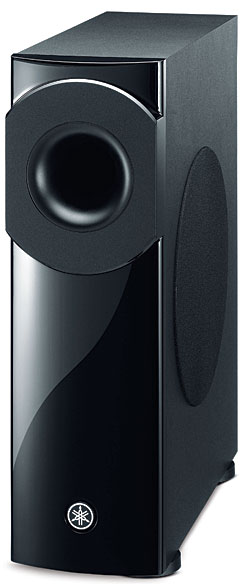 If you're the tweaking type, the onscreen menu lets you adjust the direction and focal length of the beam for each channel of surround sound, as well as the level for each channel. It also accesses dynamic range controls, Dolby Pro Logic IIx parameters, and more. Fortunately, you can ignore this menu if you choose. The Setup button on the remote lets you adjust treble, bass, audio delay (for lip sync), and other functions.
Dynamics and More
With every generation of the YSP soundbars, I've had doubts that the tiny drivers could handle the high-power dynamics of home theater. My doubts were put to rest (again) when I watched Looper, streamed via Vudu. Early in the movie, a man from the future suddenly appears in front of Joseph Simmons (Joseph Gordon-Levitt), and Simmons immediately kills him with a shotgun. It's loud, sudden, and surprising, and while I was shocked out of my chair, the YSP-4300 played it (and the rest of the movie) full blast without a hint of distortion.
Dynamics confirmed, I used the YSP-4300 for my first viewing of the Blu-ray Discs of Episodes I, II, and III of Star Wars. Truth be told, I'd intended only to watch the opening of Episode II, but I ended up watching all three movies, so I must have found the YSP-4300's sound pretty enjoyable.
I did most of my watching in Spectacle mode; the difference between it and the Adventure and Sci-Fi modes wasn't dramatic. In all of the modes, I got a nice, solid center image with a great sense of envelopment, although I didn't hear the pinpoint imaging and full behind-the-head sound I'd have gotten from a 5.1 or 7.1 system. The Sports mode also worked great for watching Super Bowl XLVII. That mode sounded too ambient for Beyoncé's halftime show; fortunately, I was able to switch to Music Video mode, which worked better.
Let's drill down a little more. Voices in the three movies sounded extremely clear and easy to understand but a little bright. In scenes where the soundtrack filled with orchestral strings, the audio got a little strident. I decided to experiment with the treble control. Bringing it down just one notch made the tonal balance much more natural and allowed the YSP-4300 to play loud without blaring. I stuck with this setting for the rest of my movie watching.
Notching down the treble also helped with the YSP-4300's other sonic issue: It's a little lacking in the lower midrange, so voices don't sound as full as I'd like. Subjectively, the less-bright sound made the voices seem a little fuller.
The wireless subwoofer delivered a decent amount of punch and fairly powerful impacts with none of the annoying cabinet vibration and boominess I usually hear in the soundbar subs. It didn't have significant output in the bottom octave of bass (20 to 40 hertz), though, so it didn't shake my couch the way even most small standalone subs can.
The YSP-4300 makes a surprisingly satisfying music system, but in a totally different way than I expected. I expected to get a surround sound thrill ride, but to my ears, the four music surround modes all seemed amorphous, with only Music Video delivering a real center image.
Fortunately, the Stereo mode saved me. In this mode, the YSP-4300 sounded much like a good desktop audio system. The tonal balance was natural, voices sounded pretty smooth, and I got a solid center image. Although the stereo soundstage wasn't wide, it still sounded fairly spacious and deep, and the subwoofer delivered tuneful electric bass lines and impactful kick drum. Even delicate, demanding material like bassist Ron Carter's version of "Django" (from Blues Farm) sounded great.
To Sum Up
Although the YSP-4300 delivers a distinctly different experience from most soundbars, I really liked it. For weeks, I used it for all my TV and movie watching without ever pining to go back to a full 5.1 system, and there aren't many active soundbars I can say that about. It's more complicated than almost any other soundbar, but if you like to fine-tune the tone, use lots of different modes, and otherwise mess about with your sound, you'll have a lot of fun with the YSP-4300.