Yamaha YAS-207 Soundbar System Review
PRICE
$300
AT A GLANCE
Plus
DTS Virtual:X mimics height/surround
HDMI in and out with ARC
Pleasant voicing in most modes
Minus
Only one video input
3D Surround mode can be slightly harsh
THE VERDICT
The Yamaha YAS-207, which uses DTS Virtual:X processing to simulate height and surround effects, sounds pretty good and is easy on your checkbook.
When Dolby Atmos and, shortly thereafter, DTS:X made their debuts, I expected I'd soon be reviewing a flood of speaker systems and receivers supporting object-oriented surround in a 360-degree soundfield. My hope was that height-capable surround would spark renewed interest in surround speaker packages and receivers — and in home theater overall.
Well, the receivers came in right on time, and the height-enabled speaker packages, while still few and far between, have at least made their presence known, along with a handful of Atmos-enabled soundbars. But Atmos and DTS:X, even among soundbar buyers, have remained the bastion of a more well-heeled clientele willing and able to pay a premium. Lately, though, things took an unexpected turn with some new height-capable soundbars that almost anyone can afford.
Which brings us to the Yamaha YAS-207, the first soundbar to feature DTS Virtual:X, which simulates both height and surround cues without using discrete speakers for either. Height made easy? Bring it on. And really, why not? The humble soundbar, the Baby Bear of surround sound, needs all the help it can get. It may be handicapped by its limited width, cramped enclosure, and (in many cases) reliance on fakery to achieve surround effects — but adding the magic of height may provide a welcome diversion and win new friends.
A New Kind of Bar
The YAS-207 includes a bar and a separate, wireless sub. It is one of Yamaha's eight current soundbars, and one of the two newest, along with the YAS-107 ($200). The step-down model has a different driver array, with "subwoofer" drivers built into the bar and no discrete sub, but it does offer DTS Virtual:X.
The YAS-207 can work on a table, shelf, or wall. It is slightly more than 3 feet wide with nondetachable fabric grilles on the front, sides, and even a narrow strip on the back panel. At the bottom of the front panel is a row of green status LEDs. Connectivity includes HDMI with 4K passthrough, one in and one out, and no other video inputs — more about that in a moment. Digital optical and analog stereo inputs are provided, the latter via minijack.
Inside the bar are four 1.75-inch woofers and two 1-inch tweeters, arranged in two woofer-tweeter-woofer pairs. All of them fire forward; height effects are achieved psychoacoustically, not with an intentionally directed ceiling bounce.
The YAS-207's matching sub has a 6.25-inch driver firing out of its fabric-covered right side with a large flared port on the bottom of the front panel. The back panel's one control is a wireless pairing button, alongside a couple of status LEDs. Some wireless subs packaged with bars connect automatically. Yamaha's documentation suggests that this one does, too, though I resorted to the easy manual pairing routine.
With a single HDMI input and no other video-ins, the bar allows direct connection of just one AV source component. But what if you want to connect both a Blu-ray player and a cable box? You might connect additional HDMI devices to your TV (if it allows), using it as your central AV switching device. The bar's HDMI output is also an ARC (Audio Return Channel) jack. That would enable any HDMI source component connected to the ARC-compatible TV to pass audio signals through the TV to the bar.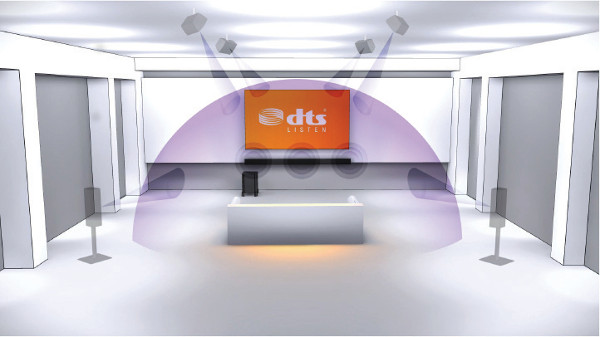 As mentioned, DTS Virtual:X is one of the YAS-207's chief attractions. As implemented here, it "virtualizes" height and rear-surround channels from both stereo and surround-encoded content. Other Virtual:X products may offer actual Dolby Atmos and DTS:X decoding; the YAS-207 doesn't, though it does decode old-school Dolby Digital and DTS up to 5.1 channels internally, and Pro Logic II. Our review sample arrived Virtual:X capable, but early production units were being shipped "Virtual:X ready." If that's the case with the one you buy, a firmware update will bring your bar up to speed.
The remote control is small but well organized, with differentiation by size, shape, and color plus an intelligent layout. One quirk I was warned of is that you have to press the large lozenge-shaped Surround-mode button twice to access the Virtual:X mode. The Surround LED changes from green for regular virtualized Surround to blue for Virtual:X 3D Surround. It's subtle enough to be missed. The Clear Voice (dialogue enhancement) and Bass Extension (self-explanatory) modes are more straightforwardly accessible with dedicated remote buttons. There's also a Bluetooth Standby function that powers the bar up or down in coordination with a Bluetooth source.
If you don't like remotes, Yamaha also offers a Home Theater Controller app that communicates with the system via Bluetooth. It has the same 3D Surround and Stereo modes — but in lieu of a single regular Surround mode, it offers a choice of Movie, Music, Sports, Game, and TV Program modes.
Associated equipment included an Oppo BDP-83SE universal disc player. I also used an Android tablet for Bluetooth.