Yamaha YAS-101 Soundbar
Price
: $300
At a Glance
: Renders 5.1 signals as "7.1" • Multiple digital inputs, no analog • An easy form factor to live with
The valley between most televisions' woeful onboard audio and the glory of a full-on 5.1-, 6.1-, or 7.1-channel audio system is a broad one indeed, and wending its way through the middle like some bittersweet creek is the much-maligned soundbar. Once dismissed by the techno-elite as home theater for the lazy, the soundbar has since evolved into a viable compromise bet ween…well, something great and nothing at all.
Blame it on the ever-flattening flat-screen TV: The latest models barely stick out from the wall when mounted, or look so darn slender on a tabletop, people spend as much time looking at them from the side as from the front. But that thinness hasn't exactly been a boon to quality sound reproduction—tiny speakers are seldom compelling—so how can style-conscious home theater would-be-mavens step up their sound without compromising the minimalist aesthetic? Or for that matter, how can a pea-green rookie derive better sound from a single add-on box?
The simplest soundbars are one-cabinet affairs, packing any necessary decoding, amplification, and even a modest woofer into a wide housing. Such a no-fuss solution is Yamaha's YAS-101 front surround system.
Yamaha has earned significant street cred for its generations of affordable, well-regarded audio/video receivers and was a pioneer in multichannel soundbars with their Digital Sound Projector series, so when the company announces a new convenience product, we listen. With its YAS-101, there are no setup tests or room correction procedures to run, and if you plan to feed it a single input, there are only two wires to worry about, including the power cord. It's just about as easy as you can get, and just right for someone aiming to take one big step up from the audio options provided by the TV alone.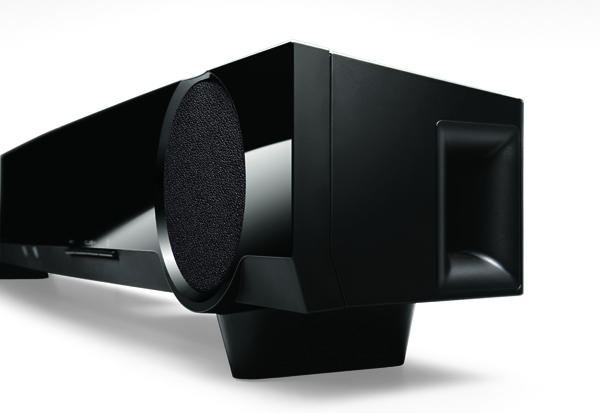 This soundbar was even less tall than I was expecting, with a wonderfully low profile that didn't obscure any of the screen when I parked it on the tabletop right in front of my Samsung PN50C8000 plasma. If it does block your TV's remote control sensor, an IR flasher remote relay function can be activated within the soundbar. The unit has a décor-neutral design encased in a shiny piano black plastic that's relatively soft, meaning it is prone to fine scratches. My loaner had at least one previous borrower, and it arrived with a plethora of fine lines across the top panel, so I would recommend care when cleaning/dusting.
Cloth covers the two main drivers, 2.5-inch acoustic suspension cones that are spaced far from each other. They're angled slightly outward, owing to their placement on either side of the subtly convex face of the unit. Along the bottom, you'll find a pair of downward-firing, 3-inch bass-reflex woofers. These are covered by a small cloth-covered panel, which, on my slightly used sample, had a tendency to pop off. Each of the two main channels is rated at 24 watts RMS power (30 watts maximum), with a single 60-watt (maximum) amplifier for the twin kickers. All the speakers are driven by the soundbar's internal digital switching amplifiers. Curvy side vents for the woofers are located on the left and right end panels.
The speaker is quite shallow, too, and at less than 10 pounds could easily hang by its keyhole slots off a couple of nails sunk into studs or even a pair of heavy-duty drywall anchors. The jack pack is recessed so it's no trouble to push the unit flush up against the wall, or the TV, or a piece of furniture. At just under a yard across, the YAS-101 was about a foot narrower than my 50-inch screen, so it should mate nicely with some smaller screen sizes as well. Inside the carton, in addition to the soundbar itself, we are given a pre-cut cardboard template plus spacers to expedite wall mounting, a hair-thin digital optical audio cable, and a kinda-chubby little remote control with batteries.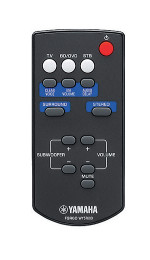 The Hookup
I was surprised to see three digital audio inputs around back: two optical—marked for the TV and the Blu-ray player—and one coaxial, suggested for the set-top box. (Interestingly, my Dish Network ViP722 DVR/satellite receiver has an optical output but no coax.) But what if you don't use a set-top box, either because your TV has a built-in tuner, or because your preferred method of viewing is to stream content via the Internet from services such as Netflix? In a case like this, the TV itself is the source component, and you'd be fine simply connecting the digital optical out port of the TV to one of the optical ins on the soundbar.
In truth, running cables for each individual component works against the quick, simple setup and simplified operation that is one of the promises of this product, so explore your TV's ability to pass a digital audio signal coming in from other sources, through the TV and then on out via its optical audio output. Dolby Digital and DTS are the de rigueur audio formats of DVD and an increasing number of entertainment alternatives, including live TV broadcasts and online streaming content. Decoding for both formats is provided in the YAS-101, so in the best case the TV can act as an audio/video switcher, able to toggle between different devices when you change to different TV inputs. But this will only be optimal if your HDTV passes a 5.1-channel Dolby Digital or DTS bitstream signal from all sources through its digital audio output without downmixing the signal to stereo or converting it to PCM. Many TVs will downmix multichannel HDMI signals from a Blu-ray player to stereo, so do your research and hook up your system accordingly using a direct digital connection from each source if the HDTV modifies the signal.
You can use the TV remote to turn the TV's volume all the way down. This will effectively disengage the built-in speakers, clearing the way for the soundbar to do all the sonic work. You might also need to go into the menus and double-check that your TV's optical audio passthrough is on, or perhaps it offers an Auto mode that will detect the signal and pass it out to the soundbar.
I was somewhat startled to see no analog inputs here. In their infancy, soundbars tended to embrace the variable analog audio output of the television, either via the headphone jack or a dedicated RCA-type stereo out, but the YAS-101 dives headlong into the digital age. There is, however, an analog output for an optional outboard subwoofer, if you really love your bass and want to move it away from the TV. The upgrade path has been provided here.

LATEST VIDEO