Yamaha RX-Z11 A/V Receiver
According to Wikipedia, a flagship is the lead ship in a fleet of vessels that is usually the fastest, largest, newest, or most heavily armed. In terms of home-theater electronics, a flagship model is the company's top-of-the-line design, with cutting-edge features, capabilities, and technologies.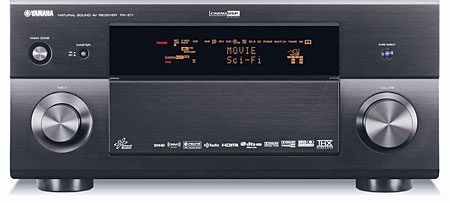 Yamaha's literature claims that the RX-Z11 "embodies the latest in HD audio and video coupled with the ability to get the maximum performance from any kind of source." But flagship performance comes at a steep price—the RX-Z11 checks in at nearly $5500. Does it deliver? Let's find out...
Features
The RX-Z11 is loaded with features and has virtually every connection you will ever need. It is the first AVR to receive THX Ultra2 Plus certification, which includes THX Loudness Plus technology that lets you turn down the volume while retaining the soundtrack's proper tonal balance and imaging. Another first is the addition of an HDMI 1.3a input hidden behind the front panel to go along with the four on the rear. This should come in handy with HD camcorders that output their video and audio over HDMI.
With its HDMI 1.3a inputs, the Z11 is able to receive and decode both DTS-HD Master Audio and Dolby TrueHD bitstreams from a Blu-ray or HD DVD player. Deep Color and x.v.Color (generically called xvYCC) are also supported along with auto lip-sync compensation with a compatible HDMI 1.3a display. If you have two displays, such as a flat panel for everyday use and a projector for movie night, the two HDMI outputs will come in handy (although only one can be active at a time). Another nice feature is that the HDMI circuits can remain active when the AVR is in standby mode, which is great when you just want to watch TV on your flat panel without powering up the entire system.
Other notable features include XM Radio, an iPod dock (both purchased separately), and HD Radio. The Z11 also has networking capabilities for connection to a PC or LAN, USB ports on both the front and rear, and compatibility with PlaysForSure media-streaming devices. Another slick feature is the ability to control the unit from a Web browser, which opens up the Web Control Center, a graphical user interface that lets you select sources, DSP programs, search your iPod library, and tune in Internet radio stations. Even better, iPhone users can control the Z11 from their phone!
In the power department, there are seven channels rated at 140 watts (20Hz-20kHz) along with four channels rated at 50 watts (20Hz-20kHz). There are also two subwoofer outputs, providing a total of 11.2 channels in your main listening room. Why would you need so many channels in the main room? So you can add four so-called "presence" speakers to a 7.1-channel system, a concept that Yamaha has championed for years. These extra speakers are normally positioned higher than the main speakers to add more ambience and sense of envelopment, although their signals are entirely synthesized by the AVR—there is no commercial content with that many discrete channels of audio.
If your wife objects to adding four presence speakers to your room (as mine did), the four extra amps in the Z11 won't go to waste if you set up a multi-zone system. Configuration options are too numerous to elaborate fully, but rest assured, if you want to run a 5.1-channel system in your main room and send audio and video to three other zones, this AVR has what it takes. Digital audio and component video are limited to the second zone, but composite video and stereo audio are available for the other two. There is also a Party Mode that plays the selected source in all zones simultaneously. Alternatively, you can bi-amp your front speakers.
Two different chipsets perform the video processing—a dedicated deinterlacer and a separate video scaler. The deinterlacer (480i to 480p) features a 10-bit Motion Adaptive Deinterlacing Engine with Enhanced Motion Detection Filter, Diagonal Processing, and 2:2/2:3 Pulldown Detection. The scaling and HD processing are provided by Anchor Bay's ABT1018 chipset, which includes a 10-bit Precision Video Scaling engine that independently scales images horizontally and vertically. The AVR supports 1080p/60 as well as 1080p/24, and all analog and HDMI signals can be converted to 1080p/60 for output via HDMI. (Signals at 1080p/24 can also be passed without changing the frame rate.) The component outputs upconvert any 480i signals to 480p from the composite, S-video, or component inputs.
The Z11 comes with a new version of Yamaha's YPAO (Yamaha Parametric room Acoustic Optimizer), which measures and analyzes the acoustics of your room using the supplied microphone and internally generated test tones to determine your speaker distances, sizes, levels, equalization, and angles. It then adjusts the settings to deliver the best audio response.