Yamaha RX-V871 A/V Receiver Page 2
Please note in passing that Yamaha is among the receiver manufacturers that don't provide a printed instruction manual. The hunk of paper has given way to a CD-R with a PDF manual and other documents. No loss—it's easier to locate relevant definitions and descriptions with a word search than to leaf through pages of irrelevant gibberish.
Associated equipment included five Paradigm Reference Studio 20 v.4 speakers, Oppo BDP-83SE universal disc player, Rega Planar 25 turntable, Shure M97xE cartridge, and Bellari VP530 tube phono preamp. All movie demos were Blu-ray Discs with DTS-HD Master Audio soundtracks.
Freddy's Back
Voices and low-frequency effects came to the fore in the 2010 remake of A Nightmare on Elm Street, often at the same time. Standard surging synthetic horror effects were heavily processed for extra menace—and so was Freddy Krueger's voice. Its large bass component made it reminiscent of an obscene phone call (if your phone had a subwoofer). The level of midbass seemed on the plump side for an AVR with room correction engaged. Most room correction schemes produce leaner bass in my room, correcting a chronic standing wave. I asked about this and discovered that Yamaha's YPAO room correction doesn't equalize the sub—it only sets level and delay. Subwoofer EQ was a feature I'd continue to miss in other demos, though elsewhere in the frequency spectrum the AVR offered a gentle, smooth, and highly listenable top end with good vocal clarity.
Date Night quickly escalates from a husband-and-wife romantic comedy to a laugh-infused action film and gave the Yamaha another chance to strut its stuff with dynamically wide effects. Its agreeable personality didn't change. As with the previous selection, I had no trouble finding a master volume level that neatly reconciled the demands of speaking voices at moderate levels and effects at high levels. Only during a car chase with an unusually high quotient of squealing tires did I begin to experience the early stages of listening fatigue. But I stuck to my guns, and the Yamaha soon resumed being its former pleasant self.
The Conspirator is the somber Robert Redford–produced post–Civil War drama about a defendant facing a military tribunal for allegedly collaborating in Lincoln's assassination. The movie is uncannily contemporary in the way it gently raises questions about terrorism and how to confront it. After an opening scene with appropriately percussive fireworks, the movie relies heavily on courtroom drama. Realistically recorded and unhyped voices were gauzy in a few scenes, but they never slipped below what I consider the threshold of minimum clarity. The orchestral soundtrack was on the bland side (not unusual for a soundtrack), and there was modest congestion in the lower strings. The latter was more noteworthy: Once again, YPAO's failure to equalize the subwoofer had a real effect on bass response in my space. I'd venture that the single most useful aspect of room correction is its potentially large role in eliminating the bass bloat that plagues so many rooms.
I Hear Voices
Sacred Feast by Gaudeamus is a multichannel hybrid SACD dating from 2000 and just about the most beautiful choral recording I've ever heard in any medium. It's amazing what five matched speakers can accomplish when fed high-resolution material through a good amp. In the absence of soloists, the main musical interest was the interaction of different group parts—sopranos, altos, tenors, and basses. With the Yamaha, each group ebbed and flowed in its own dynamic envelope and with its own texture, both strikingly well defined. Even without the surround ambience embedded in the recording, the result would have been fascinating. With this ambience well communicated by the AVR, I had a sensation of being suspended in amniotic fluid, serenaded by angels.
Billie Holiday: The First Verve Sessions is the second of three double LPs packaged by Verve, all covering the latter stages of the jazz icon's career. My street-fair acquisition was in near-perfect condition. The Yamaha and my vacuum-tube-based phono preamp combined to emphasize an already-existing warmth that bordered on reticence, at the top end. This was not inappropriate for mono material captured between 1952 and 1954. But the result was still true to the spatial structure of the recordings, which had Holiday standing close to the microphone and most of the other instruments discernibly farther behind. This was a necessity given the fragility of Holiday's voice, which was becoming enriched by a slight rasp in this late phase of her career. I turned up the volume and played through all four sides with pleasure.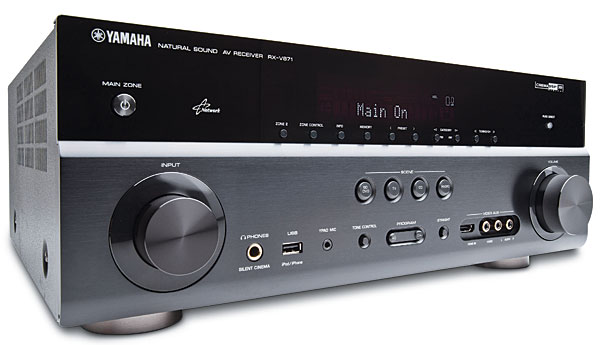 Sara Bareilles' Between the Lines: Live at the Fillmore is a Blu-ray Disc with a choice of lossless Dolby TrueHD at 96/24, uncompressed PCM at 48/24, and lossy Dolby Digital at 640 kilobits per second. Dolby TrueHD got the nod thanks to its higher sampling rate and lossless format. While the live source material was slightly bland and hard—and resistant to the Yamaha's usual sweetening effect—it was still thrilling to hear the singer's pop-jazz vocal styling unblemished by recording-studio effects such as Auto-Tune processing. Occasionally, the video would cut from the concert to the same song being performed by the singer and band on a pier before switching back to the hall again. The RX-V871 clearly conveyed the obvious transitions as the sound became less polished—but also less hard and fatiguing—than in the pier segments.
In sound quality, the Yamaha RX-V871 more than holds its own for an A/V receiver a hundred bucks below the emotionally charged $1,000 price point. It's more than good enough for both movies and music. While Yamaha favors homegrown features over licensed ones, this AVR still has all the functionality you'd expect in a mid-priced receiver. Even so, it's got some stiff competition at its price point: Virtually every AVR manufacturer that makes a credible receiver pumps the price/performance ratio at $1,000. And the smarter ones throw in their most credible feature set. Noteworthy in this regard—especially since it's reviewed elsewhere in this issue—is the Pioneer Elite VSX-52, which sweetens the pot with Apple AirPlay and bass-frequency room EQ.
Still, you won't have any trouble losing yourself in the sound produced by this high-performing Yamaha. As I pulled it off the bottom-rack shelf where my guest AVRs normally reside, I could hear the little voice in my head say gently and respectfully: "You've done well."