Yamaha RX-V871 A/V Receiver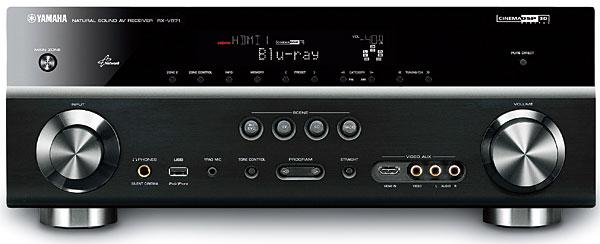 Price
: $900
At A Glance
: Clean, smooth amplification • Direct USB input and app for iDevices • Bluetooth, DLNA media access
Some manufacturers of audio/video receivers offer two different lines. There's a value-oriented line for the hardheaded consumer who wants as many features per dollar as possible. And then there's a higher-end line for the consumer who also wants a full feature set but is willing to pay more for better build quality and higher performance. Yamaha goes a step further, dividing its 13 receivers into three lines.
The HTR line delivers a decent portion of Yamaha's feature set, with three models and prices ranging from $250 to $500. These models have limited distribution, mostly as part of HTIBs, although Yamaha's Website lists them separately. The middle-of-the-road RX line offers a few more features and, at the top end, a little more power with five models at $250 to $900. This is Yamaha's mainstream line; most Yamaha dealers carry these models. Finally, the higher-end Aventage line offers the full feature set, Control4 certification, and a lot more power, plus enhanced build quality at the top end, with five models at $650 to $2,000. It's sold through higher-end retail channels and custom installers.
The RX-V871 reviewed here is the top model in the middle line. Given Yamaha's traditional strength at the $1,000 price point, it's noteworthy that this model demands just $900 for its intriguing mixture of proprietary features, Apple savvy, and solid performance.
Make the Scene
The RX-V871's front panel has a step-down shape that divides it horizontally into two parts. Only the white display and a few miscellaneous buttons occupy the top. The bottom has the usual two large knobs for input and volume. Four Scene buttons—which unite specific inputs with specific listening modes—have pride of place at the center. You can also use the two Program buttons to cycle through listening modes, but these are smaller and less emphasized than the Scene buttons. There's no navigation ring among the other miscellaneous controls. And nothing is hidden behind a panel. Yamaha leaves everything it thinks you'll need in plain sight, including the front-mounted USB and HDMI jacks, and has eliminated the rest.
While this is the top model in Yamaha's number-two RX line, it lacks some of the build-quality refinements of the number-one Aventage line: the double-bottom construction, vibration-killing H-frame, individually grounded DACs, ultra-low jitter reduction, symmetrical amp layout, and of course those extra watts. Even so, longtime Yamaha fans won't be surprised to learn that this AVR sounded great. It ran my Paradigm speakers—which are of average sensitivity—with power to spare.
Yamaha works hard to please Apple fanpersons. This AVR is among an increasing array of products to offer an A/V control app for iPhone and iPod touch. It also works on iPad, although it isn't native to that device. I loaded the free app onto my second-generation iPod touch and quickly got a handle on how it works. There's a main screen that shows input, listening mode, and volume (in decibels), along with volume control. Then there are five more screens, selectable from the bottom of the touchscreen, that handle zone, input, scene, and two additional screens of listening modes. A similar Android-compatible app will be available by the time you read this. Whether you prefer app or remote, you still need to know how your AVR works—especially its listening modes. But the app makes the process of accessing them more palatable.
What about getting media from your iDevice? If you prefer a docking solution, you're at liberty to add the optional YDS-12 ($100). One advantage of using the dock is it can charge your iPhone or iPod when the AVR is in Standby mode. But it's much easier to plug your iPhone or iPod directly into the front-panel USB jack. Then you can operate the device with the AVR's remote or, via Simple Play mode, with its own clickwheel or touchscreen. One advantage to the direct-USB approach is that it feeds a digital signal to the receiver, bypassing the iDevice's DAC in favor of the RX-V871's and eliminating an unnecessary signal conversion. Note that the dock supports a slightly longer list of Apple devices—see page 57 of the Web-available instruction manual.
The only Apple-related feature conspicuous in its absence is AirPlay, now a big attraction in Denon and Pioneer A/V receivers. But Yamaha does offer a wireless solution, the YID-W10 ($150). Plug a tiny transmitter into the iThing's 30-pin jack, plug a wired receiver into the AVR, and you're free to dance around the room as your iThing streams to your home theater system. Note that with this wireless option, video output isn't available, and you can operate the device only with its own controls. For a wireless option outside the Apple universe, check out the YBA-10 Bluetooth adapter ($130).
What about non-Apple-fancreatures? This AVR, like most decent ones nowadays, has DLNA certification, which lets it pull media off a router-connected PC or drive. For music streaming, you have your choice of SiriusXM satellite radio, Rhapsody and Napster subscription services, Pandora personalized Internet radio, or vTuner generic Internet radio. A Compressed Music Enhancer tries to improve these dodgy, compressed sources.
In addition to the Apple and Android apps, Yamaha offers a third alternative for people who hate A/V receiver remote controls. Just look up the receiver's numerical IP address (under Network in the onscreen user interface), type it into a Web browser, and a spiffy-looking Web control app loads itself onto your computer screen. You can select input or listening mode from drop-down menus, adjust volume, or pick a scene. This is also an excellent way to operate the second zone without having to be in the same room with the AVR. Incidentally, if you aren't allergic to remotes, Yamaha's full-color graphic user interface is up to snuff.
Questing listeners for whom 5.1 channels aren't enough will have a novelty to savor (or drool over). Rather than license Dolby's Pro Logic IIz height enhancement, Yamaha offers its own Cinema DSP 3D. In a previous review, I found that it did no harm—a good thing in home theater, as in medicine—but it wasn't compelling enough to justify setting up additional speakers. An Intelligent Amp Assign feature automatically redirects the sixth and seventh channels from back-surround to either height or Zone 2 use when the AVR is in Cinema DSP 3D or Zone 2 modes.
Yamaha also takes an independent approach to low-volume listening modes, eschewing the licensed options of Dolby Volume, Audyssey Dynamic EQ/Volume, and THX Loudness Plus. It offers two modes. The older of the two, Dynamic Range, works only with Dolby Digital and DTS signals. The newer Adaptive DRC (Dynamic Range Control) works with any codec, including lossless DTS-HD Master Audio and Dolby TrueHD.
The proprietary YPAO (Yamaha Parametric room Acoustic Optimizer) continues to serve for auto setup and room corrections. Its test tones are quick and perfunctory. A newly added feature, Multi-Point measurement, measures speaker height and directivity. When I set up my five identical speakers—monitors with moderate bass extension—YPAO correctly pegged them all as large except for the front center. I reset them all to small, as I prefer THX-style bass management (although this isn't a THX product). The RX-V871 selected my preferred 80-hertz crossover on its own.