Yamaha RX-V1800 AV Receiver
Kickin' butt and takin' soundfield names
For as long as I can remember (although the time scale is questionable nowadays), Yamaha has been a strong player in the AV receiver game. While Yamaha is not really a "high-end" company mentioned in the same breath with the likes of, say, Krell, Classe, or Lexicon, it certainly pioneered the behemoth, all-in-one-piece- hernia-inducing monster AV receiver starting with the $4,499 RX-Z9 several years ago (Yamaha's latest, biggest, and baddest, the 11.2-channel RX-Z11, will appear in November for $5,499).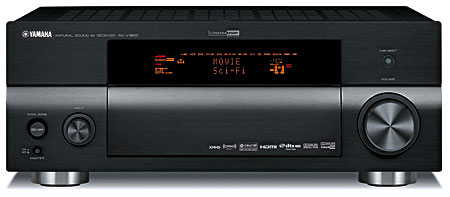 In light of all this AV receiver high-endness, it might be hard for an AVR that sits more toward the middle of the price range, as does the new Yamaha RX-V1800, to get some attention. Even though it's obviously not the most expensive AVR Yamaha manufactures, at $1,299 it's not the least expensive on the list, either. And lately, there's been some pretty hard-to-beat AVRs on the market for well under $1,000. That makes it pretty tough for a receiver to establish a reason for existence in that low four-figure price range.
It turns out that the RX-V1800 has plenty of things going for it, and maybe a few that are not so hot.
It takes all kinds
One of the things you get when you spend a little more on an AVR is inputs, and the RX-V1800 is not shy in that category. With four HDMI 1.3a HDMI inputs (and one output), this AVR is more equipped than a lot of current high-end pre/pros. In addition, there are three component video inputs plus six S-video/composite inputs – not to mention a boatload of optical digital audio inputs and outputs. It's also the least expensive Yamaha AVR with onboard Dolby TrueHD and DTS-HD Master Audio decoding.
The RX-V1800 is both XM-ready and iPod-compatible, which means you'll need to purchase an XM Mini-tuner and Home Dock as well as a Yamaha YDS-10 Universal Dock to make those features fully functional. The XM tuner integration is nicely done with song/channel info available on your TV's screen. It's even easier to navigate an iPod's audio menus from your TV, but for videos you'll have to go to the iPod itself to choose what you want to watch. While I wouldn't recommend it as a first choice for video viewing, thanks to the excellent upconversion in the RX-V1800, video from the iPod is surprisingly watchable on an HDTV.
Your zone of zones
Virtually every AVR near this price has some form of multi-zone capability. The RX-V1800 goes one room beyond the typical two-zone configuration by adding a Zone 3 output. That's nice, but what's really noteworthy is the flexibility of the multi-zone configuration. If you're blessed with a couple of extra amps, you can use them with the independent pre-amp outputs for Zones 2 and 3. If you don't have the bucks for the extra amps, the RX-V1800 is designed to let you hook up a pair of speakers in each of the two zones and run them using four of the AVR's internal amplifiers.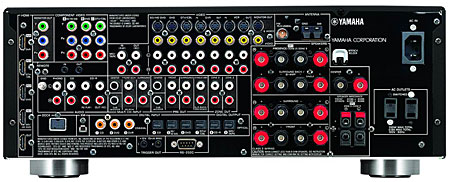 That's cool, but since the RX-V1800 is loaded with seven 130-watt amps, you might wonder how you could fire up a full 7.1-channel system playing 300 in one room while Grandpa is listening to his favorite AM talk radio station in Zone 2 and your daughter is listening to as much Hannah Montana as any human being can stand, the Jonas Brothers, and whoever else might be slipped in on the XM in Zone 3? The answer is that it depends on how you configure the AVR's multi-zone speaker priority settings. Give the zone speakers the upper hand, and you'll hear 300 in glorious 3.1-channel. Give the surround speakers the right-of-way, and the other Zone listeners will hear silence until the credits start rolling over Sparta.
The multi-zone capabilities are limited to audio only. That's slightly unexpected since a lot of the newer AVRs over $1,000 include the ability to send at least composite video to Zone 2 – a feature thats extremely nice if you plan on searching channels on the XM tuner from a second zone.
As I've found with other Yamaha AVRs, the amplifiers in the RX-V1800 are beefy and possess enough oomph to drive a complete 7.1-channel system pretty hard without getting harsh or running out of gas. That's doubly important if the other zones are cranking up the music, too. If you're more interested in ultimate theater performance rather than multi-zone distribution, you can set up a 5.1-channel system and use the spare pair of the internal amps to bi-amp your front speakers (if they're capable of being bi-amped, of course).
Out of the box, the sonic character of the receiver is warm, laid back, and easy to listen to, which is a tribute to the attention that Yamaha pays to the internal signal path and the overall construction of the chassis. The RX-V1800 arrived just in time for me to try out the copy of the Dave Matthews and Tim Reynolds: Live at Radio City Blu-ray Disc I'd just received. "Crash Into Me" opens with some beautiful guitar work that the Yamaha reproduced with great delicacy and clarity. When set on straight-through playback of the Dolby TrueHD signal (decoded and converted to PCM within my Sony PS3), there was nothing in the amplifier that got in the way of either the music or the sense of space that was captured during recording of the concert.
On a whim, I pulled out an old two-channel CD, Jennifer Warnes' The Hunter, which I hadn't listened to in some time. The RX-V1800 handled the pace of the vocals and instrumentation in "Big Noise, New York", keeping all the elements distinct and layered, proving that it can function without any excuses as an audio-only piece of gear. (In fact, Yamaha's "Pure Direct" mode, like that found in some other AVRs, is a nod toward those who want to extract the maximum audio from an audio/video receiver. When engaged, all non-essential video and audio circuitry is turned off, eliminating potential signal noise.).
There are two other audio items worth mentioning. One, I was very impressed with the quality of sound from the external XM tuner, especially when using the Neural-THX Surround mode. I've been an XM subscriber for quite some time, and since I normally listen to XM in the car, I'm somewhat desensitized to the less-than-optimal sound quality of satellite radio. But many channels, especially the XM HD Surround-encoded channels sounded quite good, both in terms of enveloping surround and fidelity. The second thing is the RX-V1800's Compressed Music Enhancer. While I didn't do a side-by-side comparison of a song on the iPod versus a CD, I will say that this sound mode did a relatively good job of mellowing out the harsher effects of lower-bit rate encodings.
Just one correction
At this point in the new millennium, it's hard to unearth an AVR that doesn't include some sort of built-in room correction technology. Yamaha's YPAO (I think I ordered Chicken YPAO at a Chinese restaurant the other day) circuitry isn't new. And I know you already guessed it stands for "Yamaha Parametric Room Acoustic Optimizer." As it was with digital soundfield processing, Yamaha was early to the room correction party; as a result, you can find versions of YPAO in various Yamaha AVRs.