Yamaha RX-A730 Network AV Receiver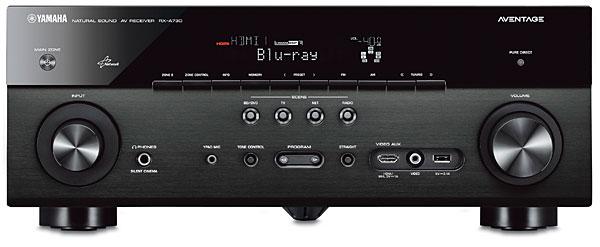 PRICE
$700
AT A GLANCE
Plus
Audiophile sound quality
Outstanding build quality
Successful YPAO room correction
Minus
Pedestrian power output
Suboptimal video processing
Crowded, hard-to-use remote
THE VERDICT
A $700 receiver that puts the audio first.
The AVR is the Grand Central Station of our home entertainment systems. Everything runs into one box from our source components and then out to our speakers and displays for audio and video. In the process, we hope the video signal moves through the AVR without being harmed and that the amplifiers in the receiver mate well with our speakers, providing them plenty of juice without any distortion or clipping.
Once you cross the $500 threshold in the AVR world, it's rare to find a manufacturer that doesn't get the important things listed above correct. There, what usually separates all the different companies from one another is the additional goodies that they throw into the box, such as room correction software, multi-zone capability, and additional amplifiers to run 7, 9, or even 11 channels.
Yamaha was established in 1887 as a piano and organ manufacturer and moved on to audio equipment (crank phonographs) in 1922, so it knows a thing or two about audio. Its Aventage line of AVRs is in its fourth year of production and has been well received by those of us here at Sound & Vision for its audio prowess, although the video processing has been these AVRs' Achilles' heel. Has Yamaha overcome this shortcoming with the RX-A730? Read on and see.
Options Galore
The RX-A730 is the lowest-cost Aventage model Yamaha offers, and to save a few bucks, you'll have to sacrifice some of the features found on the company's upper-end models, such as a phono input, multichannel inputs, HD Radio, a learning remote (no big loss), HDMI to Zone 2, and RS-232 support. Furthermore, the two budget Aventage models (this and the RX-A830) use Burr Brown DACs versus those from ESS Technology in the upper three—and more expensive—offerings.
The stated power is 90 watts per channel with only two channels driven, so expect much less than that if you're powering all seven channels at once. (As always, check our Test Bench results.) If you use a traditional five-channel system, you can designate the two unused channels to power a second zone, upgrade your room to include front presence speakers, or biamp your front left/right speakers—it's nice to know you have options.
All the Aventage AVRs employ an Anti-Resonance Technology (A.R.T.) wedge that places a fifth foot in the center of the unit to reduce vibrations from the power transformer and external sources. Additional refinements include an aluminum front panel to shield the circuitry from external noise and electrical energy created by various electronics, and the inclusion of dedicated power supplies for the analog and digital sections to prevent digital noise from affecting analog circuitry.
While its more expensive siblings have a flip-down door to hide many of its front inputs, the RX-A730 offers no such luxury; everything is out front for the world to see. The usual suspects are here, including input and volume knobs, a headphone jack, the auxiliary video input that includes both composite and MHL-compatible HDMI along with a USB input. I won't bore you with all the other controls, but rest assured, you can competently control the AVR from the front panel without any issues.
The rear panel isn't the least bit intimidating given the budget nature of the AVR, although I wouldn't say that Yamaha skimped on the connections, either. The layout is well done, and its highlights include five HDMI 1.4a inputs (one output with ARC), two component video inputs (one output), four analog stereo inputs, two each of coaxial and TosLink digital inputs, AM/FM antennas, a second USB port (used only for powering adapters and not for data), Ethernet, and a 12-volt trigger. The nine speaker terminals are clearly labeled, and there are two mono subwoofer outputs.

Room correction is all the rage these days in the A/V world, and in lieu of a third-party system, Yamaha uses its own proprietary YPAO (Yamaha Parametric Room Acoustic Optimizer). The RX-A730 has the most basic version of the software and includes only one measurement location, but it did a great (and speedy) job of accurately setting the speaker distances and volume levels in my room. If you don't like what the software provides, the AVR gives you the ability to manually adjust the EQ to your heart's content.
The AVR is DLNA 1.5 compliant and allows you to connect the receiver to your home network. If you don't have an Ethernet cable run to your rack, Yamaha sells an aftermarket wireless network adapter (YWA-10, $100) that will not only connect to the Wi-Fi network in your home, it also includes an additional Ethernet output so you can connect another component to your network. Online streaming options include Internet Radio, Pandora, and Rhapsody in addition to any music you have stored on your home network (including FLAC files and WAV up to 192-kilohertz/24-bit quality).
Additionally, you can connect to the unit via your Web browser or download the best-in-class Yamaha AV Controller app from iTunes, Android Market, and even the Kindle Fire app store. The AVR also supports Airplay, which means you can wirelessly stream music from your iDevice with relative ease. Finally, if you have your music stored on a USB drive, you can plug it into the front of the AVR, and you can access your files using the OSD (on screen display).
Thankfully, the iPad app I downloaded worked like a charm because the supplied remote is horrifically bad. First, the buttons are extremely small, and even with my 20/20 vision, I couldn't make out the mice-type font on many of the buttons in a darkened room. On the one hand, I applaud Yamaha for putting so much control in the palm of your hand, but in low-light conditions, it's hard to know if you're hitting the right button.