Yamaha Introduces A-S Series Integrated Amps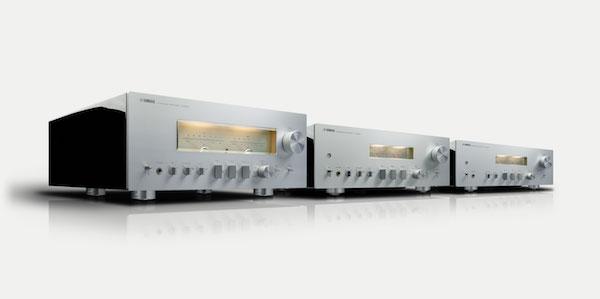 Back in fall 2019, Yamaha took a page from the Technics playbook and introduced a series of upscale components aimed squarely at audiophiles. The 5000 series it rolled out consisted of speakers, a preamp/amp, and a belt-drive turntable, each sporting a design that referenced the golden age of hi-fi and a price tag typical of much high-end gear. Yamaha has now added a trio of integrated amplifiers, the A-S series, to its Hi-Fi component lineup, providing audiophiles with a somewhat less pricey, though no less premium, system-building option.
The new amps are available in a black or silver finish and feature piano black side panels, chunky front-panel control knobs and switches, and LED-lit level meters that emit a warm vintage-y glow. Each model features a phono input compatible with moving magnet and moving coil cartridges and dual speaker output terminals "cut directly from pure brass." According to Yamaha, meticulous attention has been paid to the design of the A-S series, with features such as fully balanced circuitry and mechanical grounding to suppress vibrations setting the amps apart.
"Music lovers deserve a rewarding and authentic reproduction of their favorite tunes. A pure and truly moving listening experience is never the result of just one component," said Alex Sadeghian, director, Consumer Audio, Yamaha Corporation of America. "These new amplifiers combine years of customer feedback, research and development to deliver a reinvented line of amp technology, with many engineering and patented features directly carried over from our 5000 Series."
Here are details on the individual models:
A-S3200 ($7,499.95)
100 watts per channel into 8 ohms or 150 watts in to 4 ohms with 0.07% THD (20 Hz-20 kHz)
Fully discrete headphone amplifier
Connections: Balanced XLR (2), RCA (4), Phono (MM/MC) inputs; and outputs; RCA record and preamp outputs
High quality polyphenylene sulfide film capacitors
Brass screws and gilding oxygen free copper terminals for block capacitor terminals
Larger level meters
A-S2200 ($3,999.95)
90 watts per channel into 8 ohms or 150 watts in to 4 ohms with 0.07% THD (20 Hz-20 kHz)
Fully discrete headphone amplifier
Connections: Balanced XLR, RCA (4), Phono (MM/MC) inputs; and outputs; RCA record and preamp outputs
silver-plated brass feet
A-S1200 ($2,799.95)
90 watts per channel into 8 ohms or 150 watts in to 4 ohms with 0.07% THD (20 Hz-20 kHz)
Fully discrete headphone amplifier
Connections: Balanced XLR, RCA (4), Phono (MM/MC) inputs; and outputs; RCA record and preamp outputs
All three A-S series integrated amplifiers are available now. For the full story, check out Yamaha's website
Related: