Yamaha Aventage RX-A2070 A/V Receiver Review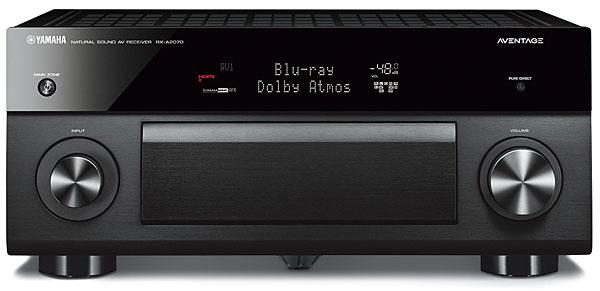 PRICE
$1,600
AT A GLANCE
Plus
Impressive dynamics and clarity in both stereo and multichannel
Quick-response onscreen interface
Four-zone multiroom capability plus wireless MusicCast
Excellent, responsive streaming-audio client
Minus
Remote control is crowded and not illuminated
THE VERDICT
Fully competitive with other flagship AVRs in basic performance, the Yamaha RX-A2070's proprietary DSP music listening modes are an added attraction that could win over even the most serious listeners.
Once, receivers used to receive (radio waves), and amplify, period. They still do, but those are almost beside-the-point functions. Receivers nowadays are more concerned with decoding, casting, wireless-connecting, virtualizing, surround-formatting, multi-room-extending, auto-analyzing, and more. In fact, I don't know why we still call these things "receivers," but, whatever.
Yamaha's new Aventage RX-A2070 nine-channel AVR tackles all those tasks and numerous others, likely including a few that I missed altogether. (For all I know, it can make crêpes or work as a crockpot: The manual runs to 208 pages, and I won't pretend to have read all of them.) And this isn't even the top of the line: For $400 more, there's an RX-A3070 that adds 11.2-channel processing, XLR line outputs, and a few other fillips.
Of course, the RX-A2070 headlines Dolby Atmos and DTS:X decoding, and it includes the nine amplification channels needed to power a 5.2.4channel (or 7.2.2) layout, with no outboard power amplifiers required. The receiver also incorporates Yamaha's extensive expertise in digital signal processing for enhanced surround sound. (Brand Y was the first "major" to introduce DSP overlays for surround, way back in the 1980s.) Here, it takes the form of the company's latest-gen Cinema DSP options, which are legion. In fact, there's so much on the RX-A2070's menu that I'll have to skip over plenty of features, including most of the raft of multiroom attributes, which boast not two-, not three-, but four-room capability, two of them powered, one with HDMI video and a dedicated onscreen display. And that's just the wired zone; there's also Yamaha's wireless MusicCast system on board. But more about that later.
Setup
Aside from connecting a trio of HDMI cables and no fewer than nine speaker cables from my mixed but effective Atmos suite, and then joining the receiver to my Wi-Fi network, setting up the RX-A2070 was mostly a matter of running Yamaha's YPAO (Yamaha Parametric Acoustic Optimizer) auto-setup/EQ routine. The supplied microphone is accompanied by a clever tripod that affords the option of collecting angular and height data, in addition to gathering measurements from multiple mic positions, all of which I did; the whole process takes about 20 minutes, including changes of mic position. The YPAO system can then show you the results of level, position, distance, and phase—but not, unfortunately, the curves or values of any applied equalization. My run produced correct settings for distances, crossovers, and levels.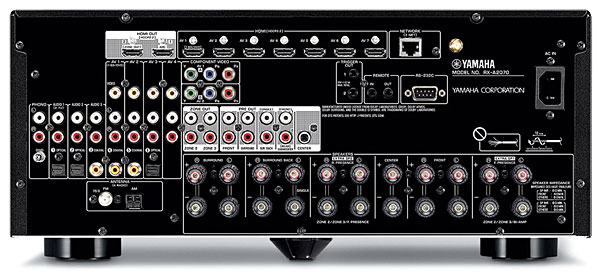 Yamaha doesn't make it particularly convenient to compare YPAO'd sound with non-corrected sound. You have to travel to the Setup menu and then go a couple of submenus deeper, where you can choose from among three YPAO options (Flat, Front, or Natural) or Through. But my impression of Yamaha's correction was generally favorable: It yielded the subtle improvements to bass definition and imaging focus that I expect from the better examples of auto EQ. As always, I did the bulk of my listening with YPAO defeated (i.e., set to Through) since the effect of any EQ robot in one particular room and system (mine) can't be expected to translate to any other.
Listening, Viewing
So, with correction off and full-range stereo as the mode, I cued up the high-energy "Caledonia" from Robin Trower's classic Long Misty Days (not the Louis Jordan song!) to begin evaluating the RX-A2070 in the most basic way—as a simple, two-channel amplifier. No surprise: The result was fully satisfying. The big Yamaha had more than plenty of power to drive my medium-sensitivity, three-way Energy monitors to studio-playback-like levels, full-range, with no hint of strain or congestion. At the same time, it produced all of the drive and momentum from drummer Bill Lordan and the hot-knife-slicing leads from Trower himself on this surprisingly well-captured, 40-year-old chestnut.
There was more than just power on tap, however. For one example of finesse, let's turn to my DSD library and a hi-res file of a Baroque masterpiece: Pergolesi's setting of the Stabat Mater. The purity of the voices and the delicate resolution I heard from accompanying elements deep in the mix, such as the figured-bass cello and back-of-church pipe organ, would have been satisfying on my system under any setup, and it was particularly so with a receiver in the power chair. For a quick multichannel music check, I turned to a longtime fave, Mobile Fidelity Sound Lab's SACD of Stevie Ray Vaughan and Double Trouble's Texas Flood. I cranked up the wail-ful minor blues of "Dirty Pool" to lease-breaking levels—fortunately, I own my home—with no sonic roadblocks. Nobody ever played this kind of thing better, and the tastefully staged mix really complemented the man at the height of his powers.
Yamaha tells us lots of details about the receiver's design—anti-resonance structures, proprietary capacitors and transformers, high-end ESS/Sabre DACs for the main channels—but when it comes to the amplifiers, we're only told of their "symmetrical design," not their class or topology. Personally, I don't care: Whatever their format, they proved to be powerful, transparent, and capable. [Editor's Note: Yamaha confirms that it is indeed a traditional Class A/B design.—RS]