Yamaha Aventage RX-A2050 A/V Receiver Review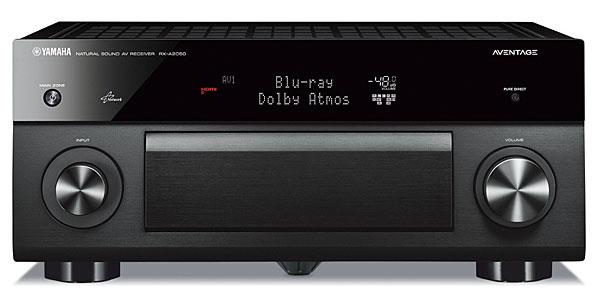 PRICE
$1,600
AT A GLANCE
Plus
Dolby Atmos and DTS:X
Aventage step-up build quality
Multiroom MusicCast
Minus
So-so room correction
THE VERDICT
The Yamaha RX-A2050 gives Dolby Atmos and DTS:X the step-up Aventage advantage with nine amplifier channels supporting 5.1.4, and it adds the sweetener of way-cool multiroom MusicCast.
Is nine the new seven? I'm talking about amp channels. Not long ago, nine-channel receivers were rare and supported relatively exotic surround modes that few people used. But Dolby Atmos bids to change the status quo by adding two to four height channels. A seven-channel receiver can support two height channels. A nine-channel receiver can support four height channels, which opens up possibilities for elevated panning in the top of the surround bubble, front to back and diagonally as well as side to side. In addition to that distinction between 5.1.2 and 5.1.4, there are other variations, such as two front-heights with two back-surrounds (7.1.2).
If nine is the new seven in amp channels, then what is the new $1,000 price point—meaning, the step up to midpriced models that takes you decisively out of budget territory? If this Yamaha RX-A2050 receiver is any indication, the new $1,000 is $1,600. Over time, I'd expect that to drop. But how far, how fast? And how soon, if ever, will we see nine-channel 5.1.4 receivers at $600, the sweet spot for budget buyers? Never underestimate the fervor of receiver makers for adding ever more features at ever lower price points. The next few years should be busy and eventful. In the meantime, this Yamaha Aventage receiver brings the blessings of Dolby Atmos, DTS:X—and multizone MusicCast capability.
Aventage 5.1.4
Aventage is the name of Yamaha's premium line. The RX-A2050 is one of three Aventage models that support Dolby Atmos (and DTS:X) 5.1.4. The others are the RX-A3050 ($2,000) and CX-A5100 ($2,500). Note that these are recently reduced prices. Yamaha's lower-priced RX-V and other lines include no ninechannel models—at least for now.
The front panel of the RX-A2050 is neatly organized with a shiny strip that runs across the full width, containing the display, the power button at left, and—singled out for unique prominence—the Pure Direct mode button at right. This suggests that Yamaha is proud of the amp's unvarnished sound, stripped of listening modes and fripperies. I took the hint and logged several hours in the Pure Direct mode. At the bottom of the front panel is an aluminum plate with a subtle vertical curve and a flip-down door flanked by input and volume knobs.
A 9.2-channel receiver needs power. This one is rated at 140 x 2 with a full-range signal, more or less the standard rating method. The specs say the receiver can achieve short bursts up to 165 watts into 8 ohms, 210 into 6, 285 into 4, and 405 into 2, though "maximum effective output power" is 220 watts. See our Test Bench for continuous ratings with multichannel loads.
Yamaha wants you to know about the custom-made extra-large capacitors and other carefully chosen high-quality parts, the symmetrical amp layout with dual heatsinks at each side, the antiresonance wedge that forms a fifth foot in the center of the chassis, and the H-shaped frame that "reduces chassis vibration to virtually zero even during high-volume output." The DAC is the ESS SABRE9006A, and the unit handles all the hi-res goodies, including dual-rate DSD.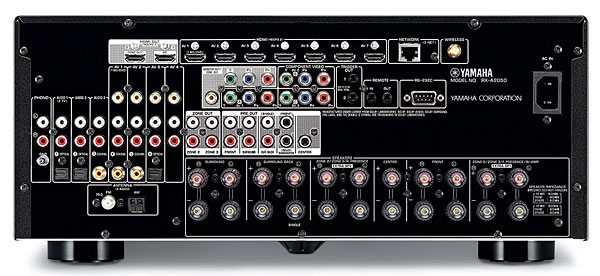 This receiver has what are now the necessities: Dolby Atmos and (with software update) DTS:X decoding, HDMI 2.0a interface, HDCP 2.2 content security, and UHD passthrough and scaling. Its video processing includes HDR with BT.2020, which is the widest possible color gamut.
One unique Yamaha surround processing extra is Virtual Cinema Front, which simulates seven-channel surround sound using five speakers—as opposed to the usual three—arrayed across the front.
The extra two are said to act like side-surround and back-surround speakers. Yamaha's Cinema DSP 3D is said to use a five-channel speaker layout to simulate both height and back-surround speakers. Meanwhile, this receiver steps up from YPAO, Yamaha's usual proprietary room correction, to YPAO R.S.C. R.S.C. stands for reflected sound control, and this version corrects phase as well as frequency response.
Yamaha's wireless and network audio approaches go beyond the now de rigueur Wi-Fi, AirPlay, Bluetooth, DLNA, and streaming services (Spotify Connect, Spotify, Pandora, Rhapsody, SiriusXM). Yamaha has also revamped—actually, totally reinvented—its MusicCast multizone audio technology to link together Yamaha products, such as surround receivers and pre/pros, stereo receivers, soundbars, HTIBs, and wireless speakers, including a pair of powered studio monitors adapted from its pro audio line. You might have any combination of these products operating in your home, united in a single MusicCast hive mind. For further flexibility, MusicCast products support Bluetooth for direct device-to-device connectivity. I had a chance to putter around with MusicCast in a three-zone installation with the receiver and two standalone wireless speakers.
The proprietary MusicCast protocol supports lossless and uncompressed files up to 192 kilohertz/24 bits, Apple Lossless up to 96/24, and DSD up to 5.6 megahertz. The MusicCast app accesses anything connected to the receiver—even the phono input and radio tuner—so those sources are now at liberty to roam the house, perhaps a little dazed, as if they'd died and gone to wireless heaven. The receiver, on its own, supports up to three wired audio zones and a fourth HDMI video zone. There are 12 customizable "scenes"—which bundle inputs with settings— dedicated for the main zone, while zones 2 and 3 each have four scene presets of their own.