X-Men: Days of Future Past
One last hope remains. Thanks to a new time-bending trick, the mind of hard-to-kill mutant Wolverine (Hugh Jackman) will be sent back into his younger body, circa 1973, to warn his allies and stop a pivotal assassination that sets humanity on its darker path. Consequently, relationships are renewed, twisted, and obliterated, while our heroes take part in some spectacular battles. The scope here is truly epic, the action set primarily during the final days of the war in Vietnam yet spanning decades and continents. Fans have long dreamed of seeing the giant comic-book Sentinels—the X-Men's mechanical nemeses—re-created in live action, and budgets and special-effects technology have grown to finally grant that wish, with thrilling results.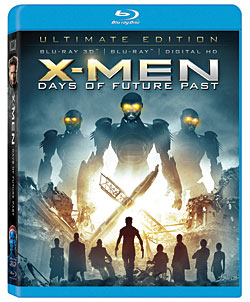 The 2.4:1 HD image is mostly stunning, crystal clear when it wants to be, with exceptional fine detail and terrific shadow delineation. My only real complaint is frequent mild streaking during fast motion throughout. Days of Future Past represents the first-ever native 3D capture for an X-Men movie, and director Bryan Singer, along with his director of photography Newton Thomas Sigel, embraces the process with great aplomb. The composition of many shots makes definite if understated use of the stereoscopic effect, as when Wolverine stands before a big mirror and we're conscious of the significant depth of the room behind him. In Chapter 15's jailbreak scene, slow-motion bullets slice the air, while tiny water droplets hang in hypnotic three-dimensional space.
We're given an aggressive DTS-HD Master Audio 7.1- channel mix but also a delicate one. Colossal androids pound a metal mutant's head into the ground; later a helicopter chops the air gently behind us and to the left to establish the activity at a military base. The different channels are utilized in an extremely clever way for the speedster Quicksilver who's never quite where we expect him to be. The powerful bass helps to convey the sheer weight of the Sentinels, while the whoosh of their first-generation engines is distinct from their sleeker future versions. Interestingly, the only audio accompaniment for the best scene in the film is simply a remix of Jim Croce's wonderful, well-chosen "Time in a Bottle."
Two generations of characters as well as two different casts have come together for Days, and considering the magnitude of this event, the historical backdrop, and the gravity of this revered story line, the extras—all on the 2D Blu-ray Disc—are strangely lacking. There are some featurettes and a few deleted scenes but no audio commentary on the movie. No one seems to be taking advantage of Blu-ray's Bonus View picture-in-picture capability anymore, so instead we have the free Apple/Android Second Screen app Cerebro, updated to add some moderately geeky, fun features. A booklet of fan art and a Digital Copy for UltraViolet or iTunes round out this solid set, but does the future hold some super-special edition?
Blu-Ray 3D
Studio: 20th Century Fox, 2014
Aspect Ratio: 2.40:1
Audio Format: DTS-HD Master Audio 7.1
Length: 131 mins.
MPAA Rating: PG-13
Director: Bryan Singer
Starring: Hugh Jackman, James McAvoy, Michael Fassbender
You'd think that the unique power to control metal, or the weather, or other people's minds would be awesome, but no. In the world of the X-Men, mutated superhumans with such gifts are feared and hated and—in one possible future—will be hunted to the brink of extinction by an army of killer robots. Even worse, these deadly machines will also begin targeting us ordinary human beings, and the world we know now appears doomed.