Into the Woods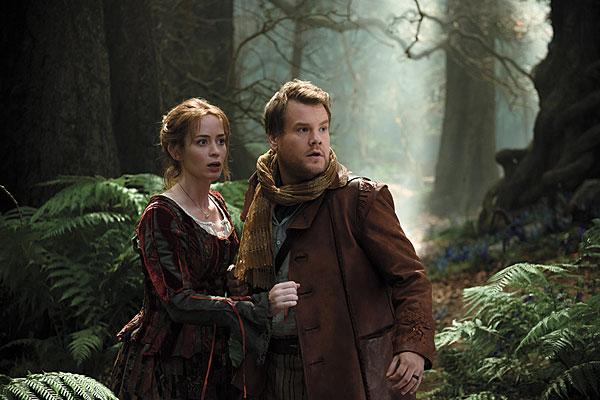 The story cleverly weaves together four fairy tales through a plot device centering on a baker and his wife who are unable to have children because of a witch's curse. In order for the witch to lift the curse, the baker must bring her the cow from Jack (of the beanstalk), Little Red Riding Hood's cape, Rapunzel's hair, and Cinderella's slipper.
One theme is parenting—the witch is depicted as an overprotective mother imprisoning Rapunzel away from princes and other wolves; another is the need to escape what's safe in order to find oneself. The characters go into the world's tangled woods of scary but exciting new experiences that, if they can push on through, will bring knowledge and growth because they're living, not just surviving.
Although woods can be dark, contrast is excellent, with bright whites in the cow and deep blacks in the wicked stepsisters' outfits and the princess' leather pants. There's a wide range of well-delineated autumnal tones in trees and peasant costumes but solid, saturated primaries, too, like Red's cape. Patterns are well defined, with no color bleeding, and skintones are natural. Even in shadows, there's enormous detail throughout the in-depth images with tactile-textured costumes (particularly wool weaves), paths, and stonework in Rapunzel's tower.
Sondheim's marvelous music—sometimes harmonious and melodic, other times disturbingly, jaggedly atonal—and ingenious lyrics are extremely clear in a full, distinct DTS-HD Master Audio 7.1 soundtrack. Very natural-sounding, individuated instruments are evenly spread around each of the channels with subtle support from the surrounds here and in the immersive atmospherics of the woods. Cellos are bassy, as is crashing thunder and booming steps of an approaching giant à la Jurassic Park.
Chatty commentary by Marshall and producer John DeLuca goes into everyday details of scenes but doesn't reveal much. Two featurettes jump around cast, crew, and director, focusing on ways in which meaning is communicated, as well as on the casting and rehearsals. A deeper four-part piece focuses on the play's adaptation, design, costumes, and the challenges of the book and songs.
Blu-Ray
Studio: Disney, 2014
Aspect Ratio: 2.39:1
Audio Format: DTS-HD Master Audio 7.1
Length: 124 mins.
MPAA Rating: PG
Director: Rob Marshall
Starring: Meryl Streep, James Corden, Emily Blunt
Screenwriter James Lapine and director Rob Marshall's adaptation of the brilliant Stephen Sondheim's stage musical (book by Lapine) is a highly entertaining, moving, and inspiring film that, in this Blu-ray's presentation, makes for great home theater.