Wireless Home Theater...with an Asterisk
Normally the disclaimer* comes at the end, but why hide uncomfortable news? When it comes to home entertainment equipment and someone starts talking about a piece of gear being "wireless", they don't mean "wireless" - they mean "nearly wireless". Okay, now that we've gotten that out of the way, let's talk about Panasonic's new rear-speaker wireless-ready home theater systems. Oh, by the way, "wireless-ready" means you'll need an optional piece of gear to make the system nearly wireless. (But don't let that put a barbed-wire fence around your lofty goal of having free-range wireless chickens. There ain't no totally wireless lunch from any company in this neck of the woods, pardner, but that don't mean you can't dream...)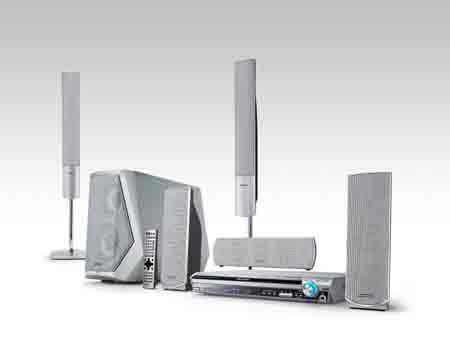 Panasonic's SC-HT730, SC-HT830V, and SC-HT930 are highly affordable, jam-packed home theater systems - the kind most of us in-the-know types refer to as home-theater-in-a-box systems (HTiBs). Common features of all three systems are an integrated receiver with five-disc progressive-scan DVD/CD changer (capable of handling just about every disc format - including DVD-Audio but foregoing SACD, as does half of the known world), Panasonic's H. Bass (short for Harmonized Bass (not one of the filthy rich Texas Bass brothers nor a member of the Detroit music-producer duo known for assisting Eminem to fame and fortune) technology, and a "Dual Unit" active subwoofer that "widens the total woofer surface area for improved bass". Each system comes complete with front, center, and surround speakers - including height adjustable front left and right tower speakers, although the SC-HT930 ships with upgraded front tower speakers that offer "360-degree sound". The SC-HT830V's integrated receiver is the only one of the three to include a bonus Hi-Fi VCR.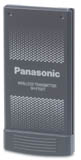 The new HTiBs are designed to interface with Panasonic's new SH-FX50, an optional rear speaker transmitter and receiver module system which can be added at any time. The SH-FX50 uses 2.4 GHz frequency hopping (thankfully it's not frequency hip-hopping because that would just be annoying) spread spectrum technology to send audio wirelessly from the output of the integrated receiver/DVD changer to the rear speakers. While the system does transmit the signal wirelessly, wires are required to connect the rear speakers to the receiving module. Despite this minor bit of unwirelessness, it's the perfect solution for apartment dwellers and home owners with living rooms that are wiring challenged.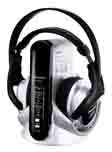 Panasonic has another wireless surround sound solution that's of the more personal type. The new RP-WH5000 wireless headphones are capable of reproducing two-channel stereo (stereo - what a quaint concept!) as well as 5.1-channel surround sound (Dolby Digital, Dolby Pro Logic II, DTS, and DTS-ES). Digital audio signals are sent via infrared from receiver to headphones, and Panasonic says the system range is up to 30 feet before you're on your own. The headphones automatically turn on when placed on your head - how cool is that? - and turn off when removed. The built-in rechargeable Ni-MH battery gets juiced by setting the headphones on the system's recharging stand, and a single charge is said to provide enough power for up to 20 hours of continuous listening. (Don't try this at home, kids.)
Since all the gear is available now ("no waiting in lane 10..."), you're next question is probably, "So what's all this wirelessness going to cost me?"
The top-shelf SC-HT930 system is $499.95. The mid-priced SC-HT830V - the one that includes the Hi-Fi VCR - will set you back $399.95. It's less expensive sibling, the SC-HT730 (no VCR, sorry Grandma), is $349.95. To kick any of these systems up a wireless notch, the SH-FX50 can be added for five cents less than $200.
The RP-WH5000 wireless home theater headphones - which would eliminate my kids' annoying habit of rolling the desk chair over the headphone cord (an event always followed by the plaintive call, "Dad, the headphones don't work again!") - will bring five channels in close proximity to your two ears for only $249.95.
---
*This is where the disclaimer should have been; but since you've already read the first paragraph, this is kind of pointless, isn't it?
LATEST VIDEO