Wireless HD Standard Comes Home
Homeowners, rejoice. Finally, a digital solution standard is in the works to solve your home theater dilemmas. Industry giants are teaming up with AMIMON to create a standard that will bring wireless HD to homes, supposedly by the end of 2008. Let's be happy if it's by 2009. The new standard for Wireless Home Digital Interface (WHDI) is from a special interest group consortium made up of AMIMON, Motorola, Samsung, Sony, and Sharp. It should be noted that Motorola is an investor in AMIMON.
WHDI will enable streaming of uncompressed HD video and video from source to displays, Blu-ray players to receivers, receivers to projectors, or better yet - room to room. No more unsightly wires, no more limits on where you put equipment. Whole house entertainment is a reality.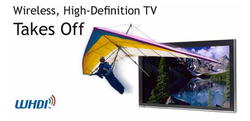 WHDI will operate in the 5GHz unlicensed band and can deliver 1080p HD video, uncompressed. The standard calls for secure and encrypted HD deliver capable of passing through walls, furniture, even people, with less than one millisecond of latency.
According to a new press release, the objective is to enhance current WHDI to ensure that equipment made by different manufacturers will all easily connect.
"WHDI technology complements other wireless and wired standards with a new class of connectivity within the home," said Dr. David Lee, the founder of the HDMI™ standard and a member of AMIMON's board of directors. "WHDI's connectivity matrix introduces to consumers new possibilities to enjoy their high-definition entertainment network."
"WHDI delivers the robust performance that wireless connections must have to meet and exceed consumer demands," offered Dr. Paul Moroney of Motorola. "This new standard will help ensure optimal video delivery in the home."
"The development of the new standard will ensure that when consumers purchase CE devices and take them home, they will enjoy a fast, easy, and hassle-free wireless connection that delivers the highest quality," said Dr. Yoav Nissan-Cohen, chairman and CEO of AMIMON. "The WHDI standard's objective is to enable an enriched customer experience with multi-vendor interoperability."
It's exciting to think about the possibilities. Think of all the places you can install HDTV . . . -Leslie Shapiro
LATEST VIDEO