Windows on the World
How Intel works with Windows Vista to create the "Ultimate" HTPC
Over in the June issue of the Home Theater print magazine, I wrote about the wonders of the Microsoft Windows Vista Ultimate, the most highly-featured version of their new operating system, and how its many features make it a great match for the latest HTPCs. Which begs the question, "What are home theater PCs wearing in the Vista age?" And to help answer my query, Intel sent over a test machine custom-built around their Intel Core 2 Duo processor, specifically designed for audio/video applications, running Windows Vista Ultimate.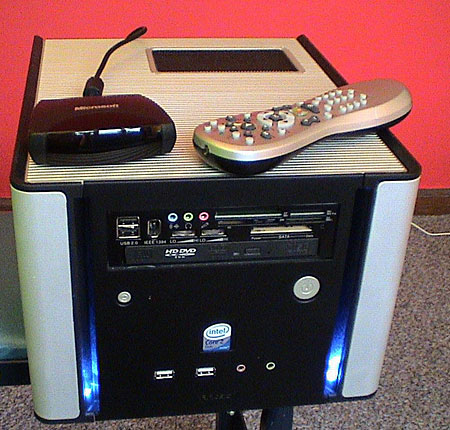 Here's the thing: Windows Vista purports to offer consumers a faster, farther-reaching, more elegant computer experience than previously possible. And to make life easier for the consumer, something has to work harder, meaning that the bar has been raised for the PC platform and its "brain," the CPU. The now-near-instantaneous searches that have been blowing my mind with Windows Vista call upon hardware and software to work together hand-in-hand, faster than ever, and this requires superior processing speed. Additionally, Windows Vista offers a wide array of new services, most of which can operate at the same time, if so desired, again demanding a robust CPU. The updated MovieMaker and new Photo Gallery applications, for example, are richer and more powerful than before, but they depend upon. . . well, you get the idea. Media encoding, gaming, and all the other always-progressing, processor-intensive applications are moving us into a brave new world of entertainment technology, and we don't want the CPU to be our weakest link. Worth noting here is the further importance of adequate RAM to assure smooth operation, in conjunction with the right CPU, and our thanks to Kingston Technology for a recent sample of their capable wafers, but that's a separate topic for another time.
But what defines a really top-notch entertainment experience? It all comes down to enjoyment, and this part couldn't be simpler: The quickest way to ruin my day is to freeze up a movie during playback. Or to take too long to launch a new application. Or tell me there's a glitch in a music track I ripped to MP3 before losing the CD. The fun stuff has to be fun, which translates to reliability, and to ensure a good time for all, the kernel scheduler within Windows Vista assigns higher priority to media playback versus other applications. So if one of your many simultaneous PC activities happens to be the watching of a DVD, more system resources will be dedicated to rendering smooth video than in the past, even with other jobs running in the background. Processors like the Intel Core 2 Duo are designed to handle such multiple threads ("of execution"), how a program splits itself into two or more tasks, which is done to accomplish more in less time. Transcoding, converting audio and video from one format to another, remains one of the most popular activities for hardcore HTPC-philes and is one of the most demanding jobs for a CPU, and such applications tend to be highly threaded, so a dual-core processor represents a great advantage when performing such A/V alchemy as creating smaller files to meet the constraints of portable media players. And the integrated Intel graphics made light work of the new Windows Aero user interface; rendering individual windows translucent for an easier-to-navigate desktop, even a perpetually cluttered one like mine; and Flip 3D, which creates an angled stack of all open windows to sort through, Rolodex-style, even windows containing active video playback. In addition, Core 2 Duo processors are game-friendly to a host of popular new/recent titles, a fine fit for both the easy-to-use Games Explorer organizer as well as the Vista-exclusive Direct X 10 graphics platform.
The greatly increased energy efficiency of Intel's latest processors, backed by the new Intel microarchitecture, has in turn led to a variety of smaller form-factor PCs, and just as importantly in the living room, quieter operation as a result of reduced demands put upon the cooling fan, typically the noisiest component and therefore one of the biggest deterrents to PCs in the HT. (Ugly beige towers are also high on the list of cons.) But with "small" inevitably comes "stylish," as with this sweet little Antec Micro ATX chassis, the quasi-cube upon which I reviewed Windows Vista Ultimate. Worthy cohorts to the Intel Core 2 Duo T7600 processor (2.33 gigahertz) were the Intel 945GT Chipset with GMA 950 integrated graphics; capable of up to 1080p output and UXGA resolution, 1600x1200 at 60 hertz, via an HDMI output utilizing the Silicon Image VastLane SiI1390 chip supporting HDCP; and an ABit IL-90MV motherboard. Also attached were a Hauppauge NTSC tuner and an AverMedia ATSC tuner, with HDTV recording to the 500-gigabyte hard disk drive enabled by Vista's integrated Windows Media Center, which supports as many as four tuners, dual ATSC plus either dual NTSC or dual digital cable tuners. The slim form-factor Toshiba HD DVD-ROM drive works with InterVideo WinDVD8 HD DVD playback software to deliver high-definition movies from optical media, and although no PC solution currently handles the next-gen audio formats DTS HD, Dolby TrueHD, or Dolby Digital Plus, Intel's own 7.1-channel "High-Definition Audio" assures a sufficiently immersive experience in the home theater. Brought together under the Windows Vista Ultimate umbrella and powered by the Intel Core 2 Duo processor, this densely packed array of high-end entertainment options was a joy to explore and use: quick, responsive, and stable. In fact, the only hardware-related problem I encountered was the coincidental recognition by both the PC and my Xbox 360 of the Windows Media remote control, and I do wish someone would find a way to integrate the remote's IR sensor into the front panel of the PC, so we wouldn't need a USB-hogging breakout dongle. But clearly I am praising this box with such faint damnation, as this combination of OS and CPU have reminded me of the true potential of the HTPC, raising the entire category to new heights.