Westinghouse Digital LTV-40W1 LCD
Price: $2099
Technology: LCD
Resolution: 1366x768
Size: 40"
Inputs: One HDMI, two component, one each composite and S-Video, one RGB on 15-pin DSUB
Feature Highlights: Over-The-Air and cable HD tuners, Picture-In-Picture, built-in DVD player, built-in speakers, tabletop stand.
Westinghouse Digital's LTV-40W1 HDC ($2,099) comes with an internal analog NTSC tuner and an ATSC tuner that scans and adds channel quickly, providing a small electronic program guide and channel information. It will receive unscrambled QAM (digital cable) channels, too. The connector complement is simple but includes two wideband component YPbPr inputs, an HDMI input, and a PC input that accepts (among other signals) 1360x768/60 and 1920x1080p/60.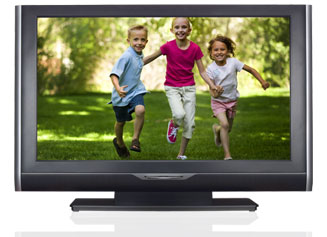 The LTV-40W1's color quality equals that of the best plasma HDTVs I've tested. The HD performance is very good; bandwidth is better than average, and even standard definition video looks pleasing on this LCD TV, thanks to low black levels and high image contrast. Its few shortcomings include repeated dropout problems with the internal DVD player, and false contouring in dark scenes. Beyond that, this set offers performance that challenges the bargain plasmas at a very competitive price.
Among this set's few shortcomings are repeated dropout problems from the internal DVD player when playing the Silicon Optix Realta HQV and Video Essentials test DVDs, although the same discs played fine on other equipment. The grayscale performance could be better in dark scenes, where I saw false contouring. There aren't any user-accessible white balance and color temperature settings, and only one picture gamma setting.
Overall, Westinghouse Digital's LTV-40W1 HDC ($2,099) is one of the best LCD TVs I've reviewed in terms of image quality and performance.