This Week in Movies & TV, October 8, 2013: Horror, Sci-Fi, & Shakespeare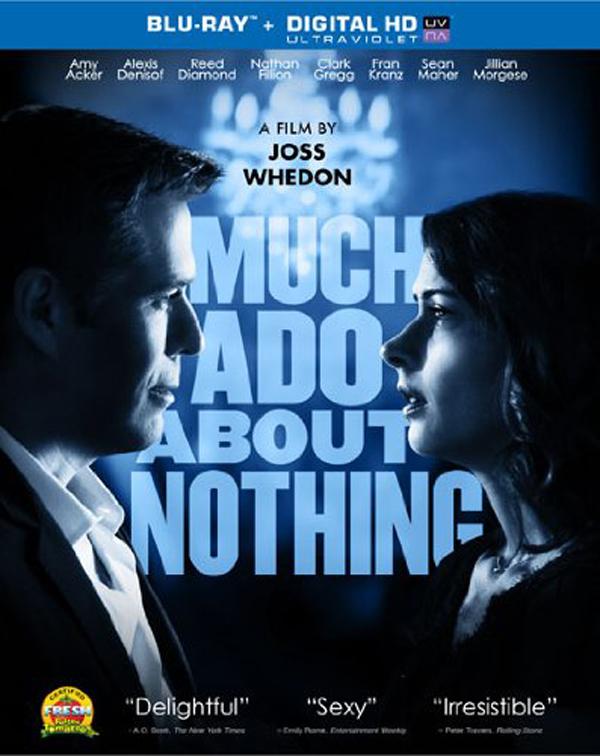 Much Ado About Nothing
In this modern-day retelling of William Shakespeare's timeless comedy by screenwriter-director Joss Whedon (
The Avengers
,
Buffy the Vampire Slayer
,
The Cabin in the Woods
), attraction leads to war as dedicated bachelor Benedick (Alexis Denisof) verbally spars against "the bitter disposition of Beatrice" (Amy Acker) as each of them fights for the right to remain independent. Meanwhile, fellow visiting army officer Claudio falls for Hero (Jillian Morgese), the daughter of Leonato (Clark Gregg), the Governor of Messina. In these contrasting relationships, nobody has super powers or martial arts moves as in other Whedon films, but the battle of love, inevitable affected by a series of comic and tragic events that keep the couples apart, is nonetheless brisk and cinematic.
There's not much gained by the contemporary setting to offset the oddness of the conceit of having Shakespeare's characters seem like a bunch of Wall Street stockbrokers speaking strange in the Hamptons, as if in a Woody Allen comedy, but otherwise the Bard's words flow well enough from the pretty mouths of a cast that includes Emma Bates, Sara Blindauer, Nathan Fillion, Clark Gregg, Reed Diamond, and Fran Kranz.
Shot in black-and-white, images have an extremely wide range of luscious greys and great detail in every lacey designer outfit, glamorous furnishings, luxury item, and sharp, flat, water surfaces in pools, bringing to mind a perfume or luxury car ad. Similarly, bridging songs are sometimes performed over a silent series of shots of beautiful people like a 1980s pop video.
At times images have deep blacks like the grand piano and bright whites like the flame of the candle sitting upon it but on other occasions, when the brightness is reduced, everything is dampened into shades lost somewhere in the middle. When this kind of flat, even lighting is applied it also reduces depth and detail of images and volume to figures and faces.
In the 5.1-channel soundtrack, the all-important dialogue is always clear, never drowned by the mellow, loungey score which is either restrained or comes in at the end of a speech, wonderfully immersing you in a sea of classical sounds, jazz, or unplugged acoustic rock, with well-separated and defined instruments coming together from all around, putting you in the music, while also floating with great dimensionality somewhere in the middle of the room. Voices, music, and the minimal effects — mainly natural-sounding birds in exteriors and running water in fountains — are all very full, open, and distinct with double bass bowing satisfyingly deep in their reverberations and kettle drums pounding moodily.
Video: 1.85:1. Audio: DTS-HD Master Audio 5.1. Extras: commentary by Whedon, commentary by Whedon and cast, "Much Ado About Making Nothing" and "Bus Ado About Nothing" featurettes, "Sigh No More" music video; UltraViolet digital copy for streaming/downloading. Studio: Lionsgate.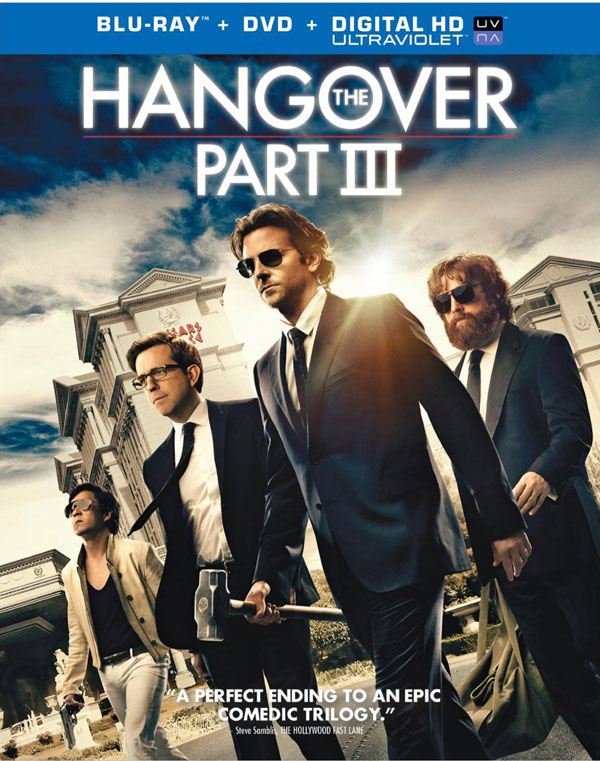 The Hangover Part III
What's the use of gettin' sober (when you're gonna get drunk again)?
In this epic conclusive cashing in on the success of two previous Hangover comedies, the Wolfpack set out on one more road trip to hell. Two years after their last recovery, Phil (Bradley Cooper), Stu (Ed Helms), and Doug (Justin Bartha) are happily living the meaningless American dream.
Only problem is Alan (Zach Galifianakis), the group's black-sheep screw-up, still hasn't found purpose in his life, causing a 20-car pileup on a freeway involving the transport of a giraffe he's purchased and a low bridge (yes), and has stopped taking his meds in order to get back in touch with his natural impulses towards chaos, mayhem, havoc, and bad decisions. Under pressure from his friends, Alan agrees to visit a rehab facility in Arizona, so long as the Wolfpack takes him there. Thus begins their oddball odyssey into insanity and absurd bad behavior.
It only gets worse when, after being rammed off the road on the way by mob boss Marshall (John Goodman) and his security head, Black Doug (Mike Epps), the group are told that that Leslie Chow (Ken Jeong) has hijacked half of a $42 million gold heist and Marshall wants the Wolfpack to locate him and get back the gold within three days or his prisoner, Doug, will die.
The Hangover Part III was directed by Todd Phillips (The Hangover, The Hangover Part II, Old School) from a screenplay by co-writer Craig Mazin. Its co-stars include Heather Graham, Jamie Chung, and Jeffrey Tambor.
Video: 2.40:1. Audio: DTS-HD Master Audio 5.1. Extras: "Replacing Zach: The Secret Auditions," "The Wolfpack's Wildest Stunts," "Zach Galifianakis in His Own Words," "Pushing the Limits," "Action Mash-Up," and "Inside Focus: The Real Chow" featurettes, outtakes, extended scenes; DVD and UltraViolet digital copy for streaming/downloading. Studio: Warner.
After Earth
One thousand years later. . . .
In this action, adventure, sci-fi flic from co-writer-director M. Night Shyamalan (The Sixth Sense, Unbreakable, Signs), a crash landing during a routine mission leaves legendary General Cypher Raige (Will Smith) of The Ranger Corps and his teenage son Kitai Raige (Jaden Smith) stranded on a hostile planet that has been abandoned and quarantined for a millennium — Earth.
Returning from an extended tour of duty to be with his estranged family, General Cypher takes his 13-year-old son with him on his last trip before retirement. Katia has trained to become a Ranger like his father, but his application is rejected due to his recklessness, severely disappointing Cypher.
During the flight an asteroid storm damages their craft, causing them to crash-land on the unfamiliar planet. Since the general is badly injured, Kitai must trek across the hostile terrain alone to recover their rescue beacon. Along the way he tries to avoid the now-deadly fauna and flora and violent thermal shifts, but he still finds himself pursued by evolved predators (including giant baboons, condors, and saber cats), and the Ursa — an unstoppable alien creature, blind but able to hunt by sensing fear — that escaped during the crash. Only by getting through all these challenges can he save his father and himself and prove himself a worthy son to his warrior father.
After Earth, co-written by Gary Whitta and Shyamalan, was based on an original story idea by actor Will Smith who also produced. It was released in theaters in IMAX and was the first film from Sony Pictures to be both shot and presented in theaters in 4K resolution.
Video: 2.40:1. Audio: DTS-HD Master Audio 5.1. Extras: "A Father's Legacy," "1,000 Years in 300 Seconds," "Building a World," "The Animatics of After Earth" "Pre-Visualizing the Future," and "The Nature of the Future" featurettes, XPRIZE After Earth Robotics Challenge winning video with an introduction by Jaden Smith as Kitai Raige, alternate version of the film's opening sequence, storyboards and animatics; DVD and UltraViolet digital copy for streaming/downloading. Studio: Sony.
Fear Eats the Soul 3: The Night After the Nightmare
Here's yet another roundup of the season's hellacious, heart-stopping, head-exploding horror offerings to prepare you for Halloween.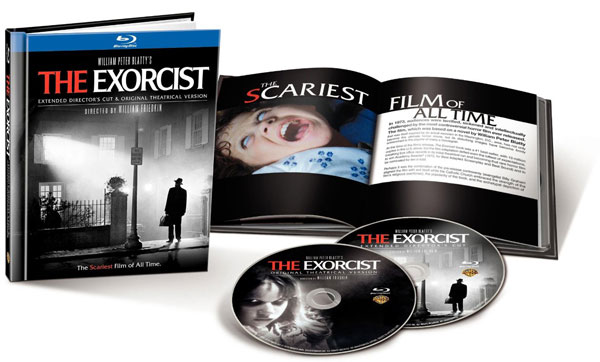 The Exorcist
When The Exorcist was first released in 1973, viewers were frightened out of their pants, some even fleeing the cinema at a run, without their pants. This multi-million dollar landmark film, one of the top ten box-office performers of all time, was nominated for 10 Oscars (including Best Picture) and won two, for Best Adapted Screenplay and Best Sound. Directed by William Friedkin (The French Connection, The Boys in the Band, To Live and Die in L.A. ) and screenwritten by William Peter Blatty, the film is based on Blatty's best-selling novel, which sold nearly 13 million copies domestically and was the #1 book on the New York Times Best Seller List for 57 weeks, 17 of them at #1.
It tells of a 12-year old girl, Regan (Linda Blair), who becomes possessed by demons and the young priest, Father Karras (Jason Miller), who risks his life — and soul — in attempting to save her.
The Exorcist co-stars Ellen Burstyn, Max von Sydow, Lee J. Cobb, Jason Miller, and Kitty Winn.
This DigiBook 40th Anniversary Edition contains an extended director's cut and the original theatrical versions. Speaking of the additions in the 2000 Extended Director's Cut, Friedkin says, "With technical advances, scenes that didn't work then could now be fixed with CGI and there were others that I thought strengthened the spiritual aspect of the film."
Friedkin is having a busy time lately, both launching a new book, The Friedkin Connection: A Memoir" (recently published by HarperCollins) and receiving the Golden Lion for Lifetime Achievement at the 70th Venice International Film Festival where he'll present the restored version of Sorcerer.
Video: 1.85:1. Audio: DTS-HD Master Audio 6.1, DTS-HD Master Audio 5.1. Extras: introduction by Friedkin, 2 director's commentaries, commentary by Blatty, The Fear of God: 25 Years of the Exorcist 1998 BBC documentary, "Raising Hell: Filming The Exorcist," "The Exorcist Locations: Georgetown Then and Now," and "Faces of Evil: The Different Versions of The Exorcist" featurettes, "Talk of the Devil" new featurette, "Beyond Comprehension: William Peter Blatty's The Exorcist" new featurette in which the writer reads from his novel and an excerpt from Friedkin's new book The Friedkin Connection: A Memoir, "The Original Cut," "Stairway to Heaven," and "The Final Reckoning" interviews, sketches and storyboards," original ending, radio and TV spots; UltraViolet digital copy for streaming/downloading. Studio: Warner.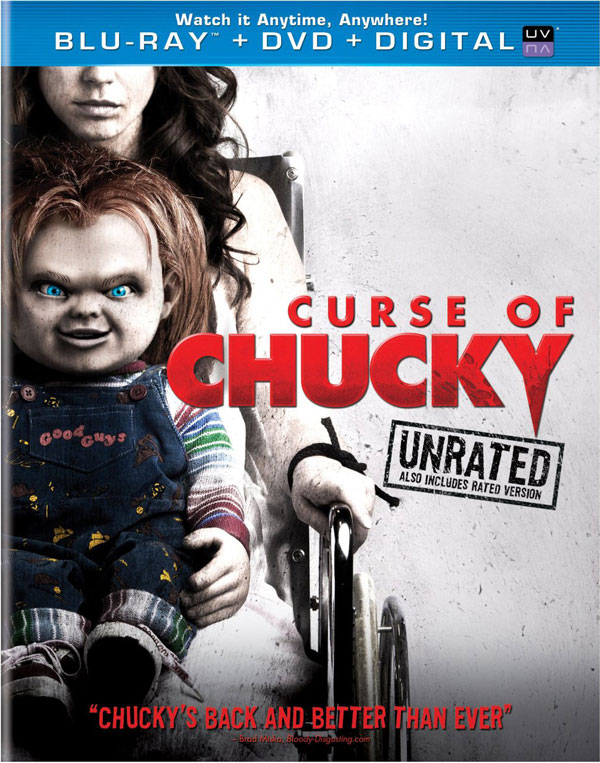 Curse of Chucky
In the sixth installment in the campy mad-doll Child's Play franchise, written and directed by Don Mancini (who created the franchise and has written all the films to date), a grieving daughter, Nica (Fiona Dourif), in shock over her mother's particularly graphically gruesome suicide, must deal with her domineering older sister, Barb (Danielle Bisutti), who's come to stay to settle their mother's affairs. Accompanying Barb is her young daughter who deals with her dysfunctional family by talking with a manically smiling, red-haired doll (voiced by Brad Dourif) that just turned up in the mail.
And then the brutal murders begin, as Chucky starts to settle into settling a personal score was set in motion more than 20 years ago.
Curse of Chucky co-stars Fiona Dourif, Danielle Bisutti, Chantal Quesnelle, and Maitland McConnell. It has been rated R for bloody horror violence.
Video: 1.85:1. Audio: DTS-HD Master Audio 5.1. Extras: commentary by Mancini, Fiona Dourif, and Chucky puppeteer Tony Gardner, "Playing with Dolls" 16-minute featurette, deleted scenes, gag reel; DVD and UltraViolet digital copy for streaming/downloading. Studio: Universal.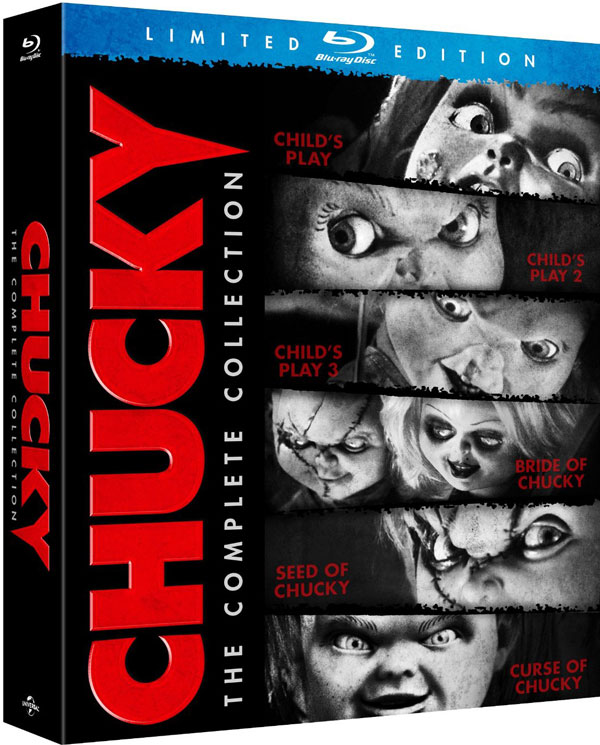 Chucky: The Complete Collection
An innocent-looking doll is inhabited by the soul of a serial killer who isn't ready to die and a film franchise is born.
This 6-disc collection gathers together all the little Chuckys currently out there on the loose including Child's Play, Child's Play 2, Child's Play 3, Bride of Chucky, Seed of Chucky, and Curse of Chucky.
All, Video: 1.85:1. All, Audio: DTS-HD Master Audio 5.1 except Child's Play 2 and Child's Play 3 which are DTS-HD Master Audio 2.0. Child's Play, Extras: commentary by Alex Vincent, Catherine Hicks, and Chucky designer Kevin Yagher, commentary by producer David Kischner and screenwriter Dan Mancini, select scene Chucky commentaries, "Evil Comes in Small Packages: The Birth of Chucky," "Evil Comes in Small Packages: Creating the Horror," "Evil Comes in Small Packages: Unleashed," "Chucky: Building a Nightmare," "A Monster Convention," and "Introducing Chucky: The Making of Child's Play" featurettes. Child's Play 2, Extras: none. Child's Play 3, Extras: none. Bride of Chucky, Extras: commentary by director Ronny Yu, commentary by Jennifer Tilly, Brad Dourif and Don Mancini, Bride of Chucky Spotlight on Location" featurette. Seed of Chucky, Extras: commentary by writer-director Don Mancini and puppet master Tony Gardner, commentary by Mancini and Jennifer Tilly, "Heeeeere's Chucky," "Family Hell-iday Slide Show," "Conceiving The Seed of Chucky," "Tilly on The Tonight Show," "Slashed Scene," and "FuZion Up Close with The Seed of Chucky Stars" featurettes, storyboard to final feature comparison. Curse of Chucky, Extras: commentary by director Don Mancini, puppeteer Tony Gardner, and Fiona Dourif (both cuts), "Living Doll: Bringing Chucky to Life," "Voodoo Doll: The Chucky Legacy," and "Playing with Dolls: The Making of Curse of Chucky" featurettes, storyboard comparisons, gag reel. Studio: Universal.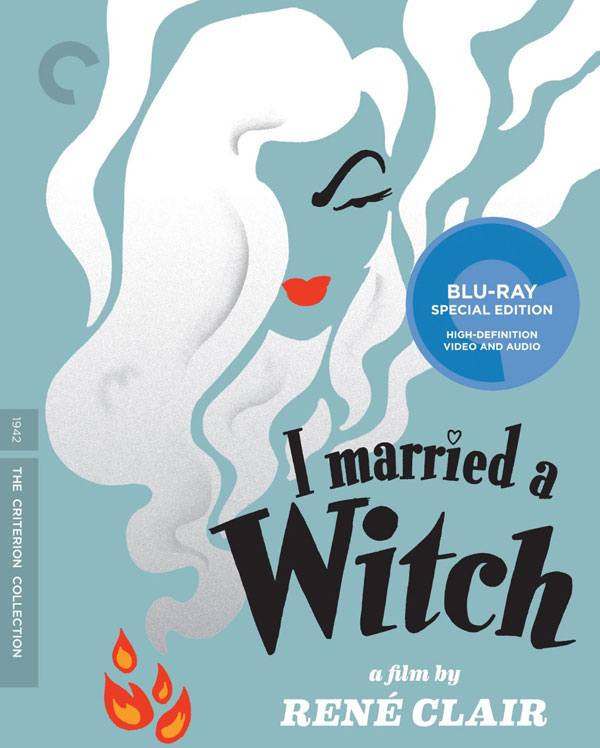 I Married a Witch
In this romantic comedy classic, a beautiful witch, Jennifer (Veronica Lake), in Salem in the early 1690s puts a curse on the male line of the puritan, Jonathan Wooley (Fredric March), who sentenced her and her father (Robert Warwick) to be burned at the stake. The curse is the dooming of the male line to always marry the wrong woman.
Many centuries later, after lightning splits the tree, Jennifer and her father's spirits are trapped in, she finds herself under the spell of one of Wooley's descendants, Wallace Wooley (Fredric March) — she's fallen for him. Wallace is running for governor and is about to marry a spoiled socialite (Susan Hayward), but the sorceress intends to upset all his plans by tormenting and seduce him first using all the powers at her disposal.
I Married a Witch (1942) was directed by René Clair (Entr'acte, À Nous la Liberté, And Then There Were None) and co-stars Robert Benchley, Susan Hayward, and Cecil Kellaway.
It comes in a transfer made from a new 2K digital restoration and has an uncompressed monaural soundtrack.
Video: 1.37:1. Audio: LPCM Mono. Extras: audio interview with Clair, booklet featuring an essay by filmmaker Guy Maddin and a 1970 interview with Clair. Studio: The Criterion Collection.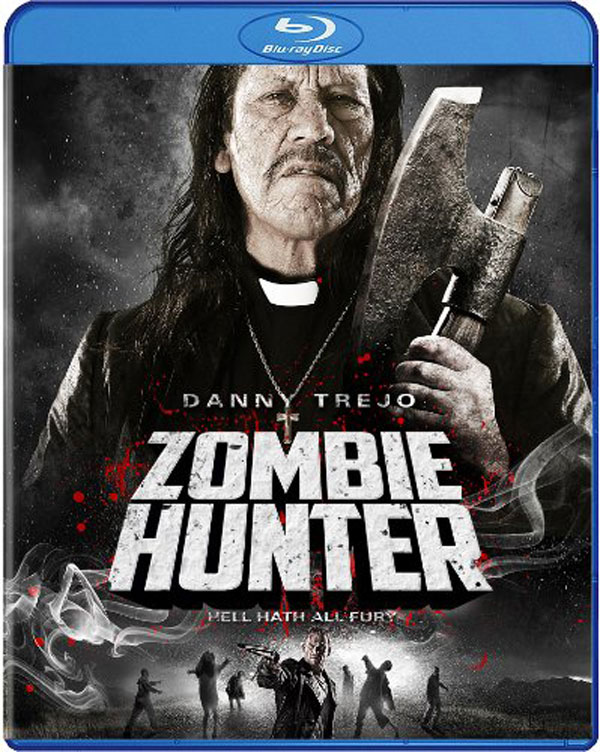 Zombie Hunter
In this tribute to 1980s action horror B-movies (complete with synthesizer soundtrack), a street drug called Natas has the unusual side effect of turning users into giant, mutant Flesh Eaters. A small group of survivors are trying to just stay alive in the post-apocalyptic zombie wasteland, until Hunter (Martin Copping) runs into them (literally) in his mashed up muscle-car. Led by an ax-wielding priest called Jesus (Danny Trejo), they are searching for the Promised Land and Hunter, a hard-drinking, hard drivin' dude who hunts and runs down Flesh Eaters just for the fun of it, decides to help the group survive the attack of the zombies.
Zombie Hunter was directed by Kevin King and co-stars Claire Neiderpruem, Jason K. Wixom, and Jade Regier.
Video: 2.35:1. Audio: DTS-HD Master Audio 5.1. Extras: none. Studio: Well Go USA.
American Horror Story: Asylum
This, the second season of the FX horror anthology TV series, is set in 1964 in Briarcliff, a Church-run home for the criminally insane and in the pasts of the patients, doctors, and administrators who reside there. Presiding over the unusual clientele is nun-on-the-run, Sister Jude (Jessica Lange), who tries to rule the locked-down facility that was founded by Monsignor Timothy Howard (Joseph Fiennes) with an iron fist inside an iron glove. She is helped by Sister Mary Eunice (Lily Rabe), psychiatrist Dr. Oliver Thredson (Zachary Quinto), and scientist Dr. Arthur Arden (James Cromwell) but nonetheless, when you're dealing with serial killers, Nazis, mutants, aliens, terrifying evil, and demonic possession, danger tends to lurk in the corridors, the woods, and in every dark shadow of Asylum.
This season of American Horror Story was nominated for 17 Primetime Emmy Awards. It co-stars Evan Peters, Sarah Paulson and Lizzie Brocheré.
Video: 1.78:1. Audio: DTS-HD Master Audio 5.1. Extras: deleted scenes, "The Orderly," "What is American Horror Story: Asylum?," "Welcome to Briarcliff Manor," and "The Creatures" featurettes. Studio: 20th Century Fox.
Fantastic Voyages
If your tastes err towards the strange, weird, or unlikely rather than all-out horror, here's two sci-fi adventure genre classics for you.
Voyage to the Bottom of the Sea
In this 1961 offering produced and directed by disaster film maven Irwin Allen (The Poseidon Adventure, The Swarm, Land of the Giants), a scientific expedition to the North Pole is transformed into a race against time to save mankind when a radiation belt in space causes a fiery inferno on Earth. Admiral Nelson (Walter Pidgeon) and the crew of the atomic submarine Seaview are forced to fight against giant sea-creatures, enemy submarines, and even saboteurs on board as they race to prevent global catastrophe.
Filled with the era's state-of-the-art visual effects and gorgeous underwater photography, the film also boasts a Hollywood all-star cast that includes Joan Fontaine, Barbara Eden, Peter Lore, and Frankie Avalon.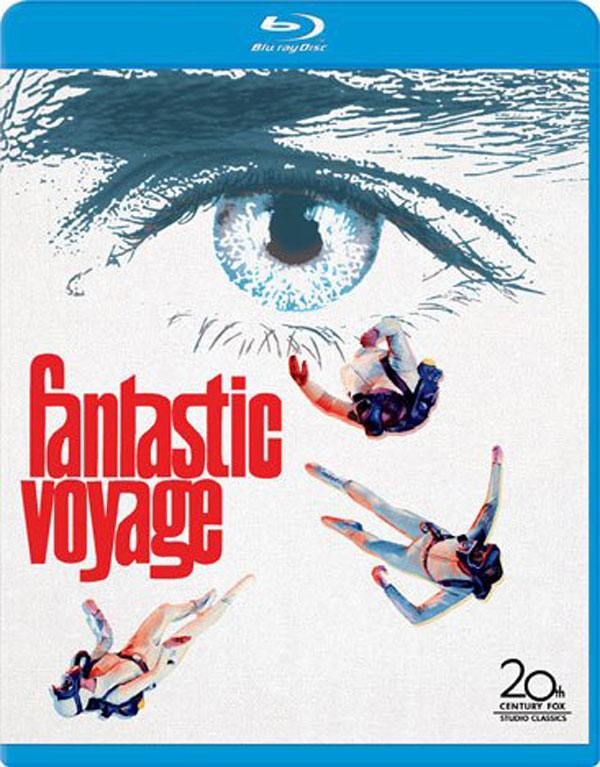 Fantastic Voyage
When a defecting Cold War scientist is nearly assassinated, leaving him with a blood clot in his brain that cannot be removed with traditional surgery, in order to save him scientists take the slightly unusual yet logical course of shrinking a submarine to microscopic size and, with a small crew of small people, injecting it into his blood stream. The mission of this elite team of medical and scientific specialist and Raquel Welch in a hot wet suit is to travel through the injured man's body, locate the clot, and perform an emergency procedure remove it, all from within his brain. They only have 60 minutes before they return to their regular height, which could cause complications for the patient, so time is of the essence — bigtime. On the way, they must fight off giant white corpuscles, go through the tornado produced by the patient's lungs, and, yet again, battle against sabotage from within the within.
Fantastic Voyage (1966), shot in CinemaScope, was directed by Richard Fleischer (Soylent Green, 20000 Leagues Under the Sea, Tora! Tora! Tora!) and co-stars Stephen Boyd, Edmond O'Brien, Arthur Kennedy, Donald Pleasence, and Arthur O'Connell.
Voyage to the Bottom of the Sea, Video: 2.35:1. Audio: DTS-HD Master Audio 4.0. Extras: commentary by author Tim Colliver, "Science Fiction: Fantasy to Reality" featurette, interview with Barbara Eden, isolated score track. Fantastic Voyage, Video: 2.35:1. Audio: DTS-HD Master Audio 5.1, DTS-HD Master Audio 1.0. Extras: commentary by film and music historian Jeff Bond, isolated score track with commentary by Bond, Jon Burlingame and Nick Redman, "Lava Lamps & Celluloid: A Tribute to the Visual Effects of Fantastic Voyage" featurette, storyboard-to-scene comparison of the Whirlpool scene. Studio, Both: 20th Century Fox.
Stalag 17
In this classic World War II drama from producer-co-writer (with Edwin Blum)-director Billy Wilder (Some Like It Hot, Double Indemnity, Love in the Afternoon), ultra-cynical, schemer Sergeant J.J. Sefton (William Holden), one of the prisoners in Barracks 4 of the notorious German prison camp, gets by through practicing the old sins of bribery, theft, and deception while thinking up a few new rackets to raise money and supplies to trade with the German guards for special privileges. Nobody likes or trusts this self-serving rat, looking after number one while the rest of the camp pull together to survive and to continue, if not directly fighting the war, then taking part in acts of daily resistance. So, when two prisoners are killed in an escape attempt, suspicion naturally falls on Sefton being the spy amongst the prisoners who has betrayed them.
This 1953 reteaming of Holden and Wilder, after their Oscar-nominated work together on Sunset Boulevard (1950), earned Wilder another Best Director nomination (his fourth) and finally for Holden a Best Actor Oscar. Stalag 17 was based on a Broadway play by Edmund Trzcinski and Donald Bevan, both former POWs. It co-stars Don Taylor, Otto Preminger, Robert Strauss, Harvey Lembeck, and Peter Graves.
Video: 1.33:1. Audio: DTS-HD Master Audio Mono. Extras: commentary by actors Richard Erdman and Gil Stratton and co-playwright Donald Bevan, "Stalag 17: From Reality to Screen" and " The Real Heroes of Stalag XVII B" featurettes. Studio: Warner.