Warner Hawks Film Classics on Custom DVDs
Warner Bros. is launching an on-demand DVD release program that will vastly expand the number of titles available on disc.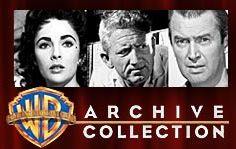 The studio's made-to-order DVD releases will tap the 6800 titles that have never been released on disc, a far greater pool of material than the 1200 DVDs currently in the catalogue. The Warner Archive Collection will start with 150 never-released titles including Mr. Lucky (1943) with Cary Grant and Laraine Day and All Fall Down (1962) with Warren Beatty and Eva Marie Saint. Other releases will span the silent era to the 1980s. At least 20 titles will be added per month.
Warner is using a "state-of-the-art manufacturing on demand (MOD) system," according to the press release, which "creates a made-to-order DVD indistinguishable in quality from a standard pressed DVD." Presumably the on-demand technology has not progressed to Blu-ray yet--the archive program will be limited to standard-def DVDs.
While the discs will be sold as hard copies in conventional DVD packaging, they will be also be downloadable to PCs. Pricing will be $20 per disc or $15 per download. Theatrical trailers will be included, though the studio is considering additional special features down the road. Warner's web store is encouraging consumers to nominate titles for release.
Warner is also creating a free Golden Age of Hollywood podcast which will include "captivating archival recordings from the studio's vault including behind-the-scenes interviews with stars, radio editions of movies and much more."
For more information see press release and USA Today.
LATEST VIDEO