The Walk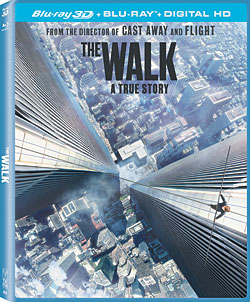 The movie was shot in 2D to control costs but was always intended for 3D conversion in post-production. The 3D is used effectively in many scenes, but the inherent height and depth of the job at hand is where it is exploited most spectacularly, bringing a palpable, jaw- dropping immediacy: We are there with him, alongside him, floating above him as he makes history. More mundane scenes are enhanced as well, and some fanciful elements are augmented with 3D CGI. The 2.4:1 digital image boasts an almost overwhelming level of fine detail, and the vibrant color is sometimes manipulated in clever ways. Just a couple of moving shots looking down the towers broke up a bit because of the fine parallel lines.
Anyone expecting a lot of sonic razzle-dazzle from such an event movie might be surprised by the more subdued character of this DTS-HD Master Audio 5.1 track. Dialogue is dependably clear, and the mix and master of both Alan Silvestri's original score plus the French pop tunes are full, rich, and enjoyable. Seldom do the surround channels provide more than merely appropriate ambient cues.
But for a couple of 3D movie trailers, all of the extras are on the 2D Blu-ray platter, notably seven deleted scenes, Gordon-Levitt in training with the real Philippe Petit, and an in-depth study of the titular stroll. Run, don't walk, to see it for yourself.
Blu-Ray 3D
Studio: Sony, 2015
Aspect Ratio: 2.40:1
Audio Format: DTS-HD Master Audio 5.1
Length: 106 mins.
MPAA Rating: PG-13
Director: Robert Zemeckis
Starring: Joseph Gordon-Levitt, Ben Kingsley, Charlotte Le Bon
We often live in a locked-down world of dread these days, especially when the subject of the World Trade Center arises. But in the summer of 1974, one week before his 25th birthday, Philippe Petit made headlines with a self-propelled trip between the rooftops of the Twin Towers, and it has become a modern legend almost too daring to be believed. Driven by an all-consuming passion for his wire-walking art and unable to resist the majestic pull of those magnificent skyscrapers since first learning of their construction, Philippe (Joseph Gordon-Levitt) truly risked everything to fulfill his dream. This dramatization—not to be confused with the Oscar-winning documentary, Man on Wire—is a combination of biography and caper flick, exploring the man's ego and ambition as well as the shenanigans needed to pull off the stunt of the century. It's great entertainment but much more: A story of perseverance and triumph, The Walk is a treatise on the power of following your heart. And the final act is as riveting a piece of cinema as I've ever witnessed.