Vizio to Pay $2 Million in FTC "Spy" Settlement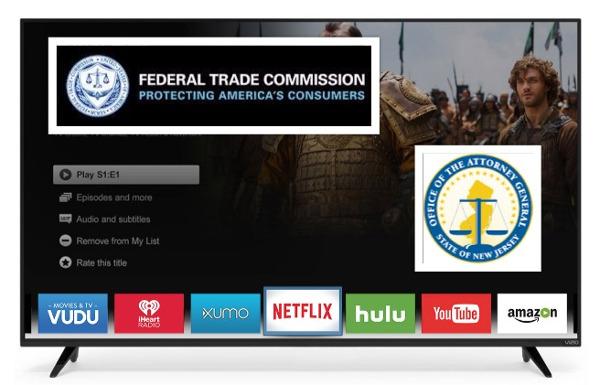 Vizio has agreed to pay $2.2 million to settle charges by the Federal Trade Commission (FTC) and New Jersey's Office of The Attorney General that it installed software to collect viewing data on 11 million smart TVs without consumers' knowledge or consent.
The federal court order requires Vizio to "prominently disclose and obtain affirmative express consent for its data collection and sharing practices," and prohibits misrepresentations about the privacy, security, or confidentiality of consumer information it collects. The settlement also requires Vizio to delete data collected before March 1, 2016, and to implement a comprehensive data privacy program that is assessed every two years.
According to the FTC, Vizio smart TVs built since February 2014 were designed to capture second-by-second information about video displayed on the TV, including video from cable, broadband, set-top box, DVD, over-the-air broadcasts, and streaming devices. In addition, the complaint said Vizio appended specific demographic information to the viewing data—including sex, age, income, marital status, household size, education level, home ownership, and household value—and sold the information to third parties, who used it for various purposes, including targeting advertising to consumers across devices.
Vizio touted "smart interactivity" as a feature that "enables program offers and suggestions" but failed to inform consumers that the settings also enabled the collection of consumers' viewing data, the FTC said, adding that Vizio's data tracking—which occurred without viewers' informed consent—was unfair and deceptive and in violation of the FTC Act and New Jersey consumer protection laws.
The settlement includes a payment of $1.5 million to the FTC and $1 million to the New Jersey Division of Consumer Affairs, with $300,000 of that amount suspended.
Vizio issued the following statement, attributed to Jerry Huang, Vizio's general counsel:
Vizio is pleased to reach this resolution with the FTC and the New Jersey Division of Consumer Affairs. Going forward, this resolution sets a new standard for best industry privacy practices for the collection and analysis of data collected from today's internet-connected televisions and other home devices.

The ACR program never paired viewing data with personally identifiable information such as name or contact information, and the Commission did not allege or contend otherwise. Instead…the practices challenged by the government related only to the use of viewing data in the "aggregate" to create summary reports measuring viewing audiences or behaviors. Today, the FTC has made clear that all smart TV makers should get people's consent before collecting and sharing television viewing information…
Vizio noted that before the settlement was announced, it had addressed concerns by updating online and onscreen disclosures. The FTC complaint acknowledged that Vizio sent on-screen notifications informing users about viewing data collection, and that it now reminds users of the option to turn this feature off or on.
LATEST VIDEO