Vincent's Integrated Amp Mates DAC with Tube Input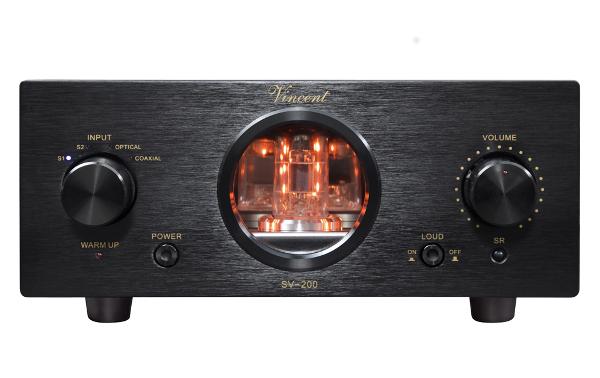 Pangea Audio Distributing has announced that it is shipping a new compact hybrid integrated amplifier from Germany's Vincent Audio.
Described as the little brother to the company's $2,400 SV-237MK and $4,000 SV-700 amplifiers, the SV-200 ($800) combines an input stage featuring two 6N1 vacuum tubes with a digital-to-analog converter (DAC) and a solid-state power amplifier in an enclosure 8 inches wide, 4 inches tall, and 13 inches deep.
Rated power is 25 watt/channel RMS into 8 ohms or 35 watts into 4 ohms and the DAC is built to handle a variety of file formats, including WAV, FLAC, AIFF, and APE. The power supply uses Elco capacitors "for buffering to keep the electrical current clean and noise-free," according to Vincent.
Two analog RCA inputs are provided along with optical and coaxial digital inputs. Preamp and record outputs enable the SV-200 to be used with an external power amp or subwoofer and a recording device.
"There's no reason to sacrifice true audiophile-grade sonics for a smaller living space," said Panagea's Steve Niemi. "The SV-200 is the ideal solution for music lovers who demand top-shelf performance from a high-performance, high-value integrated amplifier."
The SV-200 is available in black or silver.
For more information, visit pangeaaudio.com.
Related: