Vifa Oslo Portable Wireless Speaker: Can Money Buy Love?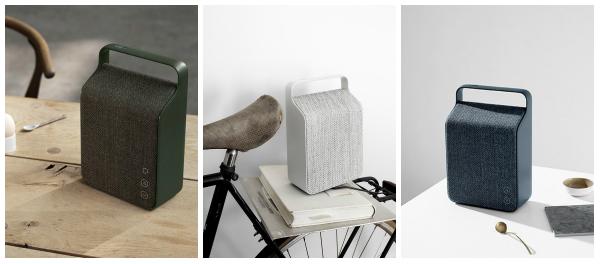 A week ago, if you had asked me if I could love a $550 portable speaker, I would have laughed you out of my listening room. Yet here I am, just days later, completely smitten with the Oslo speaker from Vifa, a Danish speaker manufacturer. It's uniquely stylish, massively overbuilt, and the sound is amazing. I am in love with the Oslo.
Vifa has been manufacturing speakers since 1933, when N.C. Madsen switched from car mechanic to speaker maker, while his brothers worked for Bang & Olufsen. Vifa drivers were used by companies including Ruark and Apogee, and in 2012, Vifa started with their own line of speakers named after Nordic cities: Copenhagen, Helsinki, Reykjavik, Stockholm, and now the Oslo.
The Oslo is a 5.5 pound fabric clad portable speaker. It is covered with a gorgeous woven wool from European textile giant Kvadrat. It's available in a subtle range of earthy colors. A solid piece of aluminum extends from the sides to create a handle that is sturdy and stout — there isn't a flimsy bit to this speaker. The speakers are housed behind a polycarbonate grill, so they're well-protected while using the Oslo out and about.
There is a small set of openings on the back panel for an AUX input and power cord and a USB port reserved for future use, all next to a small power switch that also initiates Bluetooth pairing. Volume controls are cleverly embroidered on the front, under a small LED ring that lights up behind the fabric to indicates power and Bluetooth mode. It supports Bluetooth 4.0 and aptx, along with NFC pairing. There are no other controls — track control must be performed from the playback device. There is a Vifa app, but I found it to be slightly cumbersome to use — it causes slight pauses in playback when switching screens or playback EQ modes. The lithium-ion battery provides up to 10 hours of playback, depending on playback volume.
The Oslo uses two 50mm full-range drivers and two 65mm woofers in a unique back-to-back force balanced configuration that lets them play loud without cabinet vibrations or resonances. Two passive bass radiators contribute to the solid bass performance. The speaker has a frequency response of 55Hz - 18kHz (+/-3dB) and is powered by a four-channel Class D digital amplifier.
The look and feel of the Oslo is sumptuous, right down to the cloth travel bags supplied for the cables and the speaker itself. However, it is the sound that steals your heart. At soft levels, the sound is clean and restrained, but turning it up makes the Oslo truly shine. It is full, natural, accurate, with a clarity rarely heard in a portable speaker. There is a sense of space and openness that feels bigger than the somewhat small footprint of the cabinet. It supports stereo playback, and it pulls it off nicely, if somewhat narrow.
Overall, the sound of the Oslo is quite pleasant. I listened to Siv Jakobsen's "Blanket" and was swept away into the pure sound of acoustic guitar and strings. The dynamic sound of the recording was beautifully portrayed by the Oslo, and the richness of the cellos was precisely conveyed. Jakobsen's raw vocals were natural and crystal clear. In fact, every recording of hers was impressive. The Oslo lacks deep bass, but the upper bass is neatly controlled and impactful. The treble is accurate and has a pure tonality that seems to only be obtainable with an expensive speaker.
I hate to think that a speaker has to be this expensive to sound good. Perhaps it's better to believe that an expensive speaker should sound great, and the Vifa Oslo delivers. I am one who always searches out a bargain and a way to save a buck here and there, but I'm unwilling to sacrifice good sound quality. In the case of the Oslo, it's worth every single krone.