Video Without Boundaries MediaREADY 5000
READY or not, here comes another PC for the HT.
PCs and home theaters have long posed the old square-peg/round-hole quandary to consumers, as the fundamental incongruities have slowed the adoption of potentially sophisticated, versatile computer gear into the living room. Expanded functionality brings with it an increased level of complexity that more proactive, simplified operating systems like Microsoft's Windows Media Center Edition have only begun to address. Of course, the hardware itself needs to be powerful enough to provide a glitch-free user experience, as well.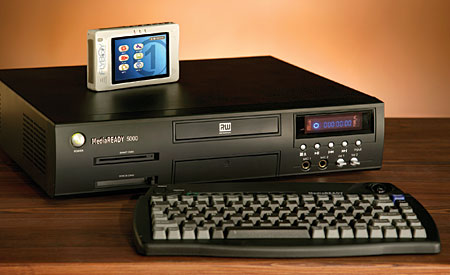 Video Without Boundaries (VWB) furthers the recent trend of consumer electronics–styled machines (read: horizontal black boxes) driven by computer CPUs. It's designed to fill the shoes of various home theater components from a central location, while adding next-generation features like home networking and high-speed Internet access. VWB has built the Linux-based MediaREADY 5000 Advanced Digital Media Center around a 1-gigahertz processor. It offers many uses, including a media jukebox to manage music, movies, and photos, plus you can rip CDs to the 160-gigabyte hard drive. It gives you the freedom to surf the Web at high speed or download/stream video and watch it on TV, and it has a basic interlaced DVD player with karaoke functionality. VWB then takes things a step further with its own complementary portable audio/video player, the Flyboy, which can connect to and receive data from the home unit. Worth noting is that neither device is dependent upon the other; the home unit mates successfully with many portables, and the Flyboy can swap data with any PC that has at least Windows 98. Or it can connect directly to audio/video sources without a computer at all. Firmware and applications are upgradeable via the Internet, a Smart Card (not included) allows conditional-access applications such as e-commerce, and the PCMCIA card slot can enable wireless operation via an optional Wi-Fi adapter card.
Powering up the system requires well over a whole minute, during which time the screen fills with a blur of highly technical text.You can only turn the unit on from full-off mode by pressing the power button on the front of the unit itself. Both the remote and the keyboard can send the MediaREADY 5000 into standby mode, during which the LED panel reads "sleep," a screensaver appears on the TV, and, most importantly, the fan remains active. I left the room for a while to see if the fan would stop and eventually forgot that I would be checking its status—until I returned an hour later and wondered, "What is that noise?" Overall, the MediaREADY 5000 is extremely loud, and the chassis' venting on the top right limits users as to what else they can stack on top of it. Powering off, again by the front-panel button only, is also a slow process by consumer electronics standards.
Around back, the MediaREADY 5000 is somewhat reminiscent of a PC, with a wide range of ports, including an analog-cable/antenna-TV tuner-cum-video capture card. It performs video encoding and decoding in hardware, audio decoding in hardware, and audio encoding (i.e., conversion to MP3) in software. The video-input card also accepts a satellite receiver's S-video or composite and analog stereo output. An IR-blaster port resides on the rear panel, but my product sample didn't include an actual blaster. Even so, the MediaREADY 5000 downloads the channel lineup for a specific cable/satellite service provider within your geographic location, although the final selection of specific channels in your particular programming package is up to you. This can be a chore if you receive hundreds of channels, as I do. I've suggested in the past that such products should create shortcuts for different programming packages (for example, one click checks off all of the channels associated with DirecTV's Total Choice or Total Choice Premier). So far, though, the only response has been crickets chirping. Otherwise, the onscreen setup is a fairly quick and intuitive process, with typically obvious answers and helpful hints.
The MediaREADY 5000's media jukebox manages your music, movies, and photos.
The Experience
Establishing a proper connection to my home network was a laborious, nonintuitive procedure with several complicated steps. From the Media Library page, I selected Library Directories, then Add New Directory, where a long list of folders with names like "mnt," "root6," and "/." confronted me. Even after I followed all instructions, my shared files did not appear right away, and I needed to hit Library Refresh again. The relative elegance of the user interface had disappeared by this point, a far cry from the simpler, frequently icon-driven interface of Windows Media Center Edition. The controllers provided yet another obstacle: The layout of the remote and keyboard are quite different, and responsiveness was unreliable. It was also aggravating at times, particularly during controller-intensive duties like Web navigation.
Thankfully, the MediaREADY 5000 is powerful enough to multitask, but beginning another job interrupts video streaming. Then, for example, a big status window appears in the middle of the screen while a CD is ripping in the background. The MediaREADY 5000 copies CDs to the hard drive (conversion to MP3) at about only three times the CD's actual length—a one-hour CD takes about 20 minutes—and I later discovered fatal errors on multiple tracks. Despite a live Internet connection and the automatic insertion of correct title and artist info, cover art was not supplied, a fact made conspicuous by the otherwise empty "no art available" rectangle on the music-playback screen.
Although games are listed as one of the MediaREADY 5000's features, they are of the online variety, those titles available for free from Games.com. No dedicated gaming controller is available. Like most of the sites I visited via this Web browser, Games.com was resized, showing only a fraction of the page and was therefore difficult to navigate. I headed over to AOL to check my e-mail, but, due to a crowded page layout, most of what I saw at any given time was banner ads. MediaREADY's own e-mail is a touted feature, too, and requires you to set up a new account with a new address. Text can also be tough to read when you use a connection other than component video, with a sometimes distracting screen-door-type effect. Even this device's own menu graphics can show a definite flicker. DVD playback quality is average. It's in no way spectacular but doesn't display much of the nasty digital look common to PC-based video solutions, either. TV recordings in MPEG-2 were on a par with other DVRs I've tried—respectable yet noticeably compressed and largely limited by the source material. VWB has announced their Media On Demand movie downloads via the Internet, which were not available at press time.
Media to Go
The ports on the front of the MediaREADY 5000 allow easy connection of portable media players, a bidirectional filling station of sorts. For my test, I used an Apple iPod nano, a Sony PlayStation Portable, a Creative Zen Portable Media Center, and of course the MediaREADY Flyboy. This VWB-branded, $349 portable MPEG-2/MPEG-4–based video player and recorder, MP3 jukebox, and JPEG photo viewer boasts a 20-GB hard drive plus SD card slot and a 3.5-inch LCD screen. The Flyboy connects to a computer or the MediaREADY 5000, or it can capture video directly from any source with composite video output (gotta love that analog hole) and play material back on a TV, if desired.
Upon attachment of my powered-up iPod, I was soon given the onscreen option to copy files to or from it, or simply stream content from the iPod to my home theater. Again, I found myself sorting through folders and subfolders I never knew existed, this time within my own iPod ("f00". . .?), to access my tunes. It's too bad the MediaREADY 5000 doesn't automatically detect music, photos, and video instead. But I did move well over a gigabyte of music from flash memory to the MediaREADY 5000's hard drive in only ten minutes and then enjoyed those songs at my leisure. However, the master track list reduced all titles to only six characters. I couldn't successfully access PSP video content, but PSP music continued to stream as I copied photos, a fun and easy process. The MediaREADY 5000 didn't recognize the Creative Zen Portable Media Center at all—a pity since it is a dedicated audio/video device.
I was hoping for some sort of enhanced compatibility between the MediaREADY 5000 and the Flyboy, but the MediaREADY 5000 only recognized the Flyboy by the generic name "media/external/sda2." The product also had difficulty detecting the files on the Flyboy, even those samples preloaded by VWB. And, when I tried to copy some of these nonexistent files, I was told "Error trying to perform the copy: null." Not "files not found." This basically encapsulated my primary frustration with the MediaREADY products: an inherent crudeness, as if some guy overseas in a lab coat who doesn't get out much wrote the crucial user interface. A high-definition MediaREADY box is apparently on the way. Let's hope that there are other refinements planned, too.
Highlights
• A custom PC targeted for the living room, with its own unique interface
• Streams, captures, and shares audio, video, and photos—more or less
• Exploiting Internet and networking features can be a challenge