Verizon FiOS TV to Hit NYC
Long-suffering New York City cable customers will soon have a new option when Verizon offers its FiOS fiber-optic TV delivery technology to all five of the city's boroughs. Yes, that means you, Brooklyn! And you too, Queens! And the Bronx, Staten Island, and Manhattan. Verizon scores five apples.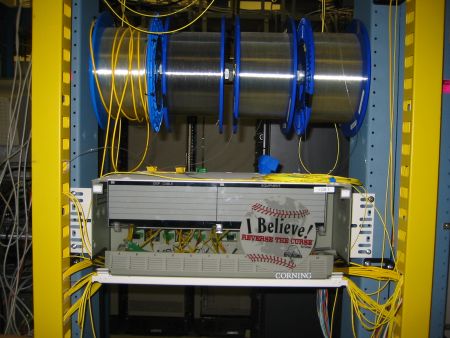 What's happening is that Verizon has filed a plan with the NYC Department of Information Technology and Telecommunications to offer TV service for a 12-year period. This would place it in competition with two cable systems that serve different parts of the city, Time Warner Cable and Cablevision. Verizon would become the first TV provider to compete throughout the entire city--all five boroughs. (NYC is a sprawling five-county municipality--"borough" is NYC-speak for county.)
After DoITT, Verizon will have two more hurdles to clear. One is the city's Franchise and Concession Review Committee. The other is the New York State Public Service Commission.
Verizon plans to complete its fiber-optic network in NYC by mid-2014. Requests for FiOS TV would therefore be granted within six years--and if that sounds pokey, consider how dense, tangled, and insanely complex the city's infrastructure is, especially in Manhattan.
Verizon will offer more than 400 channels, 150 HD channels, and 10,000 video on demand selections. For the city's public safety needs, Verizon will provide an institutional network. And like the existing cable companies, Verizon will pay franchise fees equivalent to five percent of gross revenue.
To see if your neighborhood is on the list to get service by this month, see the press release. There are lots of neighborhoods missing: the Upper West Side of Manhattan, Belmont in the Bronx, Park Slope in Brooklyn, Jackson Heights in Queens. By taking on the country's biggest and most complex city, Verizon has set itself quite a challenge. That'll include convincing New York Yankee fans to buy service from a company based in Boston Red Sox territory (examine pic closely for telltale "Curse of the Bambino" badge).
LATEST VIDEO