Vana Now Distributing E.A.T. Vacuum Tubes in U.S.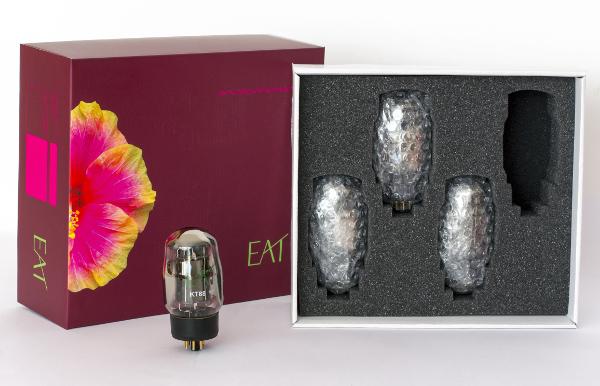 Vana, the Lake Grove, NY-based distributor of audio products and accessories, today announced that it is now the official North American distributor for European Audio Team's (E.A.T) line of vacuum tubes.
E.A.T. hand builds two audiophile quality tubes — the KT88 and 300B — in Prague, Czech Republic at the historical site of the original Tesla Works. All tubes are tested on custom-made instruments to meet the highest standards, according to E.A.T.
Intended for new and old power amplifiers designed for KT88 and 6550 tubes, E.A.T's KT88 vacuum tube has a maximum anode dissipation rating of 35 watts. A pair of KT88s tubes are rated to deliver continuous output of up to 100 watts with Class AB1 amplifiers. Vana said the KT88 is also suitable for use as a series regulator tube in a stabilized power supply. Vana sells a factory-matched four-pack of KT88 tubes for $1,795.
E.A.T.'s newest version of the 300B triode tube, one of the most revered tubes in high-end audio, has a maximum anode dissipation rating of 36 watts and is said to deliver superior linearity and reliability in both single-ended and push-pull amplifiers. The tubes are sold in matched pairs for $1,695.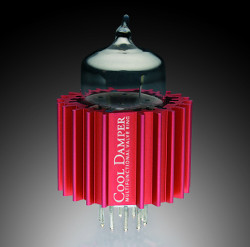 As part of the distribution deal, Vana is also offering E.A.T.-made "anti-distortion and anti-vibration Cool Dampers that help deliver a more controlled, more extended low frequency range, a cleaner sound stage, greater dynamic range and better overall focus through the entire bandwidth." Available in red or black, the dampers are sold in a four-pack for $139.
For more information on Vana, visit vanaltd.com.
For more information on European Audio Team (E.A.T.) and its line of vacuum tubes, visit europeanaudioteam.com.