V-MODA Zn In-ear Headphones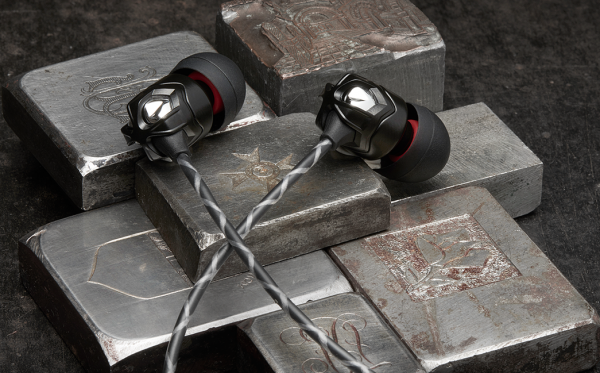 V-MODA is forcing me back to high school chemistry and I don't like it one bit. I guess most people probably know that Zn stands for zinc without having to break out a periodic table, and the properties of zinc are great for making acoustic devices. The new Zn in-ear monitors are the first in-ears released by V-MODA in four years, and they're aiming for the modern audiophile with a blend of features that balance convenience and luxury.
The premium Zn ($180) earphones are made from a patented liquid metal casting process to that uses zinc alloy housings and custom Italian acoustic filters to create an earphone tuned for Hi-res audio. They certainly have a luxurious look and feel—they look fabulous. The zinc housing has a solid, substantial feel, but they aren't as heavy as one would expect. The Zn uses an 8mm dynamic driver with V-MODA's V-PORT airflow system.
The earphones come with a Kevlar-reinforced tangle-free cable. I found that it does prevent tight tangles but at the expense of increased cable-handling noise, although the rubberized housing creates a somewhat muffled sound. There is an iOS-compatible remote/microphone built into the right earphone cable, and an Android-compatible version is expected to be available shortly.
The Zn comes with two types of ear-tips in four sizes. One thing that I really liked is that the different sizes are color-coded for easy pairing. V-MODA calls them BLISS 3.0 fittings for Bass Level Isolating Soft Silicone, and with the proper size installed, they create a tight seal conducive to enhanced bass response. There is also a pair of sport ear-hooks that let you secure the cable and earphone in an over-ear configuration for a more solid fit while running or working out. Don't overlook the small carrying case tucked away in the packaging.
V-MODA says that the Zn is ideal for Hi-res audio. I only used 96k/24-bit files to audition them. They have a very interesting sound. Unlike many other high-end earphones with warm, rich, dark sounds, the Zn are very crisp and bright. They have a sound that I would compare to some of the early Japanese speakers—clean and sparse in the low-end. On some recordings, they border on harsh, but most notably, they lack warmth. The bass has a natural quality, with good, accurate punch, but most users would expect slightly more impact. On acoustic recordings, the Zn really showed off the clarity of their tuning.
The Zn combine a clean, crisp sound with features normally not found on audiophile 'phones, such as sport-designed earclips and built-in microphone. For listeners who need or want those features, the Zn is worth a trip back to high-school chemistry class. The Zn is certainly sexier than anything I ever saw in my chem class.