Try-Before-You-Buy Service Adds Audio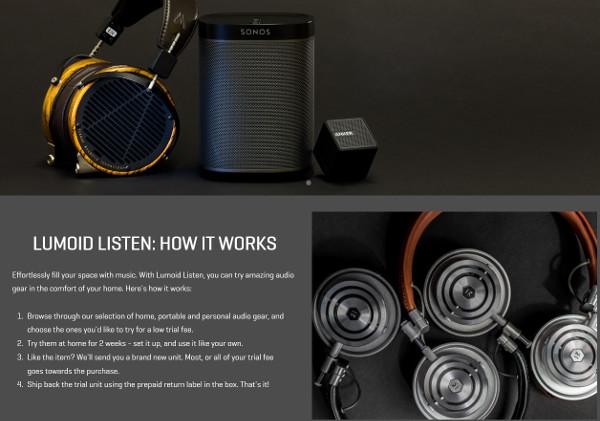 San Francisco-based startup Lumoid has added headphones and portable Bluetooth speakers to its try-before-you-buy service, which lets you rent photography and video gear, drones, and wearable fitness trackers for two weeks before making a purchase.
The service currently offers 42 headphones to choose from, half of which are models from Audeze, Bose, Sennheiser, and Sony. You can chose up to three headphones for a two-week at-home trial starting at $30; some higher end models have an additional fee ranging from $5 or $20.
When the trial period is over, you use a prepaid return label to ship the products back in the original box. If you decide to buy a headphone, Lumoid ships you a brand new unit. The company also offers payment plans.
The current Bluetooth speaker offering is 17 models from Beats, Bose, Harman Kardon, JBL, Sony and other brands, including a few we've never heard of (Anker, Omaker, Boombotix). It works the same as headphones except there are no upcharges—you pay $30 to try any three models for two weeks.
The company also has a "home audio" section offering a handful of models from Sonos, Wren, Marshall, and Devialet, which offers an unusual speaker system called Phantom you can check out for $50. The cost for a two-week trial with other models ranges from $20 to $35.
For more information, visit lumoid.com.
WHERE TECHNOLOGY BECOMES ENTERTAINMENT