True Wireless Earbuds: AirPods and Alternatives Reviews Part 2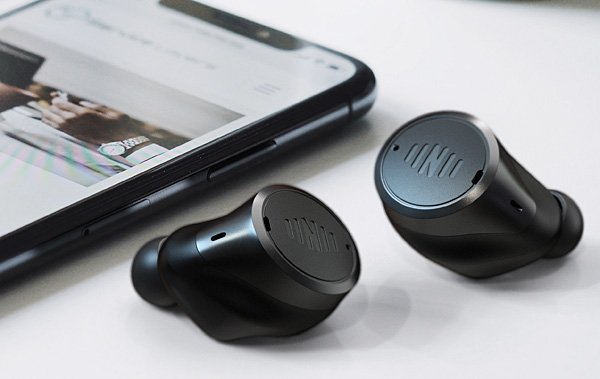 Nuheara IQBuds Boost ($499)
Nuheara's Boost is by far the most full-featured and innovative true wireless earbuds option on the market. First and foremost, the Boost provided the best sound quality of all the earbuds I auditioned. Audio was open and crisp, with a wide, evenly-proportioned soundstage, smooth midrange on vocals, and voluminous, yet well-integrated bass.
But the Boost's great sound is just the beginning. It also provides a precise, noise-isolating fit thanks to a range of round and oval silicon and foam tip options. There's an audio pass-through mode so you can carry on conversations without removing the buds, customizable tap controls, plus 5 hours listening on a single charge and an impressive 20 hours total bud/case battery life.
Even more compelling, the Boost is essentially an over-the-counter hearing aid. Its app provides a cornucopia of adjustable environmental listening settings, starting out with an actual hearing test that tunes the buds to match your particular hearing capabilities.
While it's easy to get boosted over Nuheara's Boost, according to the company, a next-gen version called Boost Max in the works with even more bells and whistles. The list includes tinnitus masking, an extra mic to enhance ambient sound amplification and eliminate echo on calls, active noise cancelling, and Bluetooth 5.0 for increased range and lower latency when using the buds for wireless TV watching. I had a chance to audition the Boost Max at CES 2019 and found its sound quality to be an improvement on the already impressive Boost.
---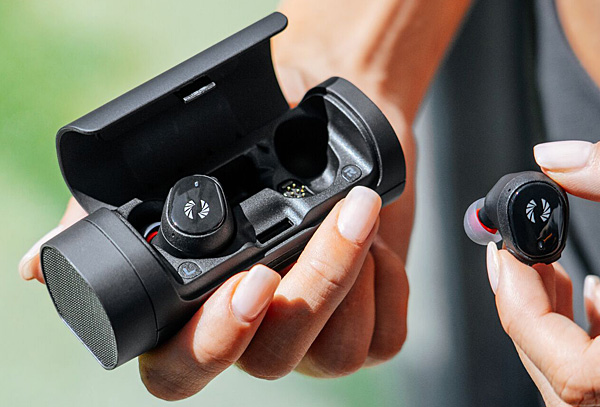 Phiaton Bolt BT700 ($129)
Aside being priced at an affordable $129, the Phiaton Bolt BT700 warrants consideration for its compelling feature mix. For instance, you can wear the Bolt buds as usual, or leave them in the case and listen using the included tubular Bluetooth speaker case, which produced more voluminous and fuller-sounding audio than the speakers on my iPhone Xs Max. With 5 hours listening on a single charge, and 20 total with recharges, the Bolt also supplies greater overall listening time than any wireless bud option we auditioned save the Apple AirPods.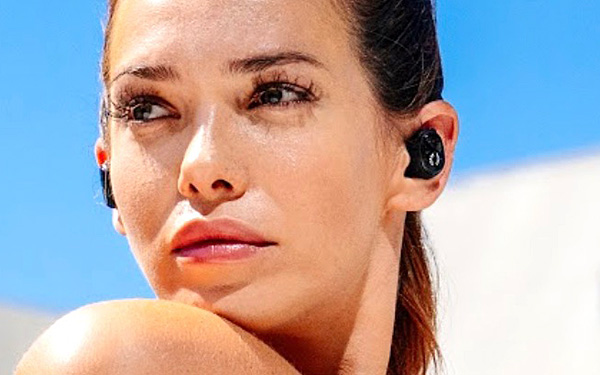 With the Bolt buds in your ears, you get unusually airy sound thanks to an open design that keeps you more aurally in-touch with your immediate surroundings than noise-isolating models. But the Bolt's airiness also has a negative effect on performance: the soundstage wasn't as seamless as the other models I tested, and the buds had limited bass when playing music.

Taking into account the Bolt's ergonomics, each bud is amended with a rubber "ear wing" tentacle that ensures a secure, yet comfortable fit. However, the tiny plus and minus volume controls on top of the buds are difficult to locate by feel alone. A double-tap on the left earbud was supposed to produce "audio transparency" by admitting ambient sound, but I couldn't hear any difference. Still, the Bolt's sound is open enough that you can hold brief conversations or hear announcements with the buds remaining in your ears.
---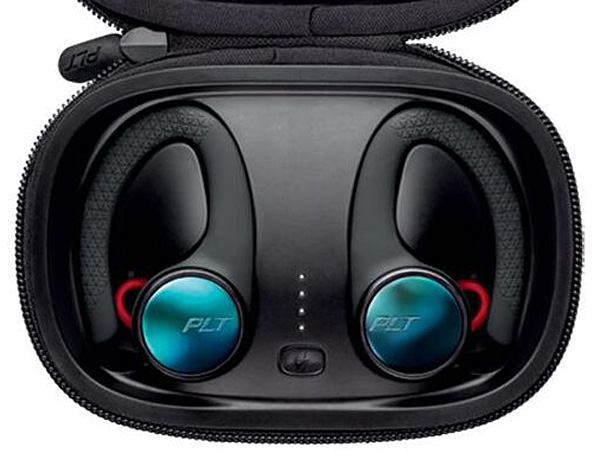 Plantronics BackBeat FIT 3100 ($150)
If you're exercising hard, the last thing you want to worry about is your wireless earbuds dropping out and shutting off. If you're out and about, especially in a busy urban environment, you'll want to maintain some sort of aural connection to your immediate surroundings. Plantronics's BackBeat FIT 3100 addresses both of those issues with integrated over-the-ear hooks and non-noise-isolating, one-size-fits-all earpieces that act more like sound funnels than in-ear buds.
Unlike the sound-isolating Jabra Elite Active 65t, the BackBeat FIT 3100 has an open earphone design that Plantronics claims will fit 90 percent of ears. But this openness also means that ambient environmental sound dampens the high-end, though midrange and bass remains unaffected. I found the the BackBeat FIT 3100's soundstage to be appropriately airy and wide, but the result was also like sitting in the distant seats at an outdoor concert surrounded by a boisterous crowd. Users with smaller ear canals might experience better sound isolation.
Ergonomically speaking, the BackBeat Fit 3100 will play for 5 hours and can be recharged twice by its larger-than-average case. As with any exercise-centric earphones, the rubbery buds have an IP57 rating, so they'll operate safely regardless of perspiration or precipitation. They can be initially paired via the BackBeat app (confusingly, not the BackBeat Fit app, which is meant specifically for the company's behind-the-neck BackBeat FIT earbuds). The app includes a variety of click/tap control customization options, a bud battery life-status meter, and a unique "Find My Headset" feature that helps you locate a lost bud.
---
Sennheiser Momentum True Wireless ($300)
As befits Sennheiser's elite status in the headphones world, Momentum is the only true wireless earphones option here that can be considered "audiophile-grade." The Momentum's subtle and smooth overall presentation, three-dimensional presence, and well-defined soundstage let you know you're listening with buds designed for discerning ears. In addition, Sennheiser's Smart Control app allows for personalized sound tuning via adjustable effects and EQ. All this contributes to making the Momentum the Maserati of true wireless earbuds.
But the Momentum's sonic superiority comes with caveats. Specifically, the noise isolation afforded by the buds' silicon tips falls shy of the full vacuum-sealed fit provided by some of the other models featured here, such as the ones from Edifier, Jabra, and Nuheara. This factor allows for a bit of ambient noise to spoil the Sennheiser's sonic subtlety.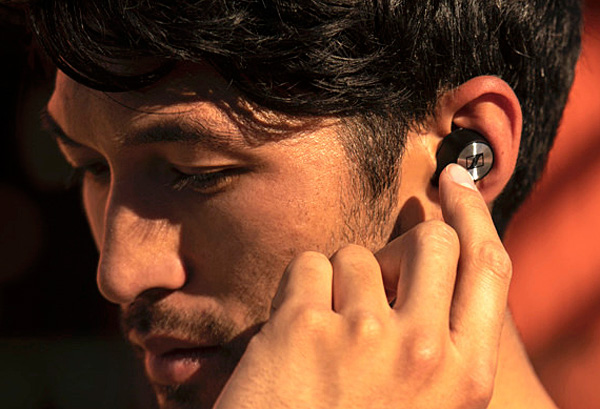 The Momentum's woven cloth-covered case and silver-surfaced buds give it an elegant look. It comes with four different-size silicon tips, but it took me a couple additional twists and turns to get a comfortable ear-canal seal than it did with some of the other models (acknowledging the usual ear size/shape variations). While I didn't necessarily find the slightly angled Momentums uncomfortable, I did find that some of the other buds provided a more comfortable fit.
Functionally, the Momentum provides a customizable Transparent Hearing mode that lets you to blend in enough ambient sound to conduct conversations with the buds left in your ears. It also provides the usual play/pause, track skip, and call pick-up/hang-up tap controls, but no on-bud volume adjustment. At 4 hours listening with one charge, and 12 hours total with case recharges, battery life is decent. The Momentums are also IPX4 splash-proof.
For some reason, Sennheiser decided to use still-rare USB-C charging for the Momentum. While this provides speedy charging—just 1.5 hours from 0-100 percent— the under-10-inch included USB-C cable also creates ergonomic challenges.
---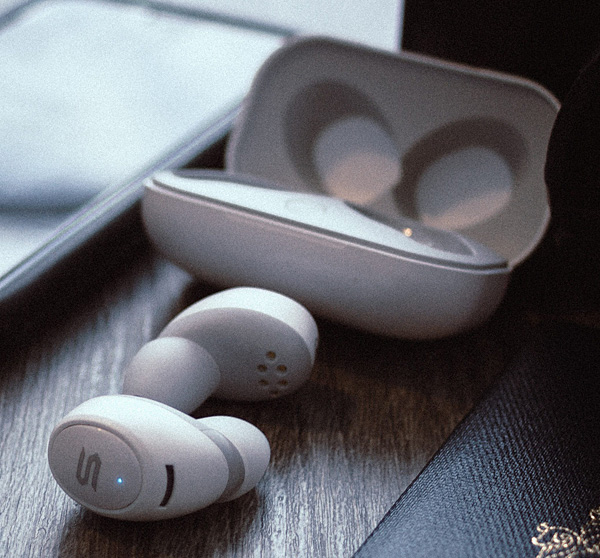 Soul Emotion ($50)
The two distinguishing features of Soul's budget Emotion buds are that they're tiny and cheap. They cost nearly 40 percent less the already inexpensive Edifier TWS2, and they rank about 40 percent below the Edifiers in almost every other aspect as well.
For instance, the Emotion's case is the smallest and lightest I've run across (other than the AirPods). At just 2.25 x 1.25 x 1 inches and 1.3 ounces including buds, it won't make your pants pocket bulge or droop. The self-proclaimed "sweat-proof" (there's no listed IP rating) buds are smaller than the Edifiers as well, provide significantly less sound isolation, and run less time on a battery charge—a measly 2 hours of play, with the small case providing just two additional charges for a total of 6 hours.
The Emotions also deliver around 40 percent of the Edifier's audio performance. While not awful, the sound here is mostly mid-range. There's also not a lot of it: I had to turn the volume up almost to maximum to get the same level I got with the Edifier TWS2 at just past its mid-way volume setting.
A lack of substantial volume could actually be one of the Emotion's benefits, however. They make a great choice for kids, whose ears are more prone to damage from excessive headphone volume. The buds' short battery life might also force your kids to listen to you while they're recharging. Another plus: the Emotion's bargain price will put less pressure on your wallet when the buds eventually get lost.