True Wireless Earbuds: AirPods and Alternatives Reviews Part 1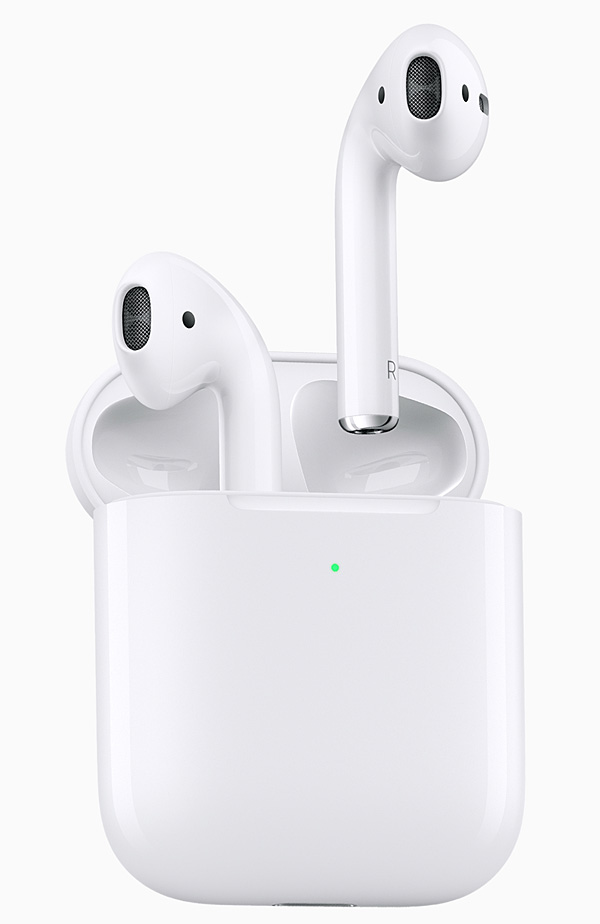 Apple AirPods ($199; $159 with standard charge case)
It's easy to understand the appeal of Apple's AirPods for iPhone owners—the power and convenience offered up by these bud/sticks can't be matched. For example, while most wireless buds can access your phone's voice assistant via some combination of touching, tapping, or button-pressing, none make it as easy as Apple's second-generation AirPods. You simply say "Hey, Siri," and she's ready to act on your desire to play a particular track, pause playback, adjust volume, initiate a phone call, send a text, get directions, etc. As a pure extension of iPhone functionality, AirPods are almost addictive.
Additional improvements to the AirPods 2, which are made possible by Apple's proprietary H1 chip, include an extension of conversation time from 2 to 3 hours (5 hours music-listening time) on a single charge, a faster connection to your phone, a 30 percent reduction in latency when gaming, and better wind-noise suppression during conversations. Another AirPods 2 bonus is their Qi-compatible wireless charging case, although a Lightning cable connection will charge nearly twice as fast, including adding 3 hours of listening time in just 16 minutes.
The main AirPods drawback is their one-size-fits-all design. There are no swappable small/medium/large silicon or foam ear tips, so getting a tight, or even a comfortable, fit could be a major issue for some people, especially those with larger ear canals.
This fit variation also has an impact on sound quality. If you can manage a noise-isolating seal (and even then, AirPods don't create as complete a vacuum-seal as other models that use silicon-tipped buds), Apple's wireless earbuds deliver pleasing sonics characterized by clear mids and fat, Beats-like bass. However, AirPods can shift position in your ear as you move, which can drastically affect their performance, with external ambient sound often masking highs, compressing the soundstage, and reducing presence. And because AirPods protrude further out from your ears than other buds, they can also become more easily dislodged.
---
Earin M-2 ($249)
Earin's M-2 buds present a portable convenience contradiction. They're stored in an odd blunt cigar-shaped case that's more appropriate for a purse than for pocket portage. But the buds themselves are the smallest I've run across – think of the earpiece James Bond steals to eavesdrop on the baddies at the performance of Tosca in Quantum of Solace. Their petite size makes the M-2s less conspicuous; they're a little more awkward to handle and manipulate, but you do almost forget they're there.
A quartet of ear tips, 3 foam and 1 silicon, are included with the M-2s to ensure a suitable fit, with the expanding foam tips working better to secure ear-sealing. Once inside your ears, the flat exterior surface of the buds is angled around 45 degrees and needs to be twisted at a precise alignment so you can access their surface for finger-tapping control. Despite their small size, the M-2s' batteries supply a decent 4 hours of listening on a single charge, and a total of 14 hours power with additional case recharges. Tap-touch controls are provided for music playback and calling, but not for volume adjustment.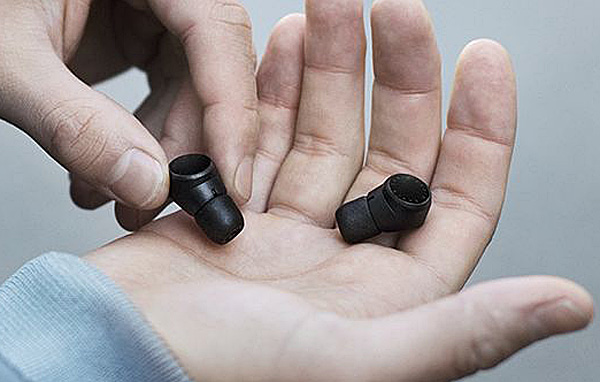 Operationally, the M-2s know which ear they're in so they are interchangeable as left or right buds. Just make sure when you initially pair them that you pair just a single bud, which will then pair the pair. (The included instructions are a bit confusing on this point.)
The sound quality of tiny M-2s wasn't as bright or as delicate at the high-end as the other buds. However, it did deliver a solid soundstage, vibrant vocals, and bouncy bass.
---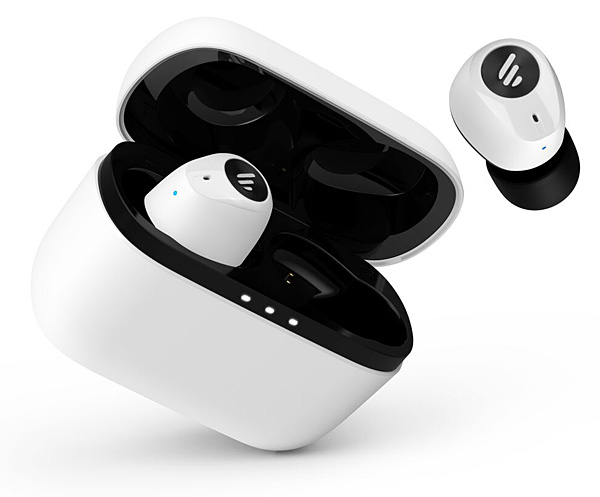 Edifier TWS2 ($80)
Edifier's inexpensive, no-frills, yet fashionable TWS2 provides surprisingly full-bodied sound, although a not-so-great 3-hour battery life (12 hours total with recharges) puts a limitation on usage.

The IPX4 splash-resistant TWS2 buds are a bit on thick side. This provides a cozy, noise-isolating fit that keeps them firmly in place regardless of your movement, and actually makes them easier to grip and remove. The TWS2 also proved surprisingly light and comfortable over longer wearing stretches. Edifier's eminently pocketable rectangular case measures a compact 2.5 x 1.75 x 1 inches. Color choices for the TWS2 buds include black, white and a vibrant, post-modern matte red.
Instead of taps, the TWS2's on-bud controls are of the press-and-click variety, so every press potentially pushes the buds deeper into your ear canal. You'll need to make a couple of experimental clicks to determine just the right pressure so you don't continually impale yourself. Unfortunately, there are no on-bud volume controls.
Inside the buds are larger-than-usual 8mm drivers that provide surprisingly bold sound. Vocals in particular are emphasized, while the TWS2's firm bass and unexpectedly enveloping soundstage make them a perfect match for younger ears with hip-hop tastes.
---
Jabra Elite Active 65t ($190)
The Jabra Elite Active 65t wireless earphones are comfortable buds with excellent sound and the company's customizable HearThrough pass-through mic so you can conduct in-person conversations or listen in on your environment without removing them —a single tap can simultaneously open the mic and pause your music. I was disappointed to discover that they do not include the company's well-known in-ear voice coaching capabilities, although they do connect with Apple's Health app to track steps and workouts.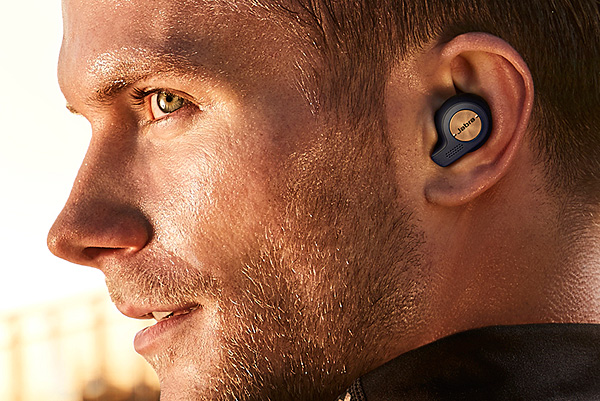 For serious exercisers, the Elite Active 65t are also IP56 rated to protect against sweat. After fitting the winged Elite Active 65t buds with the appropriate-sized silicon ear tips, you get a firm, sealed fit so they remain in place regardless of the vigorousness of your sweaty activity. The battery provides 5 hours of listening, with the case adding 2 additional recharges.
Jabra's Sound+ app features six EQ presets, and you can create your own custom EQ curves. The Flat default setting provides enveloping audio with emphasized mid- and high frequencies. There also are four HearThrough pre-sets: Regular, Commute (to hear announcements), Focus (for working in a noisy coffee shop) and Active (to keep you in tune with your immediate environs while exercising).