True Wireless Earbuds: AirPods and Alternatives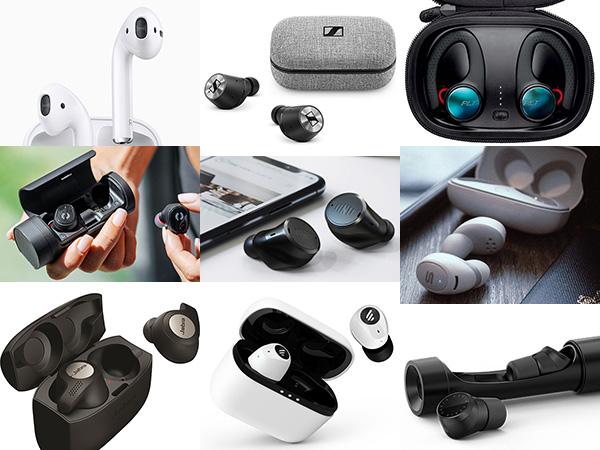 You may be excused if you thought that Apple's AirPods are the first and only so-called "true wireless" earphones—completely cordless in-ear "buds" that connect both with each other and to your smartphone via Bluetooth—since their distinctive white sticks seem to be protruding from hipster ears everywhere.
Fortunately, if you're not an iPhone owner, or a fan of the AirPods' distinctive look or not-necessarily one-size-fits-all fit, there is a growing number of other "true wireless" earbud choices. And in contrast with Apple's one-for-all approach, most AirPod alternatives address specific use cases, style preferences, and budgets.
While most true wireless earbuds differ drastically from each other, they should all share four features in common:
A rechargeable carrying case. The buds themselves will play for 3-to-5 hours and before having to return to their case for a recharge. Then, every few days, you'll need to plug the case into a USB charger to recharge the whole kit and caboodle.
Automatic pairing. Once initially paired, most buds then re-pair with each other and your smartphone as soon as you remove them from their case. Most also automatically pause playback when you remove them from your ears for conversation, as well as un-pair and power down when returned to their case.
A choice of silicon ear tips in various sizes to ensure a firm and comfortable fit. (This option does not apply to AirPods, which are one-size-fits-all.)
Touch operation. This is usually done by tapping one earbud, or by pressing tiny buttons on the bud to pause/play, adjust volume, skip tracks, pick-up/hang-up phone calls, or activate noise cancellation or a hear-through mode so you can conduct a conversation without removing the buds.
Ultimately, wireless earbuds are all about cordless convenience—assuming you're OCD enough to keep track of the easily-losable buds—not audiophile performance. All models use Bluetooth technology for connection and audio transmission, so the usual caveats concerning Bluetooth sound quality apply. That said, there are many true wireless earbuds that provide perfectly satisfactory, if not outstanding, audio performance, with some offering sound customization via an app.
Test tracks that I used to evaluate the performance of our nine true wireless earbuds included "Locked Out of Heaven" by Bruno Mars, "Rolling in the Deep" by Adele, "Here Comes the Sun" by The Beatles (from the 2009 stereo remix of Abbey Road), "This Is America" by Childish Gambino, "In the Wee Small Hours" by Frank Sinatra, and "Money" by Pink Floyd.