Triad Ships High-Performance In-Ceiling Speakers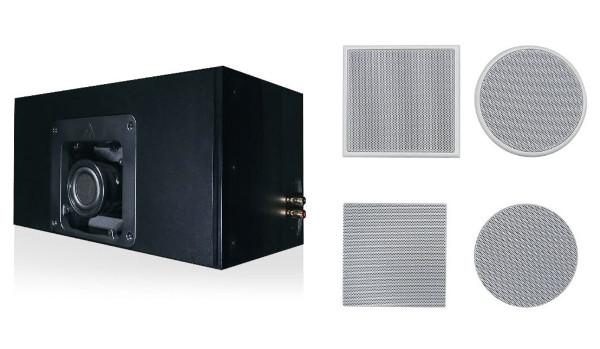 Triad has introduced a full-range speaker and subwoofer designed for unobtrusive mounting in the ceiling.
Part of the new Triad Designer Series, the DS4-FR in-ceiling speaker and DS4-SUB bass module mount in the ceiling and project sound through a round or square 4-inch flush-mounted grille that blends into the ceiling. Both are housed in an 8.5 x 16 x 8-inch rectangular enclosure designed
to deliver high-performance audio without compromising aesthetics or design and are serviceable without having to cut a hole in the finished ceiling, according to Triad, which was acquired by Control4 last February. Both are priced at $1,400 each and include a 10-year warranty
Described as ideal for multi-room audio, the full-range DS4-FR speaker has two 3 x 6-inch woofers and a wide-dispersion 2.5-inch tweeter said to disperse sound over a 150-degree field "up to 50 percent wider than conventional speakers" to deliver more consistent sound throughout a room.
The DS4-FR is rated down to 55 Hz but can be supplemented with the DS4-SUB for those who want more bass. The subwoofer module has three 3 x 6-inch woofers and is rated down to 28 Hz.
Both models are housed in solid wood enclosures designed to isolate the sound.
For more information triadspeakers.com.
WHERE TECHNOLOGY BECOMES ENTERTAINMENT