Triad Covers the Bases with In-Wall/Ceiling Speakers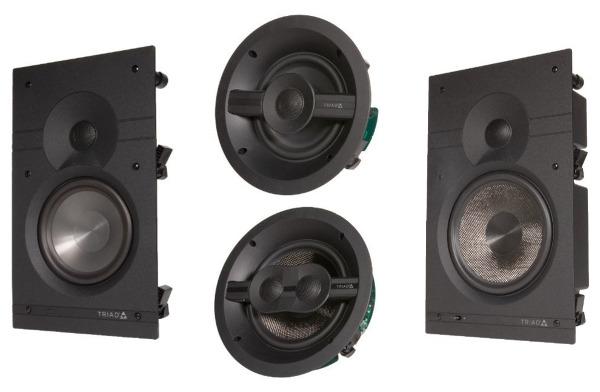 Triad today introduced a new line of in-wall/ceiling speakers designed to bring installation flexibility to "any budget."
The line is divided into three categories and comprises nine in-ceiling speakers and five in-wall models — all featuring pivoting tweeters and frameless grilles that attach to the speaker magnetically.
The Distributed Audio Series 1 is described as an affordable, whole-home audio solution ideal for background music. Suitable for new construction or existing living areas, the series comprises the in-ceiling TS-IC61 ($125 each) and in-wall TS-IW61 ($160), each of which mates a polypropylene woofer with a 0.75-inch cloth-dome tweeter in a round or rectangular frame.
Described as "acoustically refined," the six models in the mid-priced Distributed Audio Series 2 feature reinforced poly-mica woofers and Teteron dome tweeters. There are four in-ceiling speakers — the TS-IC52 ($130), TS-IC62 ($150), TS-IC82 ($180), and stereo dual-tweeter TS-IC82DT ($300) — plus two in-wall models: the TS-IW62 ($215) and TS-IW82 ($260). All Series 2 models are voice-matched so they can be mixed and matched throughout a home.
Designed for "exceptional sound," the top-line Distributed Audio Series 3 speakers combine a carbon-fiber woofer and 1-inch silk-dome tweeter in a frame with an integrated back box for "super sound isolation." The series comprises four in-ceiling models — the TS-IC53 ($175), TS-IC63 ($200), TS-IC83 ($230), and stereo dual-tweeter TS-IC83DT ($375) — plus two in-wall models: the TS-IW63 ($330) and TS-IW83 ($385). Like Series 2, all models are voice-matched so they can be mixed and matched throughout a home.
Installation for all models is said to be fast and simple thanks to the use of a traditional dogleg mounting system with reinforced threaded brass inserts.
Replacement round and square grilles that can be custom painted to match any décor are available at extra cost.
"Our new Triad Distributed Audio Series speakers were thoughtfully designed to satisfy a wide range of listeners, as the demand for multiroom audio solutions for any budget is requested by builders, contractors, dealers, and homeowners," said Charlie Kindel, senior vice president of products and services for Triad parent company Control4. "There's a Triad DA Series speaker for everyone."
The speakers are covered by a limited lifetime warranty.
For more information, visit triadspeakers.com.