Toshiba Towering Over Times Square
Next time you're in New York City, look up in the sky! It's a bird! It's a plane! Nope -- it's the new Toshiba LED display taking over the prime spot on top of One Times Square, 285 feet over the crowds on Broadway. This spot used to be claimed by another Asian giant. We can only speculate how much it took to take over that location.
Location, location, location.
What else makes this behemoth spectacular?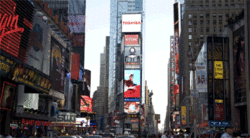 The Toshiba Vision display is bigger with higher resolution, designed specifically for this outdoor location. Of course, it's HD-compatible. It measures 51.2 x 52.5 feet - that's an 880-inch screen size. Makes your 52-inch pride and joy seem a little inadequate, don't you think?
It uses an array of 1280 x 1248 LEDs that support over one beeeellion colors. The high-def image is generated by Toshiba's TECHNOVIRTUAL technology.
The Toshiba Vision display is also a green one. No, no: The color balance is fine. It's designed for environmental durability, efficiency, and relatively low power consumption. Relatively.
It will be used to promote Toshiba products and the brand name as well as spout seasonal messages to folks gazing upwards in New York.
Considering how photographed this glitzy location is, it might just be the best product placement move you could ask for. -Leslie Shapiro
Via Toshiba
LATEST VIDEO