Top Gun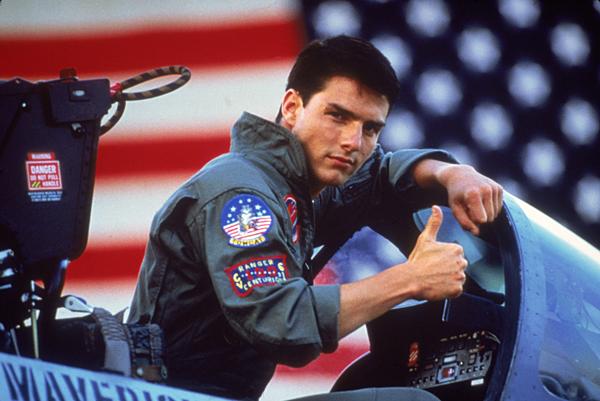 Top Gun
stars Tom Cruise as Lt. Peter Mitchell, call sign "Maverick," a young hot-shot pilot picked to attend the prestigious "Top Gun" flight school and hone his air-to-air combat skills. Also appearing are Val Kilmer as "Iceman," Anthony Edwards as Maverick's RIO (radar intercept officer) "Goose," and Tim Robbins as "Merlin." Rounding out the cast is Kelly McGillis as Charlotte "Charlie" Blackwood, a civilian instructor who is an expert on Russian aviation.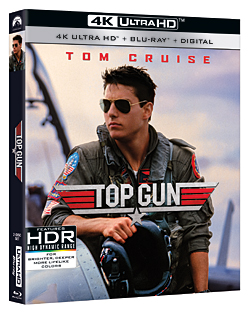 Top Gun isn't a deep, philosophical masterpiece—far from it. Instead, it's a bunch of corny dialogue interspersed with intense scenes of fighter jets flying at the speed of sound. But with likable characters, outstanding action, and a killer soundtrack, the film would go on to become the #1 box office hit of 1986, and also became a huge recruitment tool for the U.S. Navy. In fact, the military service said that the number of young men who enlisted wanting to be naval aviators jumped by 500 percent—no wonder there's a sequel coming out later this year!
I've lost count of the number of times Top Gun has been released on home video, but it's basically run the entire circuit—VHS, Betamax, Laserdisc, DVD, Blu-ray, 3D Blu-ray (seriously?), Special Edition Steelbook Blu-ray, and now UHD Blu-ray. As one of Paramount's "A-list" titles, the studio has gone all out for the 4K release, and I can honestly say this is the best the film has ever looked.
My reference system uses a JVC RS-2000 4K projector along with a 110-inch Stewart FireHawk screen, so I was able to view the 2.40:1 film in its widescreen glory utilizing the zoom method—a Panamorph Paladin DCR lens is a bit out of my price range! The UHD disc includes both a HDR10 and Dolby Vision encode of the film and both encodes do their best to maintain the 35mm look, with film grain kept intact. Facial pores and fabric textures burst with detail and the dogfighting scenes are to die for. HDR effects come into play with the glint of the sun off the cockpit canopy, and the reddish orange of the flames look particularly intense when the afterburners kick-in. Most shots feature crisp edges and fine detail, though occasional softness sneaks in mainly due to the original photography.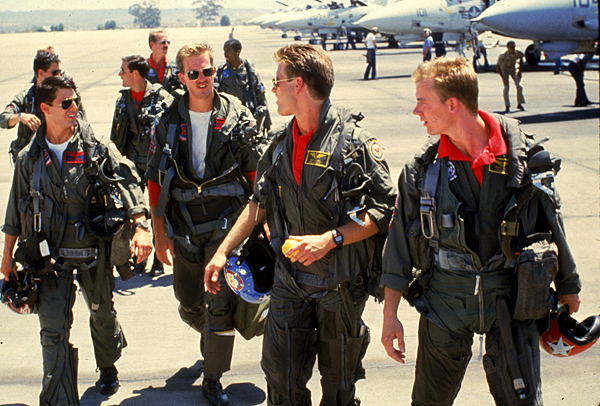 One may be wondering how I was able to test the Dolby Vision encode on the disc with a projection setup? When using a HDFury Vertex and Panasonic UB-820 UHD Blu-ray player, you can "trick" the Panasonic into decoding the Dolby Vision version internally and outputting the video to any display that accepts a 4K HDR signal. There are some technical hoops to jump through here, but the results are visually pleasing and, in some cases, produces a more consistent picture versus the dynamic tone mapping built into the projector. Once set up, it's more plug-and-play versus determining which of the JVC's internal tone mapping settings to use (Auto, Low, Medium, or High). Comparing the "regular" HDR10 image to the Dolby Vision one was not instantaneous by any stretch, but I watched various scenes from both versions back-to-back and found them equally appealing.
Paramount has minted a sparkling new Dolby Atmos track for this release and the film has never sounded better. The opening title sequence is one of my favorites, with the score reaching a crescendo with an F-14 Tomcat launch off the deck of an aircraft carrier and then quickly transitioning to Kenny Loggins' "Danger Zone"—the first of three times you'll hear the song. The Atmos track is very spacious and engaging. There are times when the subtle sounds really stand out, such as the scenes in mission command in the first act, or exterior jet flyover sounds as Maverick speaks with his commanding officer in the Top Gun headquarters. That being said, we don't watch Top Gun for sonic subtleties—it's for the dog fights! The dynamic range is outstanding in these sequences and will utilize the full frequency capability of your speaker system. Furthermore, the panning effects perfectly match the onscreen action as the planes fly to-and-fro.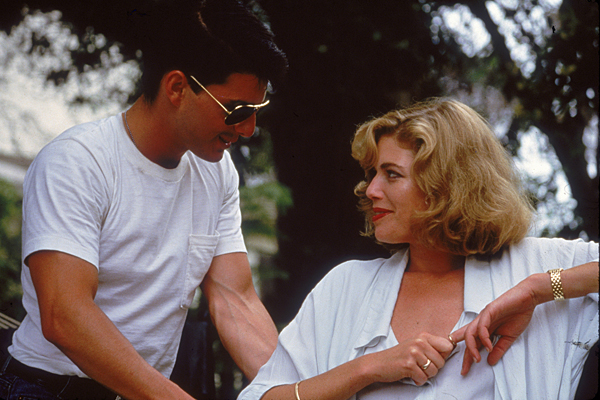 Along with legacy supplements, the UHD disc includes new bonus features that are informative and engaging, especially for longtime fans of the film. The first is a five-minute short, "The Legacy of Top Gun," that features producer Jerry Bruckheimer, Tom Cruise, and Top Gun: Maverick Director Joseph Kosinski discussing the film's impact on multiple generations of fans. The second is a five-part feature, "on Your Six – Thirty Years of Top Gun," that dives into various aspects of the production and highlights Cruise's obsession authenticity (a trait he has continued throughout his career), how the cast came together, and how they were able to involve the U.S. Military in the production. There are also segments on the film's kick-ass soundtrack, its memorable lines, how successful it was back in the 80s, and why Cruise was reluctant to make a sequel. Rounding things out are a regular Blu-ray disc and a digital copy of the film.
Virtually everyone who came of age in the 1980s has seen Top Gun, and most will remember it fondly—I know I do. It holds up well 34 years later, which isn't always the case with films from our youth. If you're as big a fan as I am, it's definitely worth picking up the UHD disc for its reference A/V presentation and new supplements. Highly recommended.
Ultra HD Blu-ray
Studio: Paramount
Aspect Ratio: 2.40:1
HDR Format: HDR 10, Dolby Vision
Audio Format: Dolby Atmos (Dolby True HD 7.1 core)
Length: 109 Minutes
Director: Tony Scott
Starring: Tom Cruise, Kelly McGillis, Val Kilmer, Anthony Edwards
One of my favorite movies from the 1980s,