TiVo HD sold out, new model speculation abounds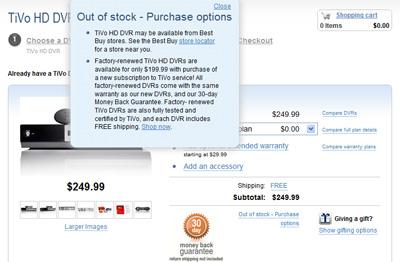 A new TiVo DVR might be coming out soon, if TiVo's online store and boundless gadget blog speculation have anything to say about it. Crunchgear noticed that the TiVo HD is sold out on TiVo's web site. The TiVo HD is TiVo's main DVR model, so this could mean something big on the way.
Without the TiVo HD available through TiVo, users have to choose between the TiVo HD XL and the TiVo Series2 if they want to order through TiVo's web site. The Series2 doesn't support HD video, and at $500 the HD XL costs twice as much as the TiVo HD, so this leaves a pretty big hole in the catalog.
Of course, if you really want a TiVo HD, there are several retailers who keep it in stock. Still, that TiVo itself doesn't have the TiVo HD available indicates that they might have something new on the way.
— Will Greenwald
[Source: CrunchGear via Engadget HD]
LATEST VIDEO
WHERE TECHNOLOGY BECOMES ENTERTAINMENT