TiVo EDGE DVR Review Page 2
If you're a previous TiVo owner like myself, transferring settings such as Season Passes and prior recordings from your old box to the new is a snap. You first navigate to the TiVo website and log in to your account. From there, I was able to migrate settings from one box to another in just a few minutes and transferring my recordings from the old box to the new one took about an hour—thankfully, I'm not a digital packrat.
User Interface
After TiVo updated its software in 2018, there was a lot of back- lash within the user community. I have to admit I wasn't a fan at first but grew to like it after living with it for well over a year. Let's just admit that it's human nature to dislike change of any kind.
One of the best features that TiVo offers is a one-button commercial skip. This has now been improved, with the software now able to automatically carry out the task for you. With most recordings, you just need to press the "D" button or Channel Up on a recording and you're zipped ahead to when your show restarts after a commercial break. And now, with commercial skip set to Automatic, the TiVo jumps to the next segment of the show as soon as it hits the commercial break. Once you get used to using this feature, you will get spoiled and likely to become frustrated when a show doesn't have a commercial skip option available.
There's also a Quick Mode, where the audio/video is sped up by 1.3X to get you through shows faster. Fortunately, the audio is pitch-corrected so that voices sound mostly normal. This feature is especially handy when viewing recorded sports so you can get through more games in less time.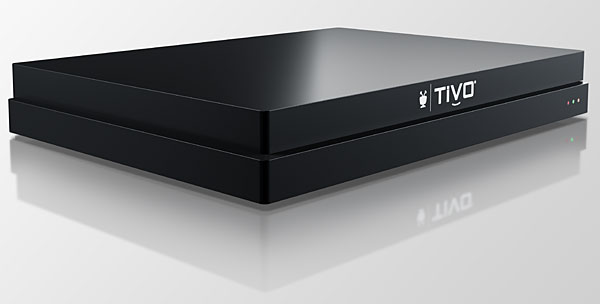 Major streaming apps available on the Edge include Netflix, Amazon Prime Video, HBO Go, Hulu, and YouTube just to name a few, but unfortunately no Vudu (it's supposed to be coming soon). But with the streaming market moving so fast, the Edge already seems outdated since it doesn't offer Disney + or Apple TV+ as options. YouTube TV and Hulu Live TV are also suspiciously absent, so the Edge doesn't come off as the one streaming box to rule them all out of the gate.
With so much content available on various services, it's tough to find what you're looking for without doing a Google search. But with TiVo's OneSearch option, all you have to do is push the little blue microphone button on the remote and say what show you're looking for. The Edge will then display when it's airing on TV and/or which streaming service carries it. You can also search by actor, director, genre, or any other creative way you can think of and TiVo will find it. This method certainly beats launching various streaming apps and manually entering a search query only to discover a show or movie is not offered.
TiVo has launched its own TV service dubbed TiVo+ that offers a plethora of channels at the click of a button. Current channels include Hell's Kitchen, Unsolved Mysteries, TMZ, and many more in what TiVo calls an "App Free Environment." Unfortunately, I've found TiVo+ to be extremely pedestrian. The video quality of some channels reminds me of early YouTube videos and, what's worse, there's no program information for any of the shows—after hitting the Info button, you get a "No data available" message. Granted, the service only recently launched and they're probably working out gremlins, but it doesn't make a positive first impression.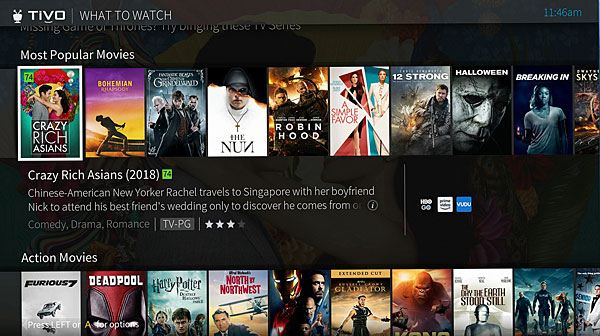 The Edge upscales regular TV to 4K and does a phenomenal job in this regard. In fact, it takes a regular cable signal and not only does it upscale it to 4K, but also remaps the color space from Rec.709 (HD) to the BT.2020 standard (Ultra HD). At first, I was bothered by this because I generally like my video signals to be passed through with as little processing as possible but found the only way to defeat it was to turn off HDR in the settings menu, so I needed to live with it. One positive: my JVC DLA-RS2000 projector doesn't have to switch back and forth from Rec.709 mode to BT.2020 mode—it just stays at BT.2020 all the time.
Multiroom And More
If you're sick and tired of paying your cable company a fee for every box in your house, TiVo offers a wallet-friendly alternative with the TiVo Mini Vox. The Mini Vox uses a wired connection—either Ethernet or MoCa—or Wi-Fi (requires TiVo's $60 USB adapter) to deliver TiVo in multiple rooms by piggybacking on your main DVR's capabilities. The only downside is the Mini Vox requires the use of one of the Edge's six tuners when watching Live TV, but who watches six channels at a time anyway? The Mini Vox costs $180, but when you compare that to the cost of renting an additional cable box at $20 per month, it pays for itself in less than a year. Also, the Mini Vox supports 4K/HDR and is easy to set up.
TiVo sent also sent along a Mini Vox for me to test and I found that it worked as advertised and was easy to set up. The only downside is that it takes approximately four seconds for the signal to lock on when changing channels. Staring at a blank screen, four seconds can seem like an eternity. (TiVo had announced plans at CES 2019 to debut apps for other streaming boxes such as Roku, Apple TV, and Amazon Fire TV, but those are apparently on hold.)
Like the Bolt before it, the Edge lets you to stream or download any show located on your DVR while away from home. You'll first need to download the TiVo iOS/ Android app and pair it with the Edge on the same network. Once the two are linked, you can watch anything located on your DVR on your phone or tablet as long as you have an Internet connection.
The Real Deal
There's more to the cost of a TiVo than just the box itself—as with cable company hardware, there's no free lunch. But I've always believed that TiVo offers a better overall value. If you choose the monthly route, it's $14.99 per month (plus whatever your cable company charges you for a CableCARD—Comcast charges me $1.99), or you can pay an annual fee of $149.99 ($12.49 per month).
I've always opted for Lifetime Service— now called the All-In service plan. At $549.99, you're looking at just $950 (before taxes) when you add in the price of the Edge itself. If you're comparing costs with the cable company's DVR, that means you'll break even at the four-year mark, and anything beyond that is putting money in your pocket. I realize that $950 is a high upfront cost, but my Series 3 DVR lasted for 10 years and I felt like I got a ton of value from the purchase.
Conclusion
I've been a TiVo customer now for 13-plus years, so my experience with competing DVRs from cable and satellite companies comes from visits to friends and family. After every visit, I mumble to myself about how much better they could have it if they went the TiVo route. The user experience is vastly better, and in the long run it can save you a bit of money.
Overall, I had a positive experience with the Edge. If you're in the market for a new DVR, it's definitely worth a look, especially if you want a one-box solution to handle TV recording and most of your streaming needs. Just be aware that you'll probably still need an Apple TV, Roku, or Amazon Fire if you're one of the millions who have signed up for Disney+ or Apple TV+, since those services aren't supported. With the new Edge, TiVo hasn't reinvented the TV-watching experience like it did 20 years ago, but its software is still best-in-class and the user experience has been made even better through the outstanding OneSearch option.