TiVo Bolt OTA: Bring Your Own Antenna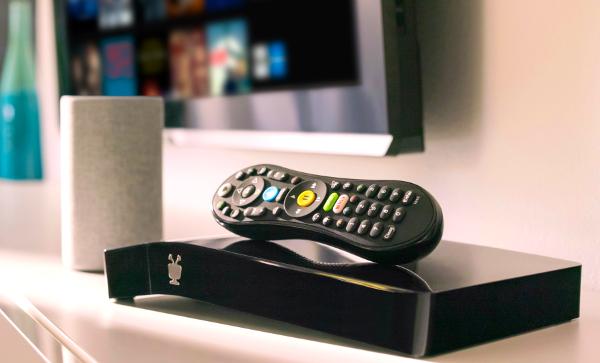 Members of the cord-cutter's club are glad to save $100 or more each month by weaning themselves off cable TV or not signing up at all. Still, some cutters suffer remorse. They miss the convenience of a set-top DVR with its sleek onscreen guides, search facility, ability to amass recordings of their favorite series and navigational shortcuts. Suddenly, they're looking at apps across devices to fill the gaps.
Enter the TiVo Bolt OTA. Able to record four over-the-air channels simultaneously and store 150 hours of HDTV to its one-terabyte hard drive, this newest TiVo model will be available starting tomorrow (Sept. 28) for $250 plus service ($6.99 monthly, $69.99 annually, or $249.99 all-in-one). A voice remote and HDMI cable are included; an antenna is not.
TiVo's current non-cable model, the Roamio OTA, has just been discontinued. According to Ted Malone, TiVo's vice president of consumer products and services, the Bolt OTA's processor is seven times faster and supports up to four outbound streams to iOS and Android devices or multi-room extenders. Roamio couldn't support mobile clients like phones and tablets. The Bolt OTA also adds 4K support for streamed content.
The Bolt OTA looks identical to the humpback TiVo Bolt Vox minus the original's CableCARD compartment. The two USB ports are in place (useless except as charging sockets) as well as an eSATA port for attaching one of the diminishing brands of external hard drives to double storage.
All the controls on the Bolt Vox will be available to Bolt OTA users including SkipMode that lets you leapfrog an entire block of commercials with one button press after the program airs. You'll also be able to use an Amazon Echo to utter such commands as "Alexa, pause" or "Alexa, play" without reaching for the remote. (Malone wouldn't commit to when Google Home support, announced at CES, will be available.)
The Bolt OTA offers the same streaming services and apps found on the Bolt Vox. So, for example, you'll be able to stream Netflix, Amazon Prime, Hulu, HBO Go, YouTube, Vudu, and Epix and search for programs across over-the-air and streaming platforms. You set up subscriptions outside of TiVo, which doesn't take a cut, according to Malone.
Despite its generous built-in storage (which differentiates TiVo from a smart TV or plug-in media receiver), the Bolt OTA does not enable the downloading of online videos or the saving of program streams. Netflix and YouTube Premium (formerly Red) subscribers, for instance, will have to deflect their downloads to mobile devices.
One thing that videophiles should love about the Bolt OTA is that over-the-air HDTV channels typically arrive at a resolution closer to the 19.2 megabits-per-second ideal than what's delivered by compression-giddy cable and satellite operators. That in itself may be a strong reason to migrate to free TV.
For sure, subscribing to TiVo service is still a form of pay TV, but the rate is half as much as what TiVo charges for cable guide service. In case you're thinking you can just buy a Bolt OTA and drop the service, guess again. The model won't allow you to program a recording by inputting a date, time and channel.
For more information, visit tivo.com.