Time to Vote!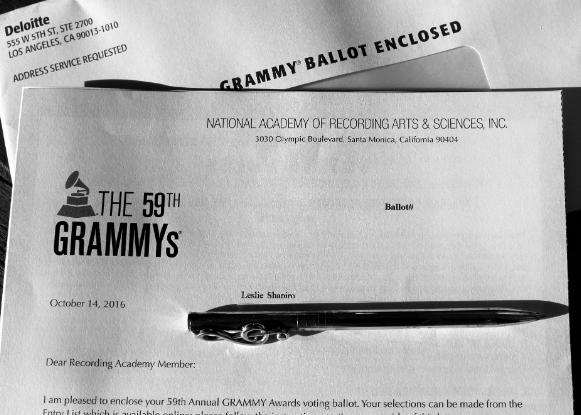 It's that time of year. Nope, not Halloween, and even though Christmas decorations showed up in stores weeks ago, it's not that either. It's election time! No, no, not
that
election. It's time to vote in the first round for the 59th Grammy Awards. Voting members of the Recording Academy just received their ballots for the first round of voting—the nomination phase.
While most people have seen the Grammy Awards on TV, many people don't know what went on leading up to that award presentation. (Or the numerous awards in the non-televised portion of the awards ceremony.) A large part of the process is protected against publication or disclosure by NARAS, the governing body behind the Grammys, but here's what we can share.
The "Academy" is comprised of over 20,000 members, but just over 12,000 are voting members. General members are artists, songwriters, engineers, producers, and other creative and technical members of the recording industry. Voting membership is a bit more elite. They are "professionals with creative or technical credits on at least six commercially released tracks (or their equivalent). These may include vocalists, conductors, songwriters, composers, engineers, producers, instrumentalists, arrangers, art directors, album notes writers, narrators, and music video artists and technicians."
To be considered for a Grammy presented on February 12, 2017, the recording must have been commercially released nationwide in either a bricks-and-mortar store, an online retailer, and/or streaming website between October 1st, 2015 and September 30, 2016. The Academy doesn't automatically pick them—artists must submit songs to be considered; this year, over 20,000 songs were entered.
There are 30 fields, or genres of music such as classical, rap, R&B, country, etc. and a total of 84 categories throughout the fields (orchestral, opera, chamber, choral, etc.) in addition to the General Field, which are the four biggies: Record of the Year, Song of the Year, Album of the Year, and Best New Artist. To put an end to the confusion, Song of the Year is just for the songwriter, while Record of the Year is shared between the artist, producer, engineer and/or mixing engineer.
There are fields for soundtracks, musical theater, spoken word, comedy and more. Members can only nominate in a maximum of 15 fields. Voters are encouraged to nominate only in categories that they have expertise in. Some categories are more regulated; only composers and arrangers vote in the Composing/Arranging category. Because I qualified for membership as a recording engineer, I'm eligible to vote in the Producer of the Year and Best Engineered Album category. The Surround Sound Album is nominated by special committee—even as an engineer, I can't nominate for that category.
The list of songs in each category is exhaustive—there are 991 songs in the Record of the Year category. Each member can nominate up to five recordings in each category. In the past, the top five compiled from this first round of ballots would go straight onto the final ballot. In recent years one more step has been added. A special committee reviews the top twenty selections and has the right to make substitutions. A sort of electoral college, as you will. Or more accurately, the group making sure "Sweatshirt" doesn't win Song of the Year.
The final ballot will be sent out in a few months. It only has the top five nominations in each category. Don't vote for your friends, don't vote for a song just because it's sold a lot of copies, don't vote for a record label you work for—vote for the best candidate. It's an honor system, but one that generally works.
While it is an honor to have voting privileges, it's also a responsibility and it is important to actually vote. If not, you can't complain when you don't like the results. The good news is that this year, the Recording Academy actually has some great candidates to nominate.