Time to Get Serious About Outdoor Sound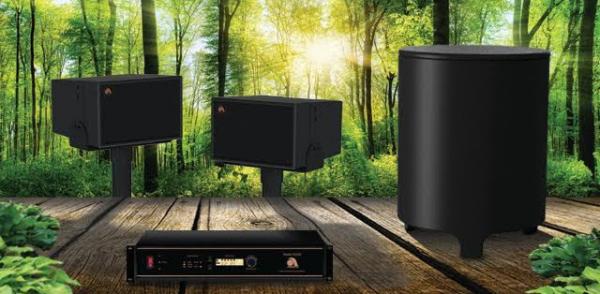 It's official. Spring fever is here as winter prepares for its annual victory lap a week from today. All of which explains why audio manufacturers are starting to share info on their new outdoor speakers.
The most interesting model we've seen so far is the 6.5HD-AW-L "indoor/outdoor" speaker, the latest addition to Ambisonic Systems' Immersive HD Landscape Series. While it's not much to look at — at least in terms of outdoor speakers — it's the only weatherproof speaker we've seen with a planar-magnetic ribbon mid/tweeter. Better yet, the rectangular structure is mounted over a 6.5-inch composite-cone woofer.
The two-way coaxial driver is housed in a sealed trapezoidal enclosure with a robust IP-65 rating, which means it's dust tight and can withstand water jets projected from a 0.25-inch-wide nozzle. Put another way, the 6.5HD-AW-L is "designed to withstand the most severe outdoor conditions."
The drive components are described as waterproof and the enclosure is made of a molded urethane composite with a powder-coated galvannealed steel grill and stainless steel mounting hardware — all designed for permanent outdoor installations.
Ambisonic says the use of "unique waveguides" ensures a wide dispersion over a large listening area. Frequency response is rated as 78 Hz-20 kHz ±3 dB, sensitivity as 89 dB, and power handling as 100 to 400 watts (FTC) into 8 ohms.
The speaker, which is a fairly compact 7.4 x 11.5 x 11.3 inches, weighs just under 20 pounds and is covered by a limited 3-year warranty.
Ambisonic also offers the companion 10HDR-AW "all-weather" subwoofer, featuring a 10-inch driver in a vented cylindrical enclosure that stands 16.5 inches tall. It requires external power (Ambisonic recommends its three-channel D3200 amplifier) and is rated down to 50 Hz at –3dB (35Hz at –10 dB). Sensitivity is rated as 93 dB and the subwoofer is said to be capable of 123 dB SPL.
The D3200 is rated to deliver 2,000 watts into one channel and 800 watts into each of the two remaining channels for a total of 3,600 watts (into 4 ohms) and it has an onboard 96-kHz/24-bit analog-to-digital (A/D) converter and D/A converter.