"Thriller" in surround. NOT!
Here we don't go again: According to a report on Billboard.com, Epic/Legacy will release a 25th-anniversary edition of Michael Jackson's Thriller on February 12. (Actually, last year was the 25th birthday of this 1982 album, although it did make its mark in 1983. But I digress . . .)
It will include a remix of "Billie Jean" by Kanye West, remixes of "The Girl Is Mine" and "P.Y.T. (Pretty Young Thing)" by will.i.am, and a remix of "Wanna Be Startin' Somethin' " by will.i.am and Akon.
It will not include a surround-sound remix of the entire album by anyone! I've said it once (see my post below on Pink Floyd, U2, and Radiohead), and I'll say it again: missed opportunity!
Not only that - this is actually the second missed opportunity for Thriller. The album appeared on SACD way back in 1999, but that was a stereo-only, non-hybrid disc.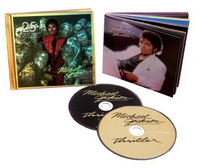 Other goodies on the 25th edition: the "Billie Jean" demo, the rare tracks "Carousel" and "Someone in the Dark," the unreleased track "For All Time," and a bonus DVD with the "Billie Jean," "Beat It," and "Thriller" videos plus the Motown 25 TV performance of "Billie Jean." But no multichannel goodie? That's just bad.
And the surround-sound NOTwatch continues . . . -Ken Richardson
LATEST VIDEO
WHERE TECHNOLOGY BECOMES ENTERTAINMENT