Thin is In At Sharp
Sharp launched a handsome new line of thin, lightweight LCD flat panel AQUOS HDTVs at a press event held Tuesday August 14th, 2007 at New York's The Weather Room at Top of the Rock. Sharp's Bob Scaglione introduced the new, four model 1080p space-saving D64U line, telling members of the press that the space-saving, stylish looking new sets, which feature bezels that are 25% thinner and weigh 20% less than previous models, are also the thinnest Aquos models Sharp has ever produced, measuring just 3 3/4" deep.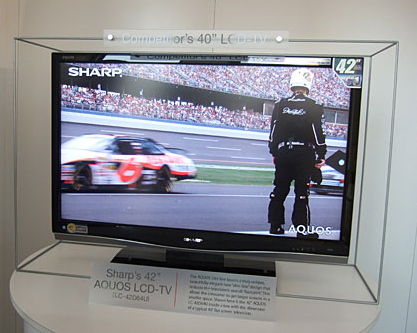 The new sets include side mounted HDMI™ (1.3) inputs, component and composite video inputs for convenient wall mount access, along with two additional HDMI™ inputs, one component, two composite, one S-video and dedicated PC input and an RS-232C input for system control. All four sets include stand mounts. The full 1080p sets, manufactured at Sharp's Kameyama LCD panel factor utilize Sharp's proprietary Advanced Super View (ASV)/ Black TFT Panels with multi-pixel technology. Sharp claims 4s response time, 10,000:1 dynamic contrast ratio and 176 degree viewing angle.
The new series, priced $200 lower than the D-62U line it replaces, features 60Hz refresh rates and will be distributed through standard channels. When asked about new premium priced 120Hz sets, Scaglione replied "See us at CEDIA." He gave the same response when asked about a Sharp Blu-ray Disc player.
The 42" LC-42D64U (MSRP $2,099), the 46" LC-46D65U (MSRP $2,699) and the LC-52D64U (MSRP $3,799) will be available this month (August). The MSRP of the big 65" LC-65D64U, available in September has yet to be announced. While the new thinner, narrower sets save but a few inches, a display showing the 42" LC-42D64U fitting comfortably within the wire footprint of a competitor's 40" LCD model, demonstrated the main practical benefit of the new models to the average consumer.
LATEST VIDEO