Ten Million and Reflecting
Texas Instruments says 10 million DLP units have been shipped in the ten years since the technology's inception in 1996. (Wow-bulation, Batman, that's a lot of flippin' mirrors!)
The folks at TI weren't always so chipper. It took the company five years to ship the first 1,000,000 units. (Amazing arithmetic, Batman, that's a lot of significant zeroes.) The tally hit five million by the end of 2004, which means it only took TI a year and a half to crank out the last five million.
We predict TI, at that pace, will have shipped 6,234,094,222 DLP units by April 1, 2012.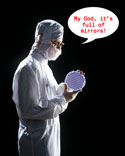 Some interesting DLP milestones include:
1996 - first commercial DLP systems are shipped.
1997 - InFocus succeeds in reducing the weight of a typical DLP projector from 24 lbs. to 6 lbs. (Surprisingly, this feat was accomplished without the use of the Atkins or South Beach Diets.)
1999 - the first DLP projector designed for home theater use is shown by DreamVision.
2000 - PLUS Corporation demonstrates the first sub-3-lb. DLP projector, and TI ships its 500,000th DLP system.
2001 - InFocus makes the first sub-2-lb DLP projector.
2005 - "Instant Theater" (480p) projectors that include a built-in sound system (mediocre, at best) and a DVD player; sub-1-lb "Pocket Projectors"; and 1080p models are all introduced.

2006 - TI ships ten-millionth unit.
2009 - TI works with FritoLay to introduce the Baked! DLP chip with over half the fat of the original DLP chip making TV watching healthier for the average couch potato.
LATEST VIDEO